Sometimes one gets mail...manchmal bekommt man eben Post
CO-Coming Out Action Days!
Kasia got our cards! So guess what we are doing? We're doing the S.T.AG and are dancing around!!!

See how she reacted!
Alles Gute zum Coming out, Emma! Das war die Idee. Schon mal einem Seriencharakter eine Postkarte geschrieben? Wir auch nicht. Bis Lovefool, bis Emma und Jenny.   
Kasia on her Blog: Thank you guys! These postcards made me feel very special and of course the content which is behind them! Thank you for sharing and the next pics are coming soon! Peace and Stay Jemma!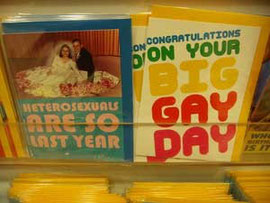 What happened??
Okay guys, the plan was this:
We are going to send Emma Müller a "Congrats you're gay!Yay!" Or whatever else worded, Happy Coming Out! card!
Oh yes, you read me right, Emma Müller.
Where does she live?
Well, care of Kasia Borek on the "Hand aufs Herz" set, no?
  Please don't mail anything there anymore ,since the place is pretty well deserted.No more Emma, no more dancing on schoolbooks, no more coming out cards...sniff.
Emma Müller
c/o Kasia Borek

c/o Producers at Work
"Alte Strutzbergkaserne"
Am Flugplatz
15344 Strausberg
Germany
Coming Out cards..there are three basic  varieties
1.   The ones you buy
2.   The ones you make yourself
3.   Postcards from your place!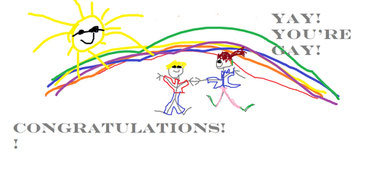 You'll find a slew of free graphic programs here. And if all else fails: Screenshots..pictures of yourself..the cats..the tree in front of oyur house..chocofresh.. those can be turned into Hallmark replicas as well!
My capabilities, btw,  are strictly limited to paint...(look to your right)
Hey, I love paint!
If you want to send Kasia and Lucy a letter or a card or a C.A.R.E. package do so under these snail mail addresses:
Kasia Borek
c/o Agentur Hübchen
Pariser Str. 20
10707 Berlin
  Germany

Lucy Scherer
c/o Frank Oliver Schulz
Triftweg 25    
59929 Brilon
Germany 
If you're planning on having your letter answered, or asking for an autograph card put a self adressed envelope with German paid postage in your letter! (Autographs are 10,5*15cm large)
Now, my friends, don't go all Eeeek! on me and despair!
The German Postal system: Deutsche Post, allows you to pick your postage,print it (with pretty pictures to boot) and to pay for  it online and pay via paypal..in English!