HaHe for all: Full Episode Scripts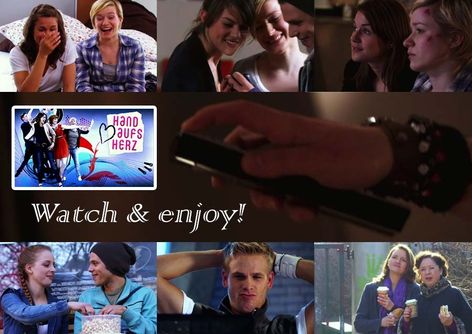 Whabammmm and welcome to the section with the whole episodes – the absolute heart of our website. We're not even sure ourselves about how much time and heart and soul we actually put into this task. Days, weeks, months, ultimately years. Now we can proudly say: Here you can find not only the complete transcripts and English translations of all 234 (!) episodes but also subtitles in the form of SRT-files. 
Why all this work? Well, let us try to explain: We love "Hand aufs Herz". And we love the thought that many more people will one day stumble upon this special show and will be able to enjoy the outstanding love story between Jenny & Emma in particular. On the Sat1 homepage all the episodes can be viewed for free – great! Thanks! The entire show is also available on DVD – wonderful! Unfortunately the only available language is German …
We wanted to solve this problem – without any commercial interests or intentions to violate any rights with our efforts. From fans for fans. Our language support for you, for all future fans of HaHe on this round, colorful globe. We typed, translated like world champions and coded. Now you can buy the DVDs, add the SRTs and delve into the world of our favorite show without a language barrier.
We hope you'll enjoy yourselves!
Wääähbäääm und willkommen in der Rubrik der ganzen Episoden – das absolute Herzstück unser Seite. Wie viel Zeit und Herzblut wir in diese Arbeit investiert haben, wissen wir selbst nicht so genau. Tage, Wochen, Monate, letztendlich Jahre. Nun können wir voll Stolz sagen: Hier findet ihr nicht nur die kompletten Abschriften von allen 234 (!) Folgen, sondern auch Untertitel in Form von SRT-Files.
Wozu das alles? Nun, wir versuchen es zu erklären: Wir lieben "Hand aufs Herz". Und wir lieben die Vorstellung, dass noch ganz viele Menschen eines Tages auf diese besondere Serie stoßen und speziell die herausragende Lovestory von Jenny & Emma genießen können. Auf der Sat1-Website sind alle Folgen kostenlos abrufbar – großartig! Danke! Die gesamte Serie ist auch auf DVD erhältlich – wunderbar! Nur leider ausschließlich in deutscher Sprache …
Dieses Manko wollten wir beheben – ohne irgendein kommerzielles Interesse oder der Absicht, mit unserem Einsatz irgendwelche Rechte zu verletzen. Von Fans für Fans. Unser sprachlicher Support für euch, für alle zukünftigen Fans von HaHe auf dem runden, bunten Globus. Wir haben getippt, übersetzt wie die Weltmeister und programmiert. Jetzt könnt ihr euch die DVDs zulegen, die SRTs hinzufügen und ohne Sprachbarriere in die Welt unserer Lieblingsserie eintauchen.