A "Virgin's" Guide to the Rocky Horror Show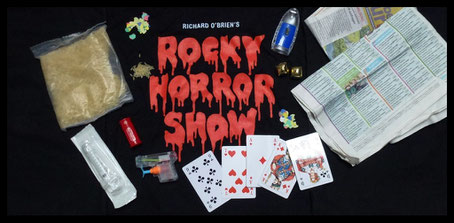 Sowohl in den Theater- als auch Kinoaufführungen neigt das Publikum bis heute dazu, enthusiastisch und aktiv an der Handlung auf der Bühne beziehungsweise der Leinwand teilzunehmen. Verkleidungen der Zuschauer, Utensilien, wie Wasserpistolen und Zeitungen, Konfetti, Leuchtstäbe und Toilettenpapier-Rollen sowie das Mitsingen und Mittanzen, vor allem beim Song Time Warp, in den Sitzreihen sind Teil des Spektakels. Viele Besucher erleben somit das Musical als eine interaktive Vorstellung, an der viele wiederholt teilnehmen. Inzwischen gibt es mehrere Generationen aktiver "Zuschau-Mitleidender".

In both theater and cinema showings, to this day the audience has the tendency to participate enthusiastically and actively in the happenings onstage/onscreen. Audience members in costume, paraphernalia like water pistols and newspapers, confetti, light sticks and rolls of toilet paper, as well as singing and dancing along in the rows, especially during the song Time Warp, are a part of the spectacle. Thus, many members of the audience experience the musical as an interactive play, and visit the show repeatedly. Nowadays, there are several generations of active audience participants.
Are you a virgin?
Zu dem Kult, der im Laufe der Jahre um die Show entstanden ist, gehört vor allem das aktive Mitmachen der Zuschauer in bestimmten Szenen des Filmes/Musicals sowie das Verkleiden einzelner Charaktere. Sollte keine Fanbag (siehe Foto oben) zur Hand sein, kann anhand der unten aufgeführten Szenenliste -an denen sich das Publikum aktiv beteiligen kann- eine eigene Kollektion zusammengestellt werden.
Part of the cult, which developed around the musical over the years, is the active participation of the audience during specific scenes of the musical/film, as well as dressing up as one of the characters. If you don't have a fan-bag (see photo above) handy, you can assemble  your own collection by looking at the listed scenes in which the audience can actively participate below.
Der Erzähler: Jedes Erscheinen des Erzählers wird vom Publikum mit lauten "

boring

"-Rufen quittiert.
Wenn Janet in Erscheinung tritt, wird "

slut

", bei Brad "

asshole

" gerufen.
Das Erwähnen von Ralph Hapshatt wird mit "

Hap-SHIT

" kommentiert.
Nach jeder Erwähnung des Namens Janet wird laut "

WeisSSS

" gerufen.
Die Hochzeitsszene: Hier wird mit

Reis

bzw.

Konfetti

 geworfen. Vor dem Song sagt Brad "I really love the …" hier stottert das Publikum mit "

Skil, skil,

skil

", bevor er sagt "skilful way"
Dr. Scott: Jedes mal, wenn sein Name genannt wird, wird ein

Donnergrollen

vom Publikum im Einklang mit einem lauten "

Huuu

!" simuliert.
Eddie: Jedes mal, wenn sein Name genannt wird, reagiert das Publikum mit "

Shht!

"-Rufen.
Die Gewitter-Szene: Bei dieser Szene bedeckt das Publikum die Köpfe mit einer

Zeitung

, sobald Janet zum Schutz gegen den Regen dies tut, als sie aus dem Auto steigt. Der Regen selbst stammt in diesem Falle aus

Wasserpistolen

. Außerdem werden dann bei der Textzeile "there's a light …"

Knicklichter

geschwenkt.
Der Time Warp: Wenn das Lied gespielt wird,

tanzt

das Publikum ebenfalls.
Sweet Transvestite: Wenn Frank die Kunstpause bei dem Wort "anticipation" macht, wird "

Say it!

" gerufen.
Die Ansprache Furters im Labor: Furter zieht dreimal seinen Gummihandschuh in die Länge und lässt ihn wieder los. Das dabei entstehende Geräusch snap wird dabei vom Publikum zeitgleich mit eigenen "Gummihandschuhen

"

verstärkt.
Der Schöpfungsrede Frank 'n' Furters im Labor wird mit lauten "

Ratschen

" applaudiert.
Die "Geburt" von Rocky Das Publikum unterstützt die Szene mit dem Werfen von "Klopapier

"

.

Der "Charles Atlas Song": Am Ende des Charles Atlas Song schreiten Furter und Rocky in Richtung Schlafzimmer, das Publikum wirft dabei "Konfetti

"

.
Sobald Furter einen "Partyhut

"

aufzieht, zieht das Publikum nach.
Der Song Wise Up, Janet Weiss: Auf die Textzeile Furters Did you hear a bell ring? antwortet das Publikum mit dem "Klingeln

"

kleiner Glöckchen oder dem Schlüsselbund.
Szene I'm Going Home: Bei den Textzeilen "… cards for sorrow, cards for pain" wirft das Publikum mit "Spielkarten

"

.

The narrator: every appearance of the narrator gets greeted by the audience with loud "

boring

" calls

when Janet appears, there are calls of "slut", an appearance of Brad is greeted with "asshole" calls

the mention of Ralph Hapschatt gets commented with "Hap-SHIT"

after every mention of the name Janet there are loud calls of "

WeisSSS

the wedding scene: here

rice

or

confetti

gets thrown. Before the song starts, Brad says "I really love the…" here the audience stutters "

skil, skil, skil

" before he says "skilful way"

Dr. Scott: Every time his name gets mentioned, the audience simulates rolling thunder together with a loud "Huuu!"

Eddie: Every time his name is mentioned, the audience reacts with "Shht!" calls

The thunder rain scene: In this scene the audience covers their heads with a newspaper as soon as Janet does the same when she exits the car as protection against the rain. The rain itself in this case is coming out of water pistols. Also, during the line "there's a light…" the audience waves around snap light sticks
The Time Warp: When the song is being performed, the audience

dances

as well


Sweet Transvestite: When Frank does his dramatic pause during the word "anticipation", the audience shouts "Say it!"

Furter's speech in the lab: Furter pulls at his rubber glove and lets it snap back three times. The resulting sound gets amplified by the audience with their own rubber gloves

Frank N. Furter's creation speech in the lab gets applauded by loud "ratchets"

Rocky's "birth": The audience supports the scene by throwing "toilet paper"

"Charles Atlas Song/ I can make you a man": At the end of the song, Furter and Rocky walk towards the bedroom and the audience throws "confetti"

As soon as Furter puts on a "party hat", the audience follows suit

The song Wise up, Janet Weiss: The audience answers Furter's line "Did you hear a bell ring?" by "ringing" little bells or a bunch of keys

Scene I'm going home: When the lyrics "...cards for sorrow, cards for pain" is sung, the audience throws around "playing cards"
How to dance the Time Warp
Dies ist der Moment, wo ihr euren Hintern vom Stuhl erhebt, eure Augen von der Bühne (oder Leinwand) abwendet, in den Gang hinaustretet und tanzt.
Aber es gibt nur einen Tanz für euch bei Rocky Horror, und das ist …"say it, say it!" THE TIME WARP!!!
Es ist der einfachste Tanz, den es je gab. Ihr könnt mir zuhören oder es nachmachen, während ihr die Show (oder den Film) schaut.
This is the part where you get off your ass, avert your eyes from the stage (or screen) get into the aisles and dance.
But there's only one dance you do at Rocky Horror, and that's...."say it, say it!" THE TIME WARP!!!
It's the simplest dance ever, you can listen to me or follow it while watching the show (or movie)
Lyrics
Costumes
Um so richtig einzutauchen in das Gefühl der Rocky-Horror-Show, benötigt Ihr auf jeden Fall ein ausgefallenes Outfit. Die Kleidung macht den Abend der Rocky Horror Show zum besonderen Event. Es gibt natürlich viele Charaktere, die in der Rocky-Horror-Show mitspielen, dennoch gibt es klassischerweise nur drei Kostüme: Absolut angesagt ist es, sich als Transvstit Frank N. Furter (das Bildchen von Frank führt Euch zum Kostüm/The picture of Frank will lead you to the comstume) zu verkleiden. Außerdem kann man das Hausmädchen Magenta oder wenn man weniger extrovertiert ist und keine Lust auf all die Schminke hat, die prüde Janet bzw. den prüden Brad darstellen.
To fully immerse yourself in the Rocky Horror Show feeling, you'll definitely need an outlandish outfit. The clothes make the evening of the Rocky Horror Show into a special event. There are, of course, many characters in the Rocky Horror Show, but traditionally there are only three costumes: It's totally popular to dress up as transvestite Frank N. Furter (The picture of Frank will lead you to the costume). You can also go as maid Magenta or, if you aren't so extroverted and don't feel like adding a ton of make-up, the prudish Janet or Brad.
Das perfekte Outfit-nicht nur passend zu Halloween! Die Perücke dazu gibt's hier, die Kette leiht Ihr Euch von Oma, die Pumps von Mama oder Schwester!
Wenn Ihr Euer Kostüm selber zusammenstellt benötigt Ihr:
- Korsagen und knappe, schwarze Hotpants
- Strapse und Strapshalter (sind ein absolutes Muss für dieses Outfit)
- der Rest siehe oben
Nun nur noch auffällig schminken.
The perfect outfit – not only for Halloween! You can get the wig here, the necklace you can borrow from your grandma, the pumps from your mom or sister!
If you want to make your own costume, you'll need:
- a corsage and short black hot pants
- garters and garterbelt (are a must have with this outfit)
- for the rest, see above
Now you just need to apply flashy make-up.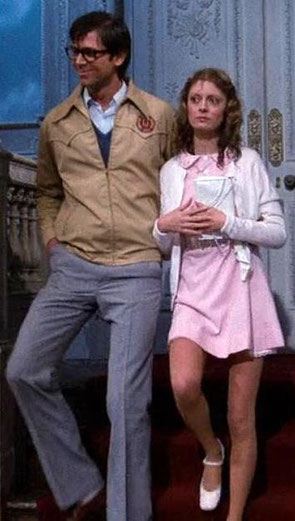 Wollt Ihr lieber nicht ganz so auffällig zur Show gehen, wie wäre es dann mit Brad oder Janet, die Ihr ganz einfach selbst zusammenstellen könnt? Dafür wählt Ihr einfach möglichst schlichte Kleidung:
- Janet: rosafarbenes oder ein geblümtes Kleid, Strickjacke drüber und Ballerinas an die Füße. (Als Accessoire könnt Ihr noch einen Haarreif benutzen)
- Brad: Stoffhose mit Bügelfalte, Strickpullover, schicke Anzugsschue und Hornbrille.
If you prefer to not attend the show looking too outrageously, how about dressing in Brad or Janet outfits, which you can easily put together? For that, simply choose clothes as modest as possible:
- Janet: a pink or floral dress, cardigan and ballerinas on your feet (you can also use a plastic hair band as an accessory)
- Brad: dress pants with a sharp crease, a knitted sweater, nice dress shoes and horn-rimmed  glasses.
Magenta meets Magdeburg
Tickets
Auf der offiziellen Homepage des Theaters Magdeburg findet Ihr alle Infos sowie den direkten Link zum Kartenerwerb für jede einzelne Vorstellung.
Aber Eile ist geboten-einige Vorstellungen sind bereits nahezu ausverkauft!
On the official homepage of Theater Magdeburg you'll find all the information as well as direct links to the tickets for every show. But you should hurry-several dates are almost sold out!
Touristinformation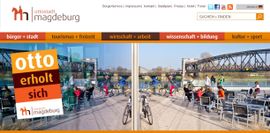 Anfahrt? Übernachtungsoptionen? Sehenswürdigkeiten?
Egal welche Punkte auf Eurer Liste noch offen sind-hier seid Ihr an der richtigen Stelle.
Klickt das Pic und die offizielle Homepage der Stadt Madgeburg weiß garantiert Rat!
Directions? Overnight accommodations? Sightseeing highlights?
No matter which items on your list are still open – you've come to the right place.
Click the pic and the official homepage of the city of Magdeburg is sure to provide the answers you seek!