"Zuschau'n kann i net"

Musik/Music
Sicherlich, Operette ist nicht jedermanns Geschmack, doch das Stück "Im weißen Rössl" weiß jeher zu überraschen. Das Rössl von 1930 zeichnet sich musikalisch durch seine ausgedehnten Tanzsequenzen aus; damalige Modetänze wie Foxtrott, Slowfox und Schimmy wechseln mit Walzer und Marsch, Spitzenballett mit Jazztanz, es ist greller und jazziger als das bis heute gespielte 1950er-Jahre-Arrangement. Das Original ist gekennzeichnet durch eine Dramaturgie der Abwechslung, überraschenden Modulationen, abrupten Stilwechseln. In seiner Urform besitzt das Weiße Rößl eine hörbare Nachbarschaft zur zwei Jahre zuvor uraufgeführten Dreigroschenoper-Musik Kurt Weills, ebenso wie eine Nähe zum gerade entstehenden Tonfilmschlager und den großen Berlin-Revuen der 1920er-Jahre.
Alle neu hinzugewonnen können nun mit allen übrigen Operettenfans gemeinsam die rekonstruierte Originalversion der Revue-Operette kennenlernen, die von Operndirektor Andreas Gergen in Salzburg rasant auf die Bühne gebracht wird. Wir dürfen gespannt sein.
Of course, operetta is not everyone's cup of tea, but the play "Im weißel Rössl" has always managed to surprise. The Rössl of 1930 is characterized musically by its extensive dance sequences; popular dances from that time like the foxtrot, slowfox and shimmy alternate with waltz and march, pointe technique with jazz dance. It's more flashy and jazzy than the arrangement from the 1950s that is still being played today. The original is characterized by a dramaturgy of variety, surprising modulations, abrupt changes of style. In its original form "Im Weißen Rössl" has an audible affinity to Kurt Weill's music for the Dreigroschenoper (The Threepenny Opera), which premiered two years earlier, as well as the just emerging German sound film songs and the big Berlin revues of the 1920s.
Now everyone, new as well as longstanding operetta fans, will be able to watch the reconstructed original version of the revue operetta, which is being brought to the stage by the opera manager Andreas Gergen in Salzburg. It's going to be interesting.
Wer schon gespannt ist, hat hier die Möglichkeit zwischen zwei kompletten Aufführungen zu wählen. Die Linke stammt aus Österreich, rechts eine italienische Variante.
Und wen danach das Rössl Fieber so richtig gepackt hat, kann anschließend Karaoke zu den bekanntesten Musiknummer mit Video und Songtexten üben.

Those of you who don't want to wait have the opportunity here to choose between two complete shows. The left one was performed in Austria, on the right is an Italian version.
And for those who have really caught the Rössl-fever, you can practice your karaoke on the best-known musical numbers with video and lyrics.
Bekannte Musiknummer und ihre Liedtexte/Well known songs and their lyrics
"Im weißen Rössl am Wolfgangsee"
"Was kann der Sigismund dafür"

"Im Salzkammergut, da ka'mer gut..."
"Es muss was wunderbares sein"

"Mein Liebeslied muss ein Walzer sein"

"Die ganze Welt ist himmelblau"

Film/Movie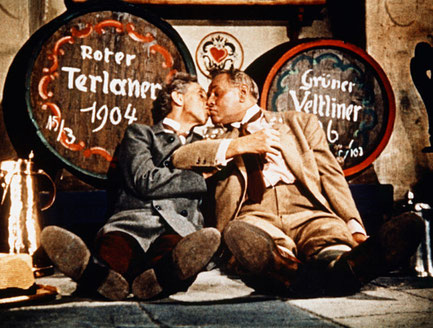 Der gleichnamige Film wurde an Originalschauplätzen am Wolfgangsee gedreht, nimmt in der 1960er Verfilmung aber doch zahlreiche Veränderungen vor: die Handlung wurde in die Gegenwart versetzt, Ottilie wurde in Brigitte umbenannt und die Musik mit Swing- und Schlager-Elementen angereichert.

Neben dem fast schon Kultstatus erreichten Film gibt es eine weitere Verfilmung aus dem Jahre 1952. Dass das »Weiße Rössl« bis heute zu begeistern versteht, hat erst 2013 wieder eine Neuverfilmung bewiesen, die in den Kinos für gute Laune sorgte.
Wer in den Genuss der 1960er Verfilmung kommen möchte klickt einfach auf das Bild. Trailer, Teaser und kurze Filmausschnitte findet man zu jeder Verfilmung wie jeher auf den gängigsten Video- und Streamportalen.
Wir wünschen viel Spaß im Salzkammergut!
The film of the same name was shot on location at Wolfgangsee but there were several changes in the 1960s film version: the story got transplanted into the present, Ottilie's name got changed to Brigitte and swing and "Schlager" elements got added to the music.
Apart from the 1960s film, which has achieved pretty much cult status, there was also another film adaptation in 1952. That the "Weiße Rössl" can still excite an audience today was proven in 2013 when a new movie adaptation drew people into the cinema.
If you want to indulge in the 1960s film version, just click on the picture. Trailer, teaser and short clips from the different movie versions can be found - as ever - on the usual video and streaming platforms.
We hope you'll have a great time in the Salzkammergut region!