On Celluloid with Sally Bowles - The movie "Cabaret"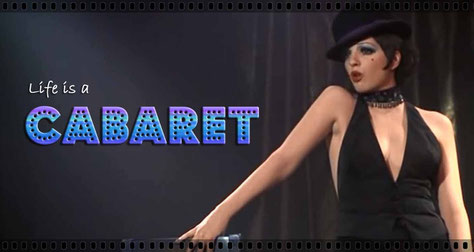 " Everybody loves a winner..." Cabaret ist auch als Film ein Meilenstein, 8 Oscars können nicht lügen. Wie Ihr schon von uns gewohnt seid werden aber auch hier nur die wichtigsten Unterschiede zusammengefasst. Es gibt umfangreiches Infomaterial auf Wikipedia.
" Everybody loves a winner..." Cabaret is also a milestone at the movie section, 8 Oscars can't lie. As usual we only mention the important differences, a lot of more to read you find on Wikipedia.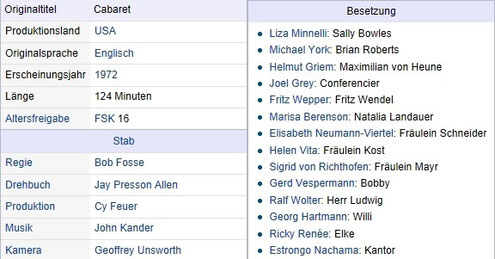 Cabaret ist ein US-amerikanischer Spielfilm aus dem Jahre 1972. Regie führte Bob Fosse, es spielen unter anderem Liza Minnelli (die über Nacht weltberühmt wurde), Michael York, Helmut Griem, Joel Grey und Fritz Wepper mit. Die Musik stammt aus der Feder von John Kander, die Liedtexte von Fred Ebb. Die Vorlage zum Film lieferten das gleichnamige Broadway-Musical und der autobiographische Roman Goodbye To Berlin von Christopher Isherwood.
Während die Bühnenfassung der Uraufführung die Rolle des Fräulein Schneider (am Broadway von Lotte Lenya verkörpert) in den Vordergrund rückte, konzentrierte sich Bob Fosse auf die Liebesgeschichte zwischen Sally Bowles und dem jungen Schriftsteller Brian Roberts. Außerdem wurden mehrere Charaktere aus dem Film geschnitten während einige von Isherwood's Originalgeschichten eingefügt wurden.
Die Proben sowie der komplette Dreh fand in Deutschland statt, die Innenaufnahmen wurden-und jetzt aufgepasst-in den Bavaria Filmstudios in München gedreht!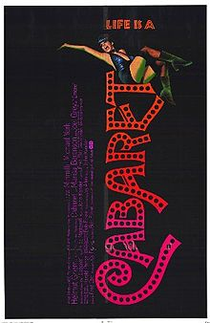 Cabaret is a 1972 musical film directed by Bob Fosse and starring Liza Minnelli, Michael York and Joel Grey. The film is set in Berlin during the Weimar Republic in 1931, under the ominous presence of the growing Nazi Party.
The film is loosely based on the 1966 Broadway musical Cabaret by Kander and Ebb, which was adapted from the 1945 book The Berlin Stories by Christopher Isherwood and the 1951 play I Am a Camera which was derived from the same book. Only a few numbers from the stage score were used for the film; Kander and Ebb wrote new ones to replace those that were discarded. In the traditional manner of musical theater, every significant character in the stage version of Cabaret sings to express emotion and advance the plot; but in the film version, the musical numbers are entirely diegetic, and just two of the film's major characters (The Emcee and Sally) sing songs.
The film is significantly different from the Broadway musical. To accommodate Minnelli, Sally Bowles is Americanized. The character of Cliff Bradshaw was renamed Brian Roberts and made British, though he still remained bisexual. The characters, and plot lines involving, Fritz, Natalia and Max do not exist in the play (although there is a minor character named Max in the stage version, the owner of the Kit Kat Club, who bears no relation to the character in the film). The Broadway version used special settings to separate the fantasy world of the Cabaret from the darker rest of the world. While in the stage version (along with Isherwood's original story), Sally is a terrible singer, who thinks she's better than she actually is (preventing her from becoming the actress she wants to be and keeping her trapped at the Kit Kat Club), in the film she is portrayed as a skilled singer.
Several characters were cut from the film (including Herr Schultz, with Fraulein Schneider's part greatly reduced and the whole romantic subplot removed) and several from Isherwood's original stories put back in. 
Rehearsals and filming took place entirely in Germany. For reasons of economy, indoor scenes were shot- what a coincidence- at Bavaria Film Studios in Grünwald, outside Munich.