Honorary Member Dennis Schigiol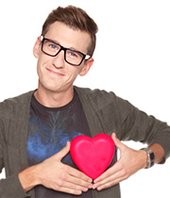 He was Emma's freaky pal that she couldn't live without. And we too are under his spell: Hotte, nerd and hero of our hearts. There never was a James Bond who looked better with glasses. Because of him the word "Whabammm" achieved cult status, using a pendulum became a cure and a career as a magician in Las Vegas became an option for former YPS-magazine readers. There are so many endearing details about Hotte – and we wouldn't want to miss a single one of them.
Für Emma ist er der freakige Kumpel, ohne den sie nicht leben kann. Und auch wir sind ihm verfallen: Hotte, der Nerd und Held unseres Herzens. Nie hat ein James Bond mit Brille besser ausgesehen. Durch ihn wurden das Wort "Wääbäääm" zum Kult, Pendeln zum Heilmittel und eine Zauberkarriere in Las Vegas zur neuen Option für ehemalige YPS-Heft-Leser. Um Hotte ranken sich so viele liebenswürdige Details – und wir möchten kein einziges davon missen.
Dennis, we are grateful for your touching voice, your acting, your energy and love for detail with which you created the unique character that was Hotte. Or in a nutshell: Hotte rulez!
Dennis, wir danken dir für deine berührende Stimme, dein Spiel, deine Energie und Liebe zum Detail, mit der du Hotte zu einer einzigartigen Figur geformt hast. Oder, sagen wir es kurz:  Hotte rulez!