Welcome to the international site for Jemma fans!
Sometimes things happen in life; they just happen…
We were thrilled by the totally cute story of Jenny and Emma on the German TV show "Hand aufs Herz" (it means "Hand upon your heart", by the way). And our main goal is to bring Jemma closer to y'all – despite the barriers that language and space might enforce upon us. What does that mean? Translating all episodes into as many languages as possible.
To all of us, Jemma is more than a story on a TV show. Jemma changed many lives for the better, forged new friendships and relationships, inspired creativity and courage. So even though the show was cancelled in 2011, we want to keep the Jemma spirit alive.
Visibility matters!  
Join "Team Jemma" in its wildly in love craziness!
What's up in our world
08/31/15 # WEBSITE # We relocated our section LEARNING GERMAN to Fanart

08/23/15 # ANNOUNCEMENT # Lucy plays Adrian in ROCKY - ab 11/2015 in Stuttgart

08/08/15 # NEW # Informations about Roxane (Cyrano) in Lucys projects
07/20/15 # NEW # Details for ANDERS – a short film project by Franciska Friede and Henrike Fehrs
07/12/15 # CHECK # Pictures of 'Disney in Concert' with Lucy at Berliner Waldbühne
07/01/15 # CHECK # Fotosession: Portraits of Kasia by Dennis Schigiol
See all entries in our News section ...
What's up in our blog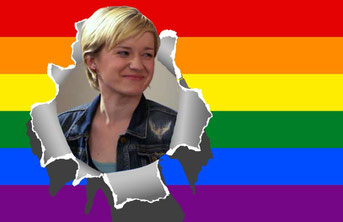 A few days ago our very own Globe wrote a story about courage, friendship and smiles.
It's such a heart-touching story that we just have to share it with you.
Vor einigen Tagen hat unsere höchst geschätzte Globe eine Geschichte geschrieben -
über Mut, Freundschaft und über ein breites Lächeln im Gesicht. Es ist so eine berührende
Geschichte, dass wir sie mit euch teilen wollen. In einem nostalgischen Moment blickt sie
zurück auf ihren Weg ins Jemma Fandom und erzählt uns, wie eine Serienfigur ihr bei einem
mutigen Schritt in ein neues Leben geholfen hat.  
mehr lesen
You want to read more blog entries? Please click here