Welcome to the international site for Jemma fans!
Sometimes things happen in life; they just happen…
We were thrilled by the totally cute story of Jenny and Emma on the German TV show "Hand aufs Herz" (it means "Hand upon your heart", by the way). And our main goal is to bring Jemma closer to y'all – despite the barriers that language and space might enforce upon us. What does that mean? Translating all episodes into as many languages as possible.
To all of us, Jemma is more than a story on a TV show. Jemma changed many lives for the better, forged new friendships and relationships, inspired creativity and courage. So even though the show was cancelled in 2011, we want to keep the Jemma spirit alive.
Visibility matters!  
Join "Team Jemma" in its wildly in love craziness!
What's up in our world
2016/09/24 # NEWS # AfterEllen is shut down! Do you remember the HaHe recaps?
2016/09/05 # NEWS # Lucy plays Trix in "Hochzeit mit Hindernissen" - 2 shows @Theater Bielefeld
2016/08/17 # CELEBRATION # First shooting day of HaHe 2010
2016/08/05 # EVENT # Lucy @Lohne Musicalstars – Die Benefiz-Gala Vol. 4
2016/07/02 # CHECK # Video Impressionen von Disney in Concert aus der Berliner Waldbühne mit Lucy
2015/12/30 # NEW # All the surprises of the Adventskalender 2015 in Fanart.
2015/11/09 # NEW # Informations about Adrian (Rocky) in Lucys projects
2015/08/31 # WEBSITE # We relocated our section LEARNING GERMAN to Fanart
2015/08/23 # NEWS # Lucy plays Adrian in ROCKY - ab 11/2015 in Stuttgart
2015/08/08 # NEW # Informations about Roxane (Cyrano) in Lucys projects
2015/07/20 # NEW # Details for ANDERS – a short film project by Franciska Friede and Henrike Fehrs
2015/07/12 # CHECK # Pictures of 'Disney in Concert' with Lucy at Berliner Waldbühne
2015/07/01 # CHECK # Fotosession: Portraits of Kasia by Dennis Schigiol
More details and all entries in our News section ...
What's up in our blog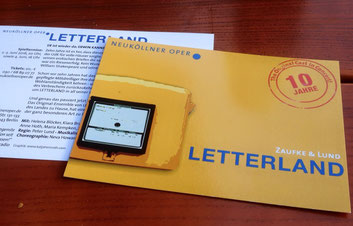 Kennst du das Land, wo niemand weint?
Wo Tag und Nacht die Sonne scheint? Das Glück regiert, mit leichter Hand?
Tja, das ist die Vorortsiedlung Letterland – rein theoretisch, denn das Idyll trügt. Äußerst idyllisch verlief dagegen die Wiederaufführung des gleichnamigen Musicals an der Neuköllner Oper, das für Lucy Scherer und ihre Kollegen zugleich ein ganz besonderes Motto hatte: Klassentreffen!
Do you know the place where no one cries?
Where the sun shines day and night? Where luck reigns with an easy hand?
Well, that's the suburb Letterland - purely theoretically, because this idyll is deceptive. Very idyllic on the other hand was the revival of the musical of the same name at the Neuköllner Oper in Berlin, and for Lucy Scherer and her colleagues it was also something of a special occasion: class reunion!
(English version see below)
mehr lesen
You want to read more blog entries? Please click here