Welcome to the international site for Jemma fans!
Sometimes things happen in life; they just happen…
We were thrilled by the totally cute story of Jenny and Emma on the German TV show "Hand aufs Herz" (it means "Hand upon your heart", by the way). And our main goal is to bring Jemma closer to y'all – despite the barriers that language and space might enforce upon us. What does that mean? Translating all episodes into as many languages as possible.
To all of us, Jemma is more than a story on a TV show. Jemma changed many lives for the better, forged new friendships and relationships, inspired creativity and courage. So even though the show was cancelled in 2011, we want to keep the Jemma spirit alive.
Visibility matters!  
Join "Team Jemma" in its wildly in love craziness!
NEWS!!! What's up in our world
2017/06/23 # EVENT # Musical Benefiz Gala 2017 in Heidenheim with Lucy
2017/05/11 # CHECK # New Pictures - Kasia's beautiful sundy in May on Facebook
2017/04/30 # NEWS # Birthday statement by Kasia on Facebook
2017/04/01 # EVENT # Lucy is part of "Hermann der Matrose" (reading - musical)
2017/03/26 # CHECK # Musical1 Podcast - Interview with Lucy
2017/02/01 # NEW # All surprises of JI-Adventskalender 2016

2017/01/10 # TV # Lucy in "Die Rosenheim-Cops"
2016/11/18 # CHECK # New songs by Kasia on Soundcloud

2016/09/24 # NEWS # AfterEllen is shut down! Do you remember the HaHe recaps?
2016/09/05 # NEWS # Lucy plays Trix in "The Drowsy Chaperonne" @Theater Bielefeld
2016/08/17 # CELEBRATION # First shooting day of HaHe 2010
More details and all entries in our News section ...
STORIES!!! What's up in our blog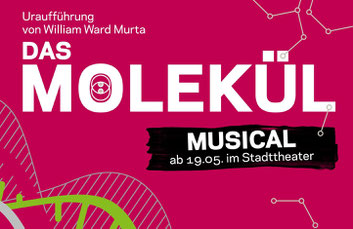 Kunst und Wissenschaft.
Musik und Biologie.
Musical und Gentechnologie.
Wie sollen diese Paarungen zusammenpassen? Wer Forschung liebt, tummelt sich an der Universität. Wer Unterhaltung sucht, geht ins Theater.
Heißer Tipp: Theater Bielefeld. Denn hier hat William Ward Murta mit dem Stück "Das Molekül" ein Doppelhelix-Werk erschaffen, und es unter anderem aufgeführt in der Vorstellung am 18. Juni 2017 (mit Lucy Scherer). Kunst rankt sich um Wissenschaft, und ein Musical um die Entschlüsselung der DNA.
mehr lesen
You want to read more blog entries? Please click here