For Roxane: How to court your sweetheart like Cyrano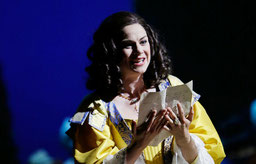 Das Musical CYRANO rankt sich um die Liebe, und der Titelheld versucht einiges, um bei seiner Herzdame zu punkten.Können wir uns da was abgucken? Wie wirbt man schmissig und stilvoll um die Liebste?
Lasst uns vom romantischen Profi lernen – in mehreren Lektionen, als Countdown vor der Premiere in Bielefeld.
The musical CYRANO's central theme is love and the eponymous hero goes to some lengths to gain favor with his beloved. Can we take a page out of his book? How do you court your sweetheart with style and verve?
Let's learn from the romantic pro - in several lessons, as a countdown to opening night in Bielefeld.
Lesson #1 Florett vs. Fleurop
Sein flinker Degen bringt Cyrano Bewunderung ein, garantiert auch bei den Damen. Tja. Schön, so im 17. Jahrhundert. Und was machen wir im Hier und Jetzt daraus? Melden wir uns im Fechtclub an und zücken beim nächsten Kino-Date lässig das Florett, sollte sich irgendwer am Popcorn-Stand vordrängeln? Florett leitet sich übrigens vom französischen Wort "fleur" ab. Lasst uns also besser bei Blumen bleiben und mit Rosen & Co. um die Gunst der Liebsten werben. Doch welche Botschaft verbirgt sich hinter welcher Blume?
His deft handling of a rapier gets Cyrano admiration, surely also from the ladies. Well. Nice - in the 17th century. So what can we do with that in the here and now? Do we start going to the fencing club and then casually draw our foil during the next date at the movies when someone cuts in line at the concession stand? By the way, the word "Florett" (foil) is derived from the French word "fleur". So, let's just stick to flowers and woo our beloved with roses and co. But what are the meanings of the different flowers?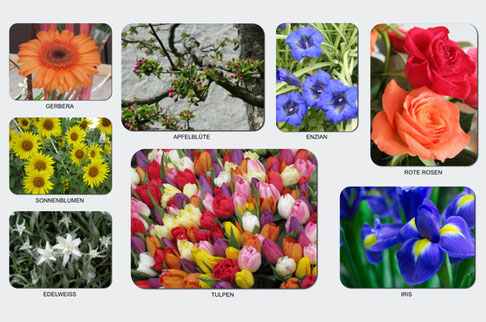 GERBERA
Durch dich wird alles schöner! With you everything gets more beautiful!
ROTE ROSEN / Red roses
Ich liebe dich über alles! I love you more than anything!
ENZIAN / Gentian
Deine Schönheit ist überwältigend! Your beauty is stunning!
IRIS
Ich steh zu dir! I stick by you!
APFELBLÜTE / Apple blossom
Ich möchte dir den Vorrang geben! I'd like to give preference to you!
EDELWEISS
Du bist wunderschön! You're gorgeous!
SONNENBLUMEN / Sunflowers
Ich fürchte, du bist mir zu anspruchsvoll! I'm afraid you're too hard to please!
TULPEN / Tulips

Du bist zu keiner echten Empfindung fähig! You're incapable of real sentiment!
Ups! Blumensprache ist tückisch. Aber hey, mal ehrlich: Wenn wir wirklich um eine Dame werben, die uns mag, sollte sie uns sogar einen Kaktus verzeihen. Und sich obendrein über jedes Blümchen freuen, das wir ihr mit pochendem Herzen unter die Nase halten.
Oops! Flower speak can be treacherous. But hey, honestly: If we are really courting a lady who likes us, she would probably let us get away with a cactus. And be happy about every type of flower that we're presenting her with a pounding heart.
Lesson #2 Mut zum Makel
Nase, Nase, Nase … Oh ja, das Geruchsorgan ist für Cyrano wirklich ein großes Thema. Verbal versteckt er diesen Makel nicht und steht zu seiner Rübe, auch Kolben genannt, Zapf, Rüssel oder Gurke. An seiner sprachlichen Kreativität können wir uns glatt ein Beispiel nehmen. Besonders, wenn wir bei unserer Herzdame landen wollen. Nobody is perfect. Also machen wir das Beste aus unserer Unvollkommenheit, stehen über den Dingen und sprechen darüber. Nasen-Phrasen gibt es in der deutschen Sprache ohnehin genug.
Nose, nose, nose... Oh yes, the olfactory organ is a big issue for Cyrano. Verbally he doesn't hide this flaw and stands by his (Achtung! literal translation) beet, bulb, cone, trunk or cucumber. We can learn a lesson from his verbal creativity. Especially if we want to have a chance with our beloved. Nobody is perfect. So let's make the best of our imperfections, rise above them and talk about them. And there are more than enough nose-phrases in the German language.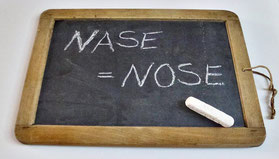 Immer der Nase nach! – Just follow your nose!
eine lange Nase machen – to thumb one's nose (at s.o.)
auf die Nase fallen – to fall flat on one's face
sich eine goldene Nase verdienen – to make a mint (of money)
die Nase vorn haben – to be one step ahead
die Nase voll haben – to be fed up with s.th./s.o.
jemanden an der Nase herumführen – to lead s.o. by the nose / to give s.o. the runaround
jemandem auf der Nase herumtanzen – to walk all over s.o.
jemanden etwas aus der Nase ziehen – to worm/drag something out of s.o.
Lesson #3 Food for the soul
Mit seinen Liebesversen trifft Cyrano bei Roxane mitten ins Herz. Nichts leichter als das: Roxane, Roxane … äh … die Liebe, die Liebe … Tja. Wir fanden unser Thema, doch fehlt dem Reim ein Schema. Bevor wir ein Gedicht unter dem Balkon unserer Herzdame anstimmen, sollten wir Nicht-Poeten uns besser Notizen machen. Brainstorming. Was reimt sich auf … Aus einer Wörtersammlung lassen sich bestimmt wohlklingende Vierzeiler basteln. Romantisch à la Cyrano oder lieber realistisch?! Wir üben noch.
Cyrano deeply touches Roxane's heart with his love poetry. Piece of cake: Roxane, Roxane ... er ...the love, the love ... Well. Finding the topic is easy but getting the words to rhyme... Before we start reciting a poem beneath our beloved's balcony, us non-poets would be well-advised to write down notes. Brainstorming. What rhymes with ... Surely by using a thesaurus of sorts we should be able to compose melodic quatrains. Romantic à la Cyrano or rather more realistic?! We're still practicing.
Lesson #4 Poetry
Roxane hat ein brennendes Verlangen: Sie will einen Brief empfangen. Schon klar, manchmal will man halt Post. Cyrano schreibt daraufhin wie ein Weltmeister, sogar von der Front, und verzaubert seine Angebetete komplett. Für eine erste Romantikoffensive an der Alltagsfront haben wir drei Pocket-Briefe für euch mit Zitaten aus CYRANO.
Roxane has a burning desire: She wants to receive a letter. Understandable, sometimes you just want to get mail. And so Cyrano writes like a champion, even from the front lines, and completely enchants his beloved. For a first romantic offensive on the everyday life front lines, we have three pocket letters with quotes from CYRANO for you.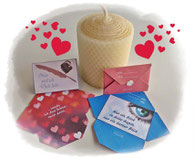 So geht's:
Datei runterladen. Ausdrucken. Jeden Brief in der Mitte falten, beide Hälften zusammen kleben und ausschneiden. Nun müsst ihr den Zettel nur noch zum Brief falten, stilvoll mit Kerzenwachs versiegeln und ihn euer Roxane zustecken. Go-go-go, das schafft ihr!
This is how it works:
Download file. Print it out. Fold every letter in the middle, glue both sides together and cut them out. Now you simply have to fold the slip of paper into a letter, stylishly seal it with candle wax and hand it over to your Roxane.. Go-go-go, you can do it!
Lesson #5 Lachen Lachen Lachen
Du hast dich wirklich ins Zeug gelegt wie Cyrano, doch deine Roxane hat dich noch immer nicht erhört? Dann bleibt noch ein letzter Versuch beim gemeinsamen Besuch einer CYRANO-Vorstellung. Am Ende des Ersten Akts kommt dein Moment: Das Publikum strömt ins Theaterfoyer für eine kurze Pause und jetzt ist Small-Talk angesagt. Über das Stück, die Musik, die Kostüme … blablabla. Doch bei dieser Plauderei hast du die Nase vorn, denn du kannst deiner Liebsten diese Fun Facts unter die Nase reiben und sie zum Lachen bringen. Humor ist Trumpf! Falls nicht, solltest du deine Roxane noch einmal überdenken …
You went all out like Cyrano but your Roxane still hasn't responded favorably to you? Then you still have one last chance while visiting a CYRANO show together. Your moment comes after the end of the first act: The audience swarms into the foyer for a short break. Now is the time for small talk. About the play, the music, the costumes... blahblablah. But you have an advantage in this chat because you can present these fun facts to your beloved and make her laugh. Humor is your ace in the hole! If it isn't, you should really reconsider your Roxane ...
Just click the pic - you'll find the English text right under each picture.