"Du bist mein freakiger Kumpel, ohne den ich nicht leben kann!" So gestand es Emma einst und uns geht es irgendwie genauso. Nach "Hand aufs Herz" haben wir Dennis – also nicht Horstfeld, sondern Schauspieler Dennis Schigiol – nicht aus dem Blick verloren. Auf Twitter und seinem eigenen Blog erleben wir ihn als kreativen Zeitgenossen, der authentisch Klartext redet. So auch in unserem Interview.
"You're my freaky pal who I can't live without!" That's what Emma confessed to once upon a time, and we kinda feel the same way.   After the end of "Hand aufs Herz," we haven't lost sight of Dennis – and we're not talking Horstfeld here, but actor Dennis Schigiol. On Twitter, and via his own blog, we get to experience him as he is - a creative person who speaks out both plainly and authentically. This is something that he also does in our interview.

Let's talk … natürlich über das Hotte-Gestern, doch vor allem über die Gegenwart – mit Schubladenkämpfen, Fotografie und Werbung, bis hin zu Networking, Fanbase und Zukunftswünschen unter dem Regenbogen.
Wenn du zurückblickst… Hand aufs Herz… Wie hast du damals die Nachricht über die Absetzung aufgefasst?
Wenn ich ehrlich bin, hat es mich nicht überrascht. Bereits als ich ausgestiegen bin, lag die Absetzung in der Luft und der Druck wurde immer größer. Trotzdem hat es mich getroffen und war mir alles andere als egal. "Hand aufs Herz" war ein Projekt, in das alle Beteiligten ihr ganzes Herzblut reingesteckt hatten. Von Kameramann über Disponent bis hin zum Schauspieler haben alle gearbeitet wie die Ochsen und all ihre Kreativität hineingesteckt. Vom ersten Drehtag an waren wir ein tolles Team. Auch wenn ich die Produktion früher verlassen habe, war ich ja immer noch ein Teil davon und dann schmerzt es natürlich, wenn man von so einer Nachricht erfährt.
Was nimmst du aus dieser Zeit mit?
Ich habe unglaublich viel gelernt. Quasi alles, was man aus dem Unterricht oder den Schauspielbüchern kennt, wurde auf einmal täglich abverlangt. Das jeden Tag unter Zeitdruck aufs Neue authentisch hinzubekommen war die Kunst und wurde immer wieder zu einer schweren Prüfung. Ich habe auch sehr viele Dinge machen müssen, die man nicht in der Schule lernt, wie zum Beispiel Markierungen beim Spielen zu treffen oder mit meiner Energie hauszuhalten. Das sind sehr technische Dinge, die mir aber bei meinen folgenden Projekten jetzt sehr helfen.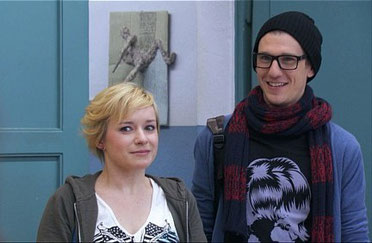 Gab es etwas, das besonders viel Spaß gemacht hat?
Das Spielen mit Kasia Borek. Ich glaube, das hat man in den Szenen auch gesehen. Wir haben uns schauspielerisch immer blind verstanden und sie gab mir die Möglichkeit komödiantische Szenen einzubauen, die auf ein gewisses Ping Pong Spiel zwischen beiden Akteuren angewiesen sind. Wir haben oft in den Pausen in unserer kleinen Garderobe gesessen und sind im Drehbuch Szenen durchgegangen, die wir dann manchmal verbotener Weise einfach ein wenig geändert haben, damit sie besser zu uns passen und mehr Spaß bereiten.
Wärst du in der Schulzeit mit Hotte befreundet gewesen?
Ich war immer etwas anders als die anderen Jungs in der Schule und habe deswegen auch eine kleine Außenseiterrolle besetzt. Ganz automatisch hat sich da eine Verbundenheit mit den anderen Randgruppen ergeben. Ich bin mir sicher, dass Hotte mit von der Partie gewesen wäre.
Mal abgesehen vom selben Vornamen: In welchen Punkten ähnelst du Hotte und worin unterscheidet ihr euch?
Hin und wieder kann ich mich sehr gut in Hotte wiedererkennen. Wie gesagt sind mir die Probleme, mit denen Hotte, Emma und Luzi zu kämpfen hatten, aus meiner eigenen Biografie bekannt und daraus resultierend manche Reaktionen. Hotte ist trotz seiner autistischen Veranlagung sehr empathisch und emotional. Diese Eigenschaften würde ich auch mir zuschreiben. Wir unterscheiden uns aber auch in vielen Dingen: Hotte ist in der Naturwissenschaft ziemlich fit und interessiert. Privat habe ich kaum einen Schimmer von solchen Dingen. Seine Naivität teile ich leider ebenso nicht. Auch wenn sie ihm viel Ärger und Enttäuschung bringt, schützt sie ihn vor vielen Dingen. Davon würde ich mir manchmal gerne eine Scheibe abschneiden.
Würdest du diese Figur denn wieder genauso spielen und interpretieren, wenn du jetzt noch mal die Chance hättest?
Das ist schwierig zu beantworten. Die Rolle habe ich jetzt vor fast 3 Jahren kreiert und da mir recht viel freie Hand gelassen wurde, habe ich alles hineingepackt, was mich bis dahin beschäftigt und interessiert hat. Ich habe mich weiterentwickelt und bin nicht mehr auf dem Stand von vor 3 Jahren. Allein das lässt mich daran zweifeln, dass ich die Rolle heute noch einmal genau so spielen würde. Allerdings bin ich immer noch ein großes Spielkind und bei so einem bekloppten Rollenangebot würde ich auch heute noch die Sau rauslassen.
Welche (saustarken) Geschichten hättest du gerne noch mit Hotte erlebt?
Ich hätte Hottes Charakter gerne einen Bruch verpasst. Etwas was ihm vielleicht einen Dämpfer in seiner naiven Sichtweise beschert, ihn erwachsen werden lässt. Aber das sah das Drehbuch leider nicht vor.
Dafür Hokuspokus in Las Vegas. War das in deinen Augen der perfekte Abgang für Hotte?
Ich muss gestehen, dass mir dieser Abgang für Hotte nicht sehr geschmeckt hat. Man wollte mich horstfeldmäßig verabschieden, aber ich fand die Zaubergeschichte ein wenig weit hergeholt. Spannend wäre doch gewesen, wenn er diese Kiste zwischen Emma und Jenny nicht verkraftet, seine Böse Seite gezeigt hätte und am Ende von der Schule geflogen wäre. Aber schließlich müssen die Drehbuchautoren wissen, welche Erzählstränge für ihre Charaktere wichtig und passend sind. Da bin ich kein Profi.
Welche Rolle, männlich oder weiblich, hätte dich in HaHe noch gereizt?
Die Rolle der Ingrid Jäger. Die habe ich geliebt. Ich habe ja gehofft, dass irgendwann mal herauskommt, dass Ingrid Jäger eigentlich Hottes Mutter ist und wir dann einen Song performen und eine Stepnummer im Schulflur aufführen. Achja, das wär's gewesen.
Definitiv! Apropos Steppen… Als was würdest du dich eigentlich selbst bezeichnen: Schauspieler? Tänzer? Sänger? Künstlerisches Multi-Talent?
Ich denke, ich zwänge mich nicht in eine Schublade, wenn ich mich als Schauspieler bezeichne. Schließlich stelle ich unter den Begriff des Schauspielers die Fähigkeit, das Publikum mit Stimme und Körper zu begeistern. Nichts anderes tue ich. Ich finde alle Bereiche zu interessant, um mich nur auf eines zu spezialisieren. Leider habe ich das dumpfe Gefühl, dass das Schubladendenken beinahe zur deutschen Paradedisziplin avanciert ist. Mein ganzes Arbeitsleben lang muss ich mich immer wieder aus den Schubladen kämpfen, in die andere mich aufgrund meiner Vita stecken. Erst war ich der Hip Hopper, der Musical machen will, dann war ich die Musicaltussi, die zum TV will, und jetzt bin ich der Soapdarsteller, der beweisen muss, dass er auch anders kann. Das ist manchmal etwas anstrengend und man verzweifelt hier und da an den Leuten, die einem diesen Stempel aufdrücken. Aber ich bin auch immer etwas stolz, wenn ich den Schubladendenkern dann doch zeigen konnte, wo der Hammer hängt.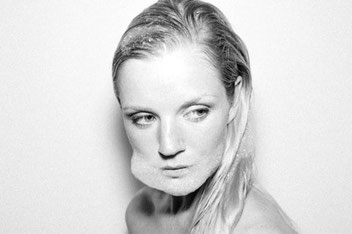 Auch für Fotografie hegst du eine Leidenschaft. Wie kam es überhaupt zum "kreativen Soap-Gespräch" mit Kim Sarah Brandts auf deinem Blog?
Das war recht spontan. Ich saß zu Hause und hatte Lust auf ein Projekt. Da ich KiSa sehr gern mag und sie einfach auch mal ein unglaublich hübsches Persönchen ist, hab ich sie gefragt, ob sie Lust auf eine kleine Fotosession hat. Peng, stand sie auch schon splinti in meiner Wohnung und hat Seifenblasen gepustet. Quatsch, sie war natürlich angezogen.
Deine Bilder entstehen also spontan?
Das ist völlig unterschiedlich. Mal habe ich die Kamera zur Hand und knipse spontan drauf los und manchmal habe ich genaue Vorstellungen und organisiere alles bis ins kleinste Detail. Es kommt sogar vor, dass mich jemand kontaktiert und Fotos für irgendetwas braucht. Wenn mir die Idee gefällt, mach ich auch das.
Wie professionell betreibst du die Fotografie? Erzähl doch mal ein bisschen!
Ich fotografiere zurzeit mit einer digitalen Spiegelreflexkamera von Canon. Das war für mich das Starterset, welches ich mir vor 3 Jahren gekauft habe. Stück für Stück habe ich mir dann nen Aufsteckblitz, Reflektoren, Blitzschienen und so'n Krams besorgt. Bisher kam ich damit ganz gut zurecht. Doch so langsam merke ich, dass ich an meine Grenzen komme und gerne bessere Geräte zur Hand hätte. Doch die haben einen stolzen Preis. Ähnlich ist es mit der Bildbearbeitung, die ich auch nur digital betreibe. Um Lichtverhältnisse zu korrigieren oder Farben genau abzustimmen, gehe ich immer noch einmal mit einem Bildbearbeitungsprogramm über die Fotos. Je nachdem wie der Look des Bildes angesetzt ist, retuschiere ich dann auch. Ob das jetzt professionell ist, weiß ich nicht. Bei mir ist alles "learning by doing".
Wäre die Fotografie perspektivisch ein zweites Standbein?
Bisher ist es nur ein Hobby, aber in meinem Kopf schwelt tatsächlich eine konkrete Idee, daraus etwas mehr zu machen. Aber über ungelegte Eier spricht man ja bekanntlich nicht.
Dann lass uns über gelegte Eier reden. McDonald's, OTTO – auch in der Werbung bist du präsent …
Das ist ein Thema, welches mir wirklich manchmal schwer im Magen liegt. Es ist natürlich kein Geheimnis, wenn ich euch sage, dass wir Schauspieler diese Spots meistens aufgrund des Geldes drehen. Anfangs ist es natürlich die Neugier, wie man in dieser Branche vor der Kamera arbeitet, aber die ist schnell verflogen. Der Gewissenskonflikt ist aufgrund vieler meiner privaten Haltungen manchmal vorprogrammiert. Nachdem ich bereits einmal einen Spot von Mc Donald's abgesagt habe, weil ich das nicht mit meiner Haltung zur Massentierhaltung vereinbaren konnte, habe ich dann Ende 2011 doch einem Drehbuch zugestimmt.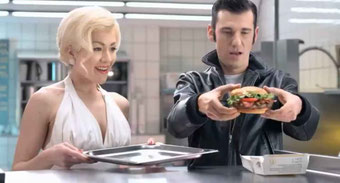 Bist du mit dem Spot denn jetzt zufrieden?
Rein technisch bin ich mit dem Resultat zufrieden, aber das beworbene Produkt halte ich für absoluten Müll. Ich schäme mich schon ein wenig, den Fans, die mich aus "Hand aufs Herz" kennen, zu suggerieren, dass zum Beispiel ein Burger ein ganz tolles Produkt ist, denn das ist es nicht! Ich hoffe, ich muss ein solches Produkt auch nie wieder bewerben. Werbung ist so eine Sache für sich. Mir fällt es schwer, den Kopf dabei auszuschalten und mir selber zu sagen, dass man nur eine Rolle spielt. Ich kann euch sagen, dass ich mich nie im Leben an eine Mühle setzen würde, um für Leberwurst zu werben. Auch einen Spot für die Bundeswehr habe ich mal abgesagt, schließlich war ich stolzer Zivildienstleistender.
Wenn Werbung die Miete sichern muss – wie lebt es sich als Schauspieler?
Die Realität ist ernüchternd. Über 90 % der Schauspieler können von ihrem Beruf nicht leben und auch im Alltag wird es uns sehr schwer gemacht, in diesem System klar zu kommen. Wir haben immer Ärger mit Krankenkassen, dem Finanzamt und Probleme uns gescheit für das Alter abzusichern. Wohnungen werden uns auch nicht gegeben. In Berlin bin ich 6 Monate von Besichtigung zu Besichtigung gelaufen mit einem Jahresvertrag von Sat.1 in der Hand. Ich bekam nur Absagen, mit der Begründung, dass es den Vermietern zu unsicher sei, Schauspielern ihre Wohnungen zu vermieten. Wir hangeln uns von Strohhalm zu Strohhalm und hoffen jeden Tag auf einen Anruf des Agenten, der uns über eine Anfrage informiert. Wird man zu einem Casting eingeladen, ist die Freude groß, dabei heißt es eigentlich noch gar nichts, denn da stehen 100 andere Schauspieler vor der Tür, die den gleichen Job haben wollen. Selbst wenn das Angebot konkret wird und man das Drehbuch in der Hand hält, können plötzlich Finanzierungsprobleme auftauchen und ganze Projekte fallen ins Wasser. Das habe ich alles schon erlebt. Es ist manchmal sehr ermüdend und man muss eine gute Portion Durchhaltevermögen mitbringen.
Klingt nicht wirklich nach Glamour und Glitzer …
Glamour ist das Ganze nicht. Es gibt Zeiten, da verdiene ich gut und kann das Spielchen mitspielen. Dann gibt es wieder Zeiten, in denen ich Nebenjobs machen muss, damit ich über die Runden komme und irgendwie krankenversichert bin. Eine Familie mit diesem Job zu gründen ist fast unmöglich.
Mir begegnet es ehrlich gesagt aber eher selten, dass Menschen meinen Beruf mit Glamour und roten Teppichen verbinden. Auch in den Medien wurde ja bereits in letzter Zeit des Öfteren über das verzerrte Bild des Berufstandes berichtet. Aber ehrlich gesagt, kann ich das Thema nicht mehr hören. Nur meckern hilft nicht. Wir müssen handeln!
Scripted Reality scheint es deinem Berufsstand zunehmen schwer zu machen. Was denkst du über diese Formate?
Ich persönlich halte nichts von diesen Formaten. Aber diese ganze TV-Landschaft ist total vertrackt. Ich akzeptiere, dass diese Formate anscheinend geschaut werden. Allerdings muss man sich auch vor Augen führen, dass die Fernsehmacher zurzeit keine Alternative bieten. Die privaten Sender springen aus völliger Einfallslosigkeit auf den Scripted Reality-Zug, in der Hoffnung, dem vermeintlichen Trend ein paar Zuschauer abzuknapsen, während wir in den öffentlich rechtlichen entweder mit Krimis oder Polittalks zugeschüttet werden. Das sind zwei Extreme: Auf der einen Seite verkauft man seine Zuschauer für dumm und auf der anderen Seite stehen Formate, die sich zu ernst nehmen. Aber wo bleiben die Produktionen, die sich mal locker machen und mit einem Augenzwinkern einfach nur gut unterhalten wollen?
Äh … Gute Frage …
Scripted Reality ist meines Erachtens mittlerweile kein Trend mehr, den die Konsumenten aufrecht erhalten, sondern die Fernsehmacher selbst, weil sie schnell Geld verdienen wollen. Es werden anspruchsvolle Zuschauer vergrault, die den Fernseher erst gar nicht mehr zu bestimmten Uhrzeiten einschalten. Die, die einschalten, haben dann die Wahl zwischen Pest und Cholera. Und wenn Cholera dann die besten Einschaltquoten hat, ist das sicherlich kein Indiz für gutes Fernsehen. Was mich ärgert bei solchen Scripted Reality Formaten ist, wenn die Macher dann in Interviews erzählen, dass Laiendarsteller nicht wegen der geringen Kosten engagiert werden, sondern weil sie angeblich viel authentischer sind. Das ist frech und ne fette Lüge. Mir fehlt bei solchen Produktionen der Respekt vor dem Medium TV.
Noch mehr von Dennis? Aber gerne doch! In Kürze folgt Teil 2 des Interviews!
---

Let's talk … about the Hotte-past, of course, but also mainly about the present – from pigeonhole fights, photography and commercials - to networking, fan base and wishes for the future under the rainbow.

When you look back … Hand aufs Herz …How did you react to the news of its cancellation?
To be honest, it didn't surprise me. When I left, the cancellation was already hanging in the air, and the pressure was getting stronger all the time. But still it hurt and I was far from being indifferent to it. "Hand aufs Herz" was a project in which all involved had invested all their blood, sweat and tears. From the cameraman to the scheduler to the actor, everyone worked like a horse and put all their creativity into it. From the first day of shooting we were a great team, and even though I left the production earlier, I was still a part of it and so of course it hurts when you hear such news.
What have you taken away from that time?
I learned an awful lot. Practically everything you had learned in class or from acting manuals suddenly was required from you on a daily basis. It was a challenge to manage to do this in an authentic manner every day anew while pressed for time, and it often became a difficult trial, time and again. And I had to do a lot of things that you don't learn in school, like, for example, hitting your markers while playing a scene or how to conserve my energy. Those are very technical things but they are now very helpful for my current projects.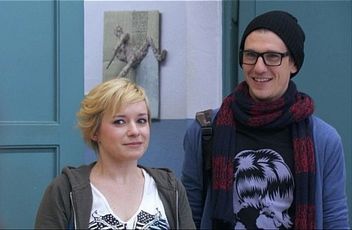 Was there something that was especially fun for you?
Acting with Kasia Borek, and I think you could see it in those scenes. We always understood each other blindly, acting-wise, and she gave me the opportunity to incorporate comedic scenes which are dependent on a certain ping pong game between the two players. We often sat in our small dressing room during breaks and went through scenes in the script which we then sometimes would change a little, even though it wasn't allowed, so that they fit us better and were more fun.
Would you have been friends with Hotte during your school years?
I was always a little different from the other boys in school and thus was somewhat of an outsider. Solidarity with other fringe groups happens automatically in this situation. I'm sure that Hotte would have been a part of that.
Apart from the same given name: What similarities do you share with Hotte and where do you differ from each other?
Now and again I can see myself in Hotte rather well. Like I said, I know the problems that Hotte, Emma and Luzi had to face from my own 'biography,' and because of that, that some of the reactions. Hotte is very empathic and emotional despite his autistic disposition. These characteristics I would claim for myself as well. But we are also different in a lot of ways: Hotte is rather knowledgeable and interested in the natural sciences. Personally, I don't have much of a clue about these kind of things. I don't share his naïveté either, unfortunately. Even though it causes much trouble and disappointment for him, it also protects him from a lot of things. I would like to take a leaf out of his book sometimes in that regard.
Would you play and interpret this character the same way again if you had another chance?
That's hard to say. I created this role almost three years ago, and since they let me have rather free rein I put everything into it that had interested and preoccupied me up until then. I've grown and am no longer at the point I was three years ago. That alone gives me doubt that I would play the role exactly the same way again today. However, I'm still a big child even now and given such a crazy role offer I would still whoop it up, even today.
Which storylines would you have liked to have experienced with Hotte?
I would have liked to have had a break in Hotte's character. Something that maybe would have put a damper on his naive outlook - that would have let him grow up - but unfortunately the script didn't go in that direction.
But it did give us hocus-pocus in Las Vegas. Was that the perfect exit for Hotte in your eyes?
I have to admit that I didn't like this exit for Hotte very much. They wanted to bid me a Horstfeld-like farewell, but I thought the magic story was a little farfetched. It would have been more interesting if he hadn't been able to live with the relationship between Emma and Jenny, showed his evil side, and in the end had been expelled from school. But it's the script writers who have to know which plots are important and fitting for their characters. I'm no professional in that regard.
Which other role, male or female, would have also appealed to you?
The role of Ingrid Jäger. I loved her! I had been hoping that Ingrid Jäger would somehow turn out to be Hotte's mother, and then we would have performed a song and gave a tap-dance performance in the school hallway. Oh, that would have been awesome!
Definitely! Speaking of tap dancing... What would you call yourself : Actor? Dancer? Singer? Artistic multi-talent?
I don't believe I'm pigeonholing myself if I call myself an actor. After all, for me the designation "actor" includes the ability to be able to capture the audience using voice and body. And that's exactly what I do. I find all fields much too interesting to specialize in just one. Unfortunately, I get the feeling that thinking in labels has more or less become a German national pastime. My whole working life I have had to fight the labels others put on me due to my CV. First I was the Hip Hopper who wanted to do musicals, then I was the musical chick who wanted to be on TV, and now I'm the soap actor who has to prove that he can also do other things. That can be exhausting sometimes, and you become exasperated here and there with people who are labeling you like this. But I'm always a little proud when I'm able to show those people that are thinking in labels what's what, after all.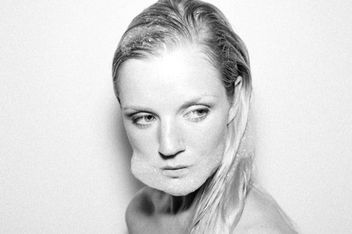 You have also a passion for photography. How did the "Creative Soap-Talk" with Kim Sarah Brandts on your blog come to be?
That was rather spur of the moment. I was sitting at home and felt like doing a project. Since I like KiSa very much, and she also simply happens to be an incredibly pretty person, I asked her if she was up for a small photo session. And bang, there she was standing au naturel in my apartment blowing soap bubbles. Kidding, she was dressed, of course.
So your pictures are spur of the moment?
That varies completely. Sometimes I have the camera in my hand and snap shots on the fly, and sometimes I have a clear idea and organize everything down to the smallest detail. It even happens that someone will contact me needing photos for something. If I like the idea, I'll do that too.
How professional is your photography? Tell us a little about it!
At the moment, I'm using a digital SLR from Canon. That was the starter set I bought three years ago. Bit by bit, I then obtained a shoe mount flash, reflectors, flash brackets and stuff like that. Until now, I've been doing alright with that. But I'm starting to notice that I'm reaching my limits and would like to have better gear on hand. But that costs a pretty penny. The same is true for the photo editing, which I only do digitally, too. To correct lighting conditions or to adjust colors I always run the pictures through a photo editing software. Depending on the look I want to achieve, I might do some retouching. If you'd call that professional, I don't know. Everything I do is "learning by doing".
Could you see photography becoming a second source of income in the future?
It's just been a hobby for now but I do have a concrete idea in the back of my head to make more of it. But one shouldn't talk about bridges that haven't been crossed yet.
So let's talk about crossed bridges. McDonald's, OTTO – you are also appearing in commercials…
That's a topic that really is sitting heavily on my stomach sometimes. It's no secret, of course, if I tell you that, most of the time, we actors are doing these commercials because of the money. In the beginning it's also curiosity about how one works in front of the camera in this line of work, but that curiosity dissipates rather quickly. The moral conflict is inevitable sometimes because of many of my personal stances. After I had already turned down a commercial for McDonald's once before because I wasn't able to reconcile it with my stance against factory farming, I then agreed to a script at the end of 2011, after all.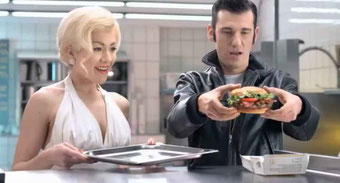 And are you satisfied with that commercial now?
From a purely technical point of view I'm satisfied with the end result but I find the advertised product to be a load of crap. I feel a little ashamed to suggest to the fans who know me from "Hand aufs Herz" that, for instance, a burger is a wonderful product, because it's not! I hope I will never have to advertise such a product again. Advertising is a peculiar thing. I have a hard time switching off my mind and telling myself that I'm only playing a role. I can tell you that I would never in my life sit down by a mill to advertise for liver sausage (refers to an existing commercial). I also turned down a commercial for the Bundeswehr (German military) once. I was a proud Zivildienstleistender (a person who does civil service in lieu of compulsory military service), after all.
When commercials have to secure the rent - what's life like as an actor?
Reality is sobering. More than 90% of all actors can't make a living with their work and in everyday life we face a lot of difficulties getting by in the existing system. There is always trouble with the health insurance companies, the IRS and we have problems decently providing for our old age. And we aren't getting apartments. In Berlin, I was looking at apartments for six month with a one-year contract from Sat1 in hand. I was turned down every time with the explanation that it would be too risky for the landlords to rent their flats out to actors. We grasp for one straw after another and hope every day for a call from our agent who might inform us about a request. If you get invited to a casting you're happy, but really it doesn't mean anything yet because there are a hundred other actors standing in front of the door who want to get the same job. Even when the offer gets more solid and you hold the script in your hands, there can be sudden financing problems and whole projects can fall through. Been there, done that. It is rather tiring sometimes, and you need to have some real staying power.
Doesn't really sound like glitter and glamour...
There's nothing glamorous about the whole thing. There are times when I'm making good money and I can play the game. Then there are times when I have to do jobs on the side to get by and keep my health insurance. It's almost impossible to start a family with this job. But to be honest, it's not often that I meet people who associate my job with glamour and red carpets. And recently the news has been reporting repeatedly about the distorted image of the profession, too. But to be honest, I'm sick of the subject. Just complaining is no use. We have to act!
Scripted Reality seems to make it more and more difficult for your profession. What is your opinion on these formats?
Personally, I don't think much of these formats. But this whole TV-landscape is very tricky. I accept that apparently these formats have an audience. But you also have to keep in mind that the program makers aren't offering any alternatives at the moment. The commercial channels are jumping on the Scripted Reality bandwagon due to a complete lack of ideas in the hope that by joining the supposed trend they'll be able to attract a few viewers, while the public channels are burying us under either crime shows or political talk shows. Those are two extremes: on the one side you're taking your viewers for fools, on the other side there are formats that take themselves too seriously. But where are the productions that just chill out and with a twinkle in their eye just want to deliver good entertainment?
Er...good question...
In my opinion, Scripted Reality isn't a trend that is kept alive by the consumers anymore - but by the program makers because they want to make a quick buck. Sophisticated viewers are being driven away so much so, that they won't even turn on the TV anymore during certain times. Those who do tune in then have the choice between pestilence and cholera - and if cholera then has the better ratings it sure as hell isn't a sign for good TV. What makes me angry with these Scripted Reality formats is when the creators then say during interviews that they don't hire amateur actors because of the low costs but because they are supposedly much more authentic. That's impertinent and a big fat lie. What I'm missing with these productions is the respect for the medium of TV.
To be continued.....Part 2 will follow soon