Interviews mit Lucy zu "Sturm der Liebe"
Wer ist Marlene Schweitzer? Und was gibt es Wissenswertes über Lucy Scherer? Auf der offiziellen ARD-Website von "Sturm der Liebe" gab es dazu einen kleinen Ein- und Ausblick. Natürlich auf Deutsch, weshalb wir euch hier die englische Version liefern. Außerdem hat Alice von Heutemalkreativ mit Lucy ein Interview geführt, das wir anschließend für sie übersetzt haben. Viel Vergnügen!
Who is Marlene Schweitzer? And what things are there to know about Lucy Scherer? On the official ARD-Website of "Sturm der Liebe" you could gain an insight and some prospect. Of course in German, so that's why we present the English version to you. Furthermore Alice from Heutemalkreativ conducted an interview with Lucy we translated for her afterwards. Enjoy!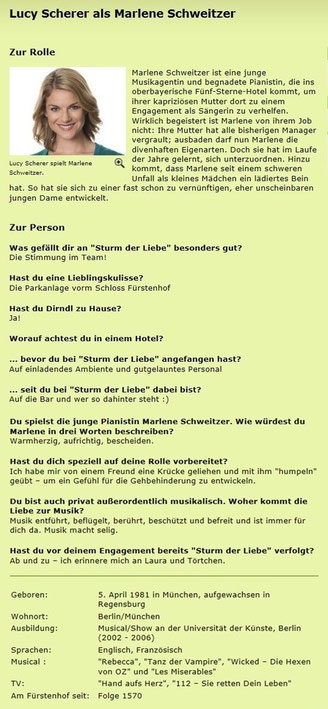 Lucy Scherer is Marlene Schweitzer
About the role:
Marlene Schweitzer is a young music agent and gifted pianist who arrives at the Upper Bavarian 5-star hotel in order to help her capricious mother land an engagement there as a singer. Marlene isn't really that enthusiastic about her job: Her mother has managed to scare off all of the previous managers; now Marlene has to put up with her diva-like idiosyncrasies.
But over the years she has learnt to acquiesce. Furthermore, Marlene has a damaged leg since she had a serious accident as a little girl. And so she developed into an almost too sensible, rather plain young woman.
About the person:
What do you like best about "Sturm der Liebe"?
The atmosphere in the team!
Do you have a favorite set?
The park in front of Castle Fürstenhof
Do you have Dirndls at home?
Yes!
What things do you notice in a hotel?
… before you started working on "Sturm der Liebe"?
An inviting ambiance and a good- humoured staff
… since you started working on "Sturm der Liebe"?
The bar and who is standing behind it. :)
You're playing the young pianist Marlene Schweitzer. How would you describe Marlene in just three words?
Warm-hearted, sincere, modest
Did you do something special to prepare for the role?
I borrowed a crutch from a friend and practiced "limping" with him – to develop a feel for the walking disability
You are also extraordinarily musical in your private life. Why this love of music?
Music carries you away, it inspires, touches, protects and frees you and is always there for you. Music is bliss.
Did you already follow "Sturm der Liebe" before your engagement?
From time to time – I remember Laura and Törtchen
Born: 5th April 1981 in Munich, growing up in Regensburg
Place of residence: Berlin/Munich
Education: Musical/Show at the Universität der Künste, Berlin (2002-2006)
Languages: English, French
Musicals: "Rebecca", "Tanz der Vampire", "Wicked", "Les Miserables"
TV: "Hand aufs Herz", "112 – Sie retten Dein Leben"
At the "Fürstenhof" since: Episode 1570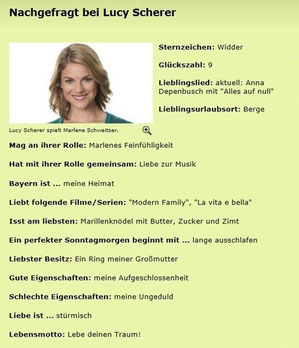 Asking Lucy Scherer
Zodiac sign: Aries
Lucky number: 9
Favorite song: Currently: Anna Depenbusch's "Alles auf null"
Favorite vacation spot: Mountains
Things she likes in her role: Marlene's empathy
Things she has in common with her role: love of music
Bavaria is… my Heimat/home (German "Heimat" means more than just "home" but it's the best I can do, see)
Loves the following movies/shows: "Modern Family", "La vita e bella"
Her favorite food: Apricot dumplings? with butter, sugar and cinnamon
A perfect Sunday morning starts with…   sleeping in
Dearest possession: a ring from my grandmother
Good qualities: my open-mindedness
Bad qualities: my impatience
Love is … stormy/tempestuous
Life motto: Live your dream!
Interview with Heutemalkreativ (13.05.2015)
Danke Alice, dass wir die englische Fassung auch auf unserer Seite veröffentlichen dürfen. Das Original findet ihr direkt auf dem Blog Heutemalkreativ.
Thanks Alice that we are allowed to publish the English version on our homepage. You can find the original directly on the blog Heutemalkreativ.

From Cornwall to the Fürstenhof: in conversation with actress and musical performer Lucy Scherer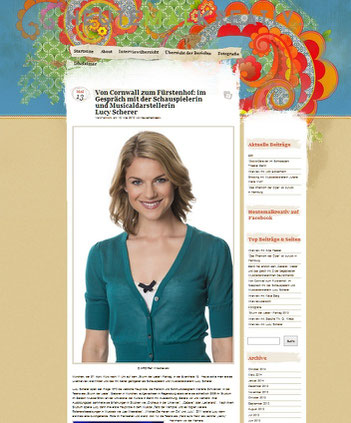 Munich, April 27th.  It's just after 11 AM, at the "Sturm der Liebe" Fantag (fan day), in event hall 12.  This was the day of my first live interview, and with none other than actress and musical performer Lucy Scherer.
Lucy Scherer has been playing the female lead, pianist and jewelry designer Marlene Schweitzer, in the soap opera "Sturm der Liebe" since episode 1570. 
Born in Munich and raised in Regensburg, she graduated with distinction from the Berlin Universität der Künste (University of Arts) in Musical/Show in 2006. Before and during university she  had already gained experience in plays such as "Orpheus in der Unterwelt", "Cabaret" or "Letterland".   After graduating, Lucy landed her first leading role in the musical "Tanz der Vampire". Further lead roles  followed in musicals such as "Les Miserables", "Wicked - Die Hexen von Oz" und "Lulu". In 2011, Lucy was cast her first regular TV role in the soap "Hand aufs Herz," where she played Jennifer "Jenny" Hartmann.
With this role, Lucy not only acquired many more fans, but also received the German Soap Award for the category "Fan Award, female".  Before taking on the role as Marlene, the protagonist in "Sturm der Liebe," – for which she won another German Soap Award (in the category of "Best actress") - she stared as ICH ("I") in the musical "Rebecca," which played in the Palladium Theater in Stuttgart. Now she's once again in front of the camera bringing her character, Marlene, to life.  You can see what happens daily with Lucy in the role of Marlene from Monday to Friday at 3:10PM on ARD.
The following interview deals mostly with Lucy's time on "Sturm der Liebe", her role as Marlene, her experiences, memorizing lines and slipping up every now and then, and lots more! If you'd like to know more about Lucy and her time as part of the cast of the musical "Rebecca", I'd like to direct you to the other interview that has already been done.
But now back to the interview from the Fantag: The nervousness had been increasing, but suddenly, after a short knock, the door flung open and Lucy Scherer entered. After greetings and some small talk, the nervousness left and we began the interview. The atmosphere was relaxed and casual and the mood was very comfortable, thus turning a "normal" interview into a stimulating conversation:
My first question is what about "Sturm der Liebe" is special for you?
Lucy Scherer: The belief that miracles happen! That true, unconditional and romantic love exists.
Your character Marlene has already been through a lot at Fürstenhof - from a kidnapping to relearning how to walk. Which scene has been your favorite thus far?
Lucy Scherer:  Marlene suddenly being able to walk again, the ride on the tandem (bike), the snowball fight, untangling the necklaces, Mandy's wedding, the forest rescue of Frau Saalfeld, Konstantin under Natascha's bed, Michael's proposal, slumber party with the girls, billiard dream, cleaning woman-drunkard-dream, poem in the hospital, photo shoot with Xaver, wheelchair ride into the fireplace, all the fights with Natascha and so much more...
And which story, or storyline, has been your favorite up until now?
Lucy Scherer: When Konstantin saves Marlene from drowning, and thus saves her life. Every (storyline involving) girl-talk with Mandy and Kira.
And, in general, what kind of scenes are your favorite? Funny, serious, or sad ones for instance….?
Lucy Scherer: The more varied the better. I especially love location shootings.
Are all the location shootings done near here?
Lucy Scherer: Location shootings are shot around Munich ... always with a view of the Alps.
I'm sure forgetting one's lines happens often during shooting. What has been your biggest slip-up so far?
Lucy Scherer: Forgetting one's lines isn't as fatal on a shoot as it is onstage, you just have to redo the take, but sometimes it's very funny what gibberish tumbles out or which words give you difficulties. For example, yesterday I had to say: "Maybe that's enough evidence for him to begin." [laughs] We did five takes because I couldn't say it. [laughs]
Michael or Konstantin? That's the question the fans are asking themselves! Which one of them would you, as Lucy, choose –are you more the Konstantin type, or the Michael type?
Lucy Scherer: That shall remain my secret.
And who do you think would be the better man for Marlene?
Lucy Scherer: Konstantin is the perfect man for Marlene.
Marlene's style of clothing is very casual. Would you wear those clothes in your private life too, or are they not your style at all?
Lucy Scherer: No, a lot of it not at all!  Well, what does 'at all' mean? - Sure, I love comfortable clothes too. And I think it fits Marlene very well. Personally I think Patrizia's style of clothing is more interesting.
Do you have any say in it?
Lucy Scherer: A say - not really...
The current season of "Sturm der Liebe" will end soon. What will you miss the most?
Lucy Scherer: My colleagues, the team - there are very special people - Chapeau!  When you're shooting together the whole day, being on the soundstage, a special sense of belonging develops. We're there every day from Monday to Friday; everything revolves around the storylines - that connects you in its own peculiar way.
What does a regular day of shooting look like for you?
Lucy Scherer: I get up at 6am, and by 8am I'm sitting in make-up.  Shooting starts at 9am and lasts until 7:30pm. I carry my scripts around with me the whole day.
Speaking of memorizing lines…. As the lead you have to learn a lot of text. Do you have a trick?
Lucy Scherer: I always highlight everything and draw arrows and bows, curls and little drawings. A lively scribble! [laughs] You just use whatever memory aids you can come up with.
When you do have a day off, what do you like to do? What does that day look like?
Lucy Scherer: We have Saturdays and Sundays off. Saturday is my private day where I don't do anything for work, but instead try to get to know Munich or do some other special activities. I think Munich is beautiful, I love the Isar, strolling around, doing café or beer garden hopping, going to a museum, the theater, the cinema and small concerts, playing sports or just lying on the couch, sleeping and doing nothing. On Sunday I already have to start preparing for the upcoming week.
And what is the thing that you would recommend to my "readers" that one absolutely must see and do in Munich?
Lucy Scherer: To walk along the Isar, to go to the cinema - there are so many wonderful cinemas here in Munich - small ones, old ones (often with free seating - a very entertaining spectacle)! Or go to the theater - to the Kammerspiele!
Today, long awaited by the fans, is the Fantag,. What did you look forward to the most?
Lucy Scherer: To meet with the people, our viewers. That's something we don't normally get here at the studio. And then, of course, singing with Moritz! 
What will you be taking away with you from your time in "Sturm der Liebe"?   Any occurrences or insights into yourself?
Lucy Scherer: When you shoot this much - I will probably never again in my life shoot as much in a row like I have done this year- you learn a lot. That's a treasure I'll be taking with me! You learn a lot about yourself - personally and acting-wise - which strengths any weaknesses you have. To work as an actor on a daily series is extremely strenuous. It's like an ant hill! A constant bustling, and in the middle of it all you have to somehow concentrate and very quickly implement and execute things.
In "Hand aufs Herz" you had already been able to gain some experience in learning your lines. Was it hard to get back into it after "Rebecca"?
Lucy Scherer: It went rather well! I'm lucky, my short term memory works like a charm - long term memory, not so much. [laughs]
And talking about "Rebecca - The Musical". In December you made a guest appearance in St. Gallen in-between your shooting schedule. What was that like for you?
Lucy Scherer: It was wonderful. I enjoyed it so much! It made me so happy!
Was that a nice break from your shooting schedule?
Lucy Scherer: Yes, totally. It was wonderful! I missed it!
In the beginning you did both at the same time, meaning, you were shooting "Sturm der Liebe" and playing ICH in Stuttgart over several dates. How was that experience for you?
Lucy Scherer: That was the biggest amount of stress that I have ever had to cope with in my job! Shooting from morning till noon. In the afternoon, taking the train to Stuttgart, then playing the show in the evening and after that going back to Munich.  It was an extreme situation!!
Your last day of shooting will be in the near future. What do you plan to do next? Holiday and relaxation to start, or will you throw yourself right into castings and auditions?
Lucy Scherer: I'll be going on holiday for a start. After this year I have to get some rest! And then I want to finally record my CD.
Which direction do you want to go with that?
Lucy Scherer: Singer-songwriter, I would love to make my own music. That's something I've been wanting to do for so long. With all kinds of different instruments and different styles. I would also like to sing in Italian and French. That will be a bigger project and long-term venture!
Ok, thank you. And we're already done! Is there anything that you would like to say?  
Lucy Scherer: Even though my dear faithful fans don't hear from me often, I still feel you behind me. and I (always) do my best to bring you joy with my work. I embrace you all and thank you for your support and loyalty!
My thanks go to Lucy, of course! Thank you for again taking the time to answer the questions -  this time in a conversation even!  Many thanks for your lovely words as well! I wish you all the best for your private and professional future and cross my fingers for you to be able to realize your dreams and wishes.
I'd also like to thank Frau Kettler, "Sturm der Liebe" press spokeswoman, for the kind support and cooperation.
You need more stuff? There is a further interview of Heutemalkreativ with Lucy in our Jemma-Interview-section.