Event-Guide: An evening made for lovers in Bielefeld
Ihr habt Gefallen an dem Haudegen gefunden, der in der Tiefe seines Herzens ein poetisch veranlagter, sensibler Mann ist? Ihr wollt in den Genuss der Musicalfassung dieser dramatischen, großen Liebesgeschichte kommen? Dann reist in das Paris der Neuzeit – Bielefeld. Für einen gelungenen Trip haben wir hier nun die wichtigsten Basics.
You've become curious about the reckless swashbuckler who in his heart of hearts is a poetic and sensitive man? You would like to enjoy the musical adaptation of this dramatic great love story of world literature? Then travel to the Paris of today – Bielefeld. Here are the most important basics for a successful trip.
The show on stage @ Theater Bielefeld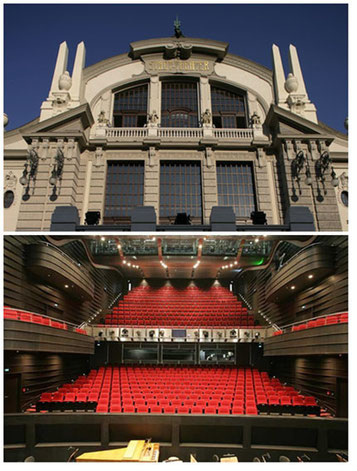 Für CYRANO öffnet sich der Vorhang im Theater Bielefeld. 1904 wurde es als eines der ersten Stadttheater in Nordrhein-Westfalen eröffnet. Mittlerweile liegt ein Schwerpunkt des Programms auf Stücken der Gegenwart, weshalb in Bielefeld regelmäßig deutschsprachige Ur- und Erstaufführungen stattfinden. Der Theatersaal – gesplittet in Parkett, Rang und Logen – bietet Platz für 725 Zuschauer.
Curtain up for Cyrano in the Bielefeld City Theater. Established in 1904 it was one of the first city theaters in what today is North Rhine-Westphalia. Nowadays there's an emphasis on modern plays so that there are regularly German language premieres in Bielefeld. The auditorium - divided in gallery, boxes and orchestra sections - seats an audience of 725 people.
Adresse / adress
Theater Bielefeld
Brunnenstraße 3-9
D-33602 Bielefeld
CYRANO - Aktuelle Termine / Current Performances
06.09.2015 / 19.30 Uhr (Premiere)
13.09.2015 / 15.00 Uhr & 19.30 Uhr
17.09.2015 / 20.00 Uhr
18.09.2015 / 20.00 Uhr
01.10.2015 / 20.00 Uhr
10.10.2015 / 19.30 Uhr
31.10.2015 / 19.30 Uhr
14.11.2015 / 20.00 Uhr
20.11.2015 / 20.00 Uhr
27.11.2015 / 20.00 Uhr
31.12.2015 / 17.00 Uhr & 21.00 Uhr
23.03.2015 / 20.00 Uhr
City Check: Oh, wie schön ist Bielefeld!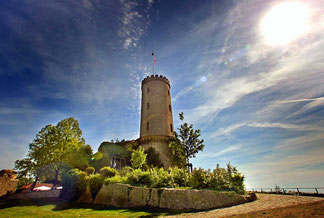 Zugegeben: Paris der Neuzeit ist gewiss zu euphorisch formuliert. Aber Romantikfans und Naturliebhaber dürften vor Ort durchaus reizvolle Flecken finden. Als Highlight gilt das imposante Wahrzeichen der Stadt, die mittelalterliche Sparrenburg, auf der im Sommer noch immer Ritter-Spektakel aufgeführt werden.
Weitere Schlagworte zu Bielefeld:
- etwa 330.000 Einwohner
- liegt im Bundesland Nordrhein-Westfalen, konkret in der Region Ostwestfalen-Lippe
- direkt am Teutoburger Wald gelegen
- auf Rang 18 der größten Städte Deutschlands
- rein flächenmäßig (258 Quadratkilometern) größer als Frankfurt am Main
- mehr als 15 Museen
- Universitätsstadt mit rund 35.000 Studierenden
- Deutschlands erfolgreichster Blitzer steht an der A2 (Richtung Hannover) am Bielefelder Berg. Innerhalb von 5 Jahren spülte er ca. 35 Mio. Euro in die Bielefelder Stadtkasse.
Wer noch mehr erfahren möchte, klickt am besten auf das Online-Stadtportal von Bielefeld. Doch darf man all den Informationen überhaupt Glauben schenken?!?
Oh how beautiful Bielefeld is!
Granted, modern day Paris is undoubtedly a little exaggerated. But fans of romance and lovers of nature will find scenic spots in or near the city. One highlight is the city's imposing landmark, the medieval Sparrenburg Castle where in the summer the annual Sparrenburgfest takes place, a three day medieval market with performances, crafts and music.
More facts about Bielefeld:
- about 330,000 inhabitants
- situated in the Federal State of North Rhine-Westphalia, and there in the region East-Westphalia-Lippe (THE BEST REGION IN THE WHOLE WIDE WORLD! ... So now you know where your translator hails from ;-)
- situated directly on the hills of Teutoburg Forest
- the 18th largest city in Germany
- in terms of area (258 km2) larger than Frankfurt am Main
- more than 15 museums
- university city with about 35,000 students
- Germany's most successful speed trap is situated on the A2 at the Bielefelder Berg. In 5 years it raked in about 35 million Euros for the city coffers.
If you want to learn even more, head over to the official website of the City of Bielefeld. But can this information really be believed?!?
Bielefeld or Bielefake?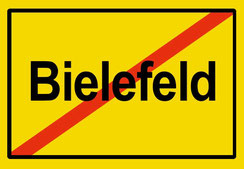 Verschwörungstheorien gibt es nicht nur zur Mondlandung. Auch um Bielefeld ranken sich Spekulationen: Existiert diese Stadt wirklich? Oder wollen SIE uns das nur glauben lassen? SIE – das sind Geheimdienste, womöglich sogar Außerirdische. SIE stellen Ortsschilder auf und schicken Autos mit "BI"-Kennzeichen in die Welt. SIE unterziehen Menschen einer Gehirnwäsche, damit sie behaupten, schon mal in Bielefeld gewesen zu sein. Doch tatsächlich hüten SIE an diesem Fleck der Erde … vielleicht den Eingang zu Atlantis?
Die Bielefeld-Verschwörung wurde 1994 aus Spaß von dem Informatiker Achim Held angezettelt, nach dem Motto: "Bielefeld? Das gibt's doch gar nicht." Und tatsächlich ist es so, dass viele Menschen diesen Ort absolut nicht auf dem Schirm haben. Eine Stadt, von der jeder mal gehört hat, aber die irgendwie niemand kennt. Eine Stadt, über die man somit alles erzählen kann. Umso treffender sind die Zeilen aus dem Song "Rätselhaftes Bielefeld" von Udo Lindenberg:
Und sehen wir uns nicht in dieser Welt,
dann sehen wir uns in Bielefeld!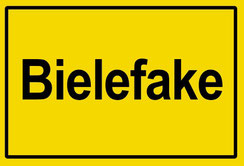 Conspiracy theories aren't just limited to the landing on the moon. There is also speculation about Bielefeld: Does this city really exist? Or are THEY just trying to make us believe it? THEY - that's intelligence services, maybe even aliens. THEY put up city signs and send out cars with "BI" license plates into the world. THEY brainwash people so that they claim to have been in Bielefeld before. But in reality THEY protect and secure something in this particular area ... maybe the entrance to Atlantis?
The Bielefeld Conspiracy was concocted in 1994 by the computer scientist Achim Held, with the basic tenet: "Bielefeld? But it doesn't really exist." And it's true that Bielefeld is just not on many people's radar. A city everyone has heard of but that nobody really knows. And thus a city you can make up anything about. As Udo Lindenberg sang so aptly in his song "Rätselhaftes Bielefeld" (Mysterious Bielefeld):
If we don't see each other in this world,
then we'll see each other in Bielefeld! (it rhymes in German)