Coming Out Action Day: Yay, you are gay!
Sometimes one gets mail ... Kasia got our cards!!! So guess what we are doing? We're doing the S.T.AG and are dancing around!!! See how she reacted!
Alles Gute zum Coming out, Emma! Das war die Idee. Schon mal einem Seriencharakter eine Postkarte geschrieben? Wir auch nicht. Bis Lovefool, bis Emma und Jenny. Denn manchmal bekommt man eben Post ...

First: Kasia's reaction
Kasia on her Blog:
Thank you guys!
These postcards made me feel very special and of course the content which is behind them!
Thank you for sharing and the next pics are coming soon!
Peace and Stay Jemma!
Second: the original plan
What happened? Okay guys, the plan was this:
We are going to send Emma Müller a "Congrats you're gay! Yay!" card. Or whatever else worded, Happy Coming Out!
Oh yes, you read me right, Emma Müller.
Where does she live?
Well, care of Kasia Borek on the "Hand aufs Herz" set, no?
Emma Müller c/o Kasia Borek c/o Producers at Work, at Sturzbergkaserne and so on.
Coming Out cards... there are three basic varieties:
1. The ones you buy
2. The ones you make yourself
3. Postcards from your place!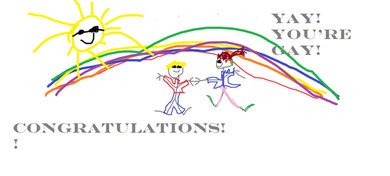 You'll find a slew of free graphic programs in the www.
And if all else fails: Screenshots... Pictures of yourself... The cats... The tree in front of your house... Chocofresh... those can be turned into Hallmark replicas as well!
My capabilities, btw, are strictly limited to paint...(look to your right)
Hey, I love paint!