Best Girlfriend of the year 2011
If it was up to us, Lucy and Kasia would be showered with all the awards in the world. But what do we award Jenny and Emma? That's right, the title of GFotY, Girlfriend of the year. But which one do you think has earned this honor most - Jenny or Emma? We love them both and as you know we love postcards.
Ginge es nach uns, sollte man Lucy und Kasia mit allen Preisen dieser Welt überhäufen. Aber was verleihen wir Jenny und Emma? Genau, den Titel GFotY, Girlfriend of the year. Doch welche der beiden hat diese Ehrung eurer Meinung nach mehr verdient – Jenny oder Emma? Wir lieben sie beide und wie ihr wisst - wir lieben Postkarten!

Call for votes: Unser Aufruf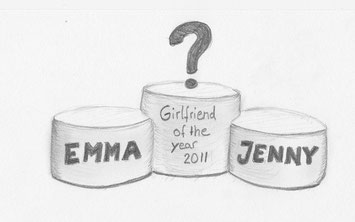 So it's time for a new campaign: Write a congrats card for the Best Girlfriend of the Year to Emma or Jenny. Or if you like: Write them both. Let the girls know how much you love them and how much they've meant to you! Feel free to upload the cards you have written on our FB Page. We are very excited to find out who will win the title!
Somit wird es Zeit für eine neue Kampagne: Schreibt eine Glückwunschkarte zur Besten Freundin des Jahres an Emma oder Jenny. Oder wenn ihr wollt: Schreibt beiden! Lasst die Mädels wissen, wie gerne ihr sie habt und wie viel sie euch bedeuten. Die Karten, die ihr geschrieben habt, könnt ihr gerne auf unserer FB-Seite hochladen. Wir sind schon sehr gespannt, wer den Titel gewinnt!
Difficult decision? Knifflige Entscheidung?
You're torn? We are as well. After all, both of them did really great stuff ...
Ihr seid hin- und hergerissen? Uns geht es genauso. Schließlich haben die beiden wirklich große Taten vollbracht …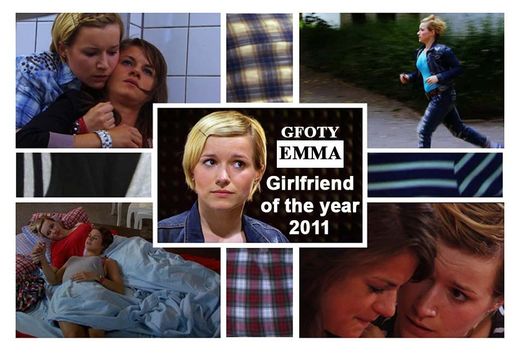 Heroine Emma
The times are over in which Emma threw sand around, pushed Jenny away or hid behind columns. Boldly she wrote postcards, rocked the school yard with a kiss and ventured amorously underneath white sheets. Emma exchanged her boots for magic sneakers and ran for her life and her love. She saved Jenny from spreading tears, drinking Guinness and counting sheep in Ireland. No white knight can hold a candle to this savior in a Mustang. Emma - definitely GFOTY!
Vorbei sind die Zeiten, in denen Emma mit Sand um sich warf, Jenny wegschubste oder sich hinter Säulen versteckte. Mutig schrieb sie Postkarten, rockte mit einem Kuss den Schulhof und wagte sich verliebt unter weiße Laken. Emma tauschte ihre Stiefel gegen magic sneakers, rannte um ihr Leben und ihre Liebe. Sie bewahrte Jenny davor Tränen zu vergießen, Guiness zu trinken und Schafe in Irland zu zählen. Gegen diese Retterin im Mustang kann jeder Prinz auf seinem weißen Gaul einpacken. Emma – definitiv GFOTY!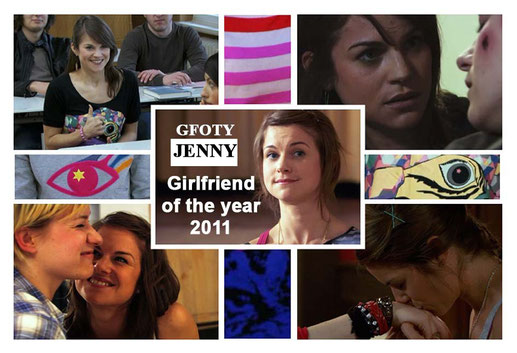 Heroine Jenny
An it-girl from London with a crush can do more than just grabbing the last sausage. Jenny invoked the spirits and shared blankets. With a revolution she ripped Emma from the claws of the B-students and struggled through hospital corridors to build her girlfriend back up from the ground. She sailed all the seven seas with Emma and her coming out. Out of love, Jenny even forwent an exclusive spa resort and packed a survival backpack for a very special trip into the undergrowth. A clear case of: GFOTY!
Ein verknalltes It-Girl aus London kann mehr, als sich nur das letzte Würstchen zu schnappen. Jenny beschwor Geister und teilte Decken. Mit einer Revolution holte sie Emma aus den Fängen der B-Schüler und kämpfte sich durch Krankenhausflure, um ihre Freundin am Boden wieder aufzubauen. Sie meisterte alle Stürme mit Emma und ihrem Coming-out. Aus Liebe verzichtete Jenny sogar auf ein exklusives Spa-Ressort und schnürt den Survival-Rucksack für einen ganz besonderen Trip ins Gestrüpp. Klarer Fall: GFOTY!
Your GFOTY cards
To all postcard writers: Thank you so much for participating in this campaign. Here you can see the cards and lines that reached us - while the originals hopefully arrived safely at the agencies of Jenny/Lucy and Emma/Kasia.
An alle Postkartenschreiber: Vielen Dank, dass ihr bei der Aktion mitgemacht habt. Hier seht ihr die Karten und Zeilen, die uns erreicht haben – während die Originale hoffentlich heil bei den Agenturen von Jenny/Lucy und Emma/Kasia gelandet sind.