Cyrano's story: A great nose may be an index of a great soul
Eine wuchtige Nase? Das ist kein Einzelschicksal. Und doch ist es ein Schicksal, das man zu Papier und auf die Bühne bringen kann. Aber lest selbst, was der fechtende Dichter Cyrano de Bergerac alles durchleidet – ob im Buch, auf der Bühne oder der Kinoleinwand.
A bulky nose? That's not a singular fate. But still it's a fate that can be put down on paper and brought onto the stage. But read for yourselves what the fencing poet Cyrano de Bergerac has to go through - whether it be in the book, onstage or on the big screen.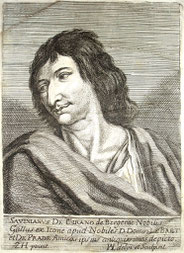 Frankreich, Mitte des 17. Jahrhunderts. Händler und Musketiere tummeln sich auf den Straßen, Adelige ebenso wie Diebe, Denker und Dichter. Unter ihnen ist auch Cyrano de Bergerac. Als Edelmann und Mitglied der Gascogner Kadetten beherrscht er die Fechtkunst exzellent. Doch in ihm steckt auch ein grandioser Dichter. Leider leidet er unter einem Makel – seine große Nase, die ihm oft Gespött einbringt. So wagt es Cyrano nicht, um seine schöne Cousine Roxane zu werben, in die er unsterblich verliebt ist.
Roxane hat dagegen ihr Herz an Christian de Neuvillette verloren. Der junge Kadett sieht blendend aus und erwidert zudem ihre Gefühle. Sein Problem ist jedoch, dass poetische Liebesschwüre seinen einfältigen Horizont übersteigen. Wie soll er bloß um seine Herzdame werben? Um Roxane zu ihrem Glück zu verhelfen, leiht Cyrano dem Rivalen fortan sein dichterisches Talent. Christians Schönheit und Cyranos glühende Verse ergeben zusammen den perfekten Helden, attraktiv und klug zugleich. Ein edler Geist mit schönem Wesen, für den Roxane immer mehr entbrennt. Alle Briefe in Christians Namen geben Cyrano die Möglichkeit, endlich um Roxane zu werben und ihr nahe zu sein – wenn auch im Verborgenen.
Mit seiner Hilfe finden Roxane und Christian zueinander. Ihr Glück bleibt jedoch nicht lange unbeschwert. Noch ein dritter Mann hat großes Interesse an Roxane. Um seine Konkurrenz loszuwerden, schickt General de Guiche die Gascogner Kadetten samt Cyrano und Christian an die Front. Im spanischen Krieg bangen die beiden um ihr Leben. Und kurz vor der alles entscheidenden Schlacht droht noch ein Unglück: Überraschend taucht Roxane im Lager der Kadetten auf und der ganze Dichterschwindel droht aufzufliegen …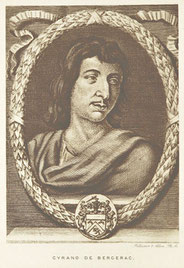 France, mid-17th century. The streets are filled with merchants, crooks, musketeers, poets and thinkers. Among them is Cyrano de Bergerac, a proud nobleman and Captain of Gascony, who fights as bravely and expertly with his sword as he does with his verses. His only flaw is his big nose which is often the cause for ridicule from his environment. And so he doesn't dare to confess his love to his beautiful cousin Roxane.
Roxane on the other hand has lost her heart to Christian de Neuvillette. The young captain is very handsome and reciprocates her feelings. The problem is that poetic confessions of love are not the forte of the rather simple-minded Christian. And so Cyrano lends his words and verses to his rival in order to make his beloved happy. The combination of Christian's beauty and Cyrano's fervent verses creates the perfect hero, handsome and smart at the same time. A noble mind with beautiful looks that Roxane falls for more and more. For Cyrano, all the letters he writes in Christian's name are his opportunity to finally court Roxane and be closer to her, even if it's in secret. 

With his help, Roxane and Christian find each other. But their happiness doesn't last long because a third man is also interested in Roxane: General de Guiche sends the Captains of Gascony including Cyrano and Christian, to the front lines to get rid of his competition. In the Spanish War, the two of them fear for their lives. And shortly before the all deciding battle disaster threatens to strike: Roxane suddenly shows up in their camp and their poetic deception is in danger of being discovered...
Theaterstück / Play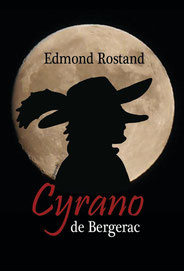 Er ist ein unvergesslicher Charakter und einer der nachhaltigsten Helden in der modernen Literatur: Cyrano de Bergerac. Das Theaterstück wurde 1897 von Edmond Rostand geschrieben. Es basiert lose auf dem Leben von Rostands Lieblingsschriftsteller, dem französischen Dramatiker Savinien de Cyrano de Bergerac (1619-1655). Rostand verlegte die Handlung in die 1640er Jahre und erschuf eine 'Helden-Komödie', zugleich auch eine Satire auf die mit Romantik überfrachtete Literatur im 16. Jahrhundert. Das Stück vereint Romantik, Humor und Heldenmut und ist in Versen verfasst, in reimenden Zweizeilern mit zwölf Silben pro Zeile. Als es zum ersten Mal am 28. Dezember 1897 in Paris gezeigt wurde, hielt der Schlussapplaus über eine Stunde an. 'Cyrano de Bergerac' wurde weltweit aufgeführt und lehrt uns: Schau hinter die Fassade und versuche Menschen so zu sehen, wie sie wirklich sind.
Falls ihr in den kostenlosen Genuss des Theaterstücks kommen wollt, folgt einfach eurer Nase ahem diesem Link.

He is an unforgettable character and one of the most enduring heros in modern literature: Cyrano de Bergerac. The play was written in 1897 by Edmond Rostand. It is based loosely on the life of Rostand's favorite writer, the French playwrite Savinien de Cyrano de Bergerac (1619-1655). Rostand set his action in the 1640's and created a 'heroic comedy', maybe also a satire of the overly romanticized literature of France in the 1600s. The play combines romance, humor and heroic action and is written in verse, in rhyming couplets of twelve syllables per line. When it was first produced in Paris, on December 28, 1897, the final applause took a full hour. 'Cyrano de Bergerac' has been produced all over the world and teaches us the lesson: Look past appearances and try to see people for who they really are.
If you wanna get your own free copy just follow your nose ahem this link.
Film / Movie
Das Abenteuer von Cyrano zählt zu den bekanntesten und packendsten Liebesgeschichten der Weltliteratur. So wurde der Stoff auch diverse Male auf die Leinwand gebracht. Die wohl populärste Verfilmung ist "Cyrano von Bergerac" (1990) von Jean-Paul Rappeneau. Hier wurden die gereimten Texte des Originalstücks überwiegend beibehalten, wenn auch in bearbeiteter Form und filmgerecht modernisiert.
Romantisch, poetisch, berauschend – das Publikum und die Kritiker sind von der Verfilmung angetan. Gérard Depardieu brilliert in der Hauptrolle und erhielt so seine erste (und einzige) Oscar-Normierung. Insgesamt räumte der Film zahlreiche Preise ab, darunter einen Oscar für das beste Kostümdesign und 10 Césars (bei 13 Nominierungen) – noch heute ein beachtlicher Rekord!
The adventure of Cyrano is one of the best-known and most riveting love stories in world literature. And so the story was adapted for the big screen several times. The most popular film adaptation is probably: "Cyrano de Bergerac" (1990) by Jean-Paul Rappeneau. The rhyming texts of the original play were mostly retained, though in edited form, with some additions and modernizations.
Romantic, poetic, intoxicating - audience and critics were taken by the movie. Starring a brilliant Gérard Depardie (who got his first (and only) Oscar nomination for his role), it received numerous awards, including the Oscar for Best Costumes and 10 Césars (out of a total 13 nominations) – which is still a record today!