Rebecca - The Musical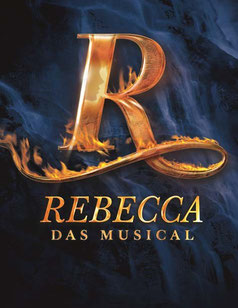 Rebecca is a German-language musical based on the novel of the same name by Daphne du Maurier. It was written by Michael Kunze (book and lyrics) and Sylvester Levay (music), the authors of the musicals Elisabeth, Mozart! and Marie Antoinette. The plot, which adheres closely to the original novel, revolves around Maxim DeWinter, his new wife, and Mrs. Danvers, the housekeeper of DeWinter's Cornish estate Manderley who resents the young woman's intrusion into the world she shared with the first Mrs. DeWinter, the glamorous and mysterious Rebecca, who perished in a drowning accident.
On 28 September 2006 a musical version of Rebecca premièred at the Raimund Theater in Vienna, Austria. The new musical was written by Michael Kunze (book and lyrics) and Sylvester Levay (music) and directed by the American director Francesca Zambello. The cast includes Uwe Kröger as Max de Winter, Wietske van Tongeren as "Ich" ("I", the narrator) and Susan Rigvava-Dumas as Mrs. Danvers. It running for three years. Subsequent productions have been mounted in Finland, Japan and elsewhere
Before 2008 there was talk of moving the musical to the Broadway stage, but all plans were eventually cancelled due to the complexity of the sets, scenery, and special effects — including a grand staircase that twirls down into the stage and a finale in which the entire stage - including Mrs. Danvers - is engulfed in flames. In September 2008 it was announced that the musical would be arriving on Broadway by 2010 with a pre-Broadway try-out in at the Guthrie Theatre in Minneapolis, MN
In July 2011, it was announced that Rebecca would officially be starting previews on March 27th, 2012 - Sierra Boggess is expected to play the lead role.
German premiere in Stuttgart
Starting on December 8th 2011 the mystery musical REBECCA will be shown on stage in Germany for the first time - with a few changes to the original Vienna play. For instance, the ensemble piece "Wir sind britisch" (We are british) will be scrapped and replaced by "Merkwürdig" (Strange). Another new addition will be Maxim's "Zauberhaft natürlich" (Enchantingly natural).
There will be some original scenery from the Vienna production. The highlight of this production is the radio-controlled movable staircase. It weighs about 3 tons and is equipped with special pyrotechnical effects. 100 wigs have been made by hand for the performers and 450 costumes have been newly tailored. By the way: The fastest complete costume change (wig, costume, shoes) during the show lasts only 40 seconds!
Offical Press Pictures
Memories and merchandise
By now all of us can only dream of Manderley: On January 6th 2013 the last curtain fell for REBECCA in Stuttgart. About 400 shows were played in the Stage Palladium Theater which is one of the most renowned musical theaters in Germany. Situated directly in the SI-Centrum (Stuttgart International Centrum), this modern venue seats 1800 people. And so we hope that you enjoyed your trip to Stuttgart and didn't miss out on buying the program and picture book.
Unfortunately, there was no official English version, so we have a little gift for you - the translation of the picture book inlay.
Picture Book - Inlay Translation
Rebecca_Picturebook_Inlay-english.pdf
Adobe Acrobat Dokument
309.5 KB
The music of Rebecca (Stuttgarter Fassung)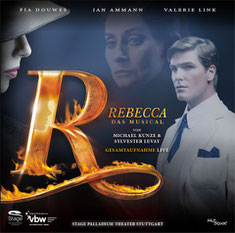 "Ich": Valerie Link
Maxim de Winter: Jan Ammann
Mrs. Danvers: Pia Douwes
Mrs. Van Hopper: Isabel Dörfler
Beatrice: Kerstin Ibald
Jack Favell: Hannes Staffler
Frank Crawley: Jörg Neubauer
Ben: Daniele Nonnis
Oberst Julian: Erwin Bruhn
English Demo Recording of Rebecca
You'll find some videos on YouTube. Sung by: Maike Boerdam-Strobel (Ich), Pia Douwes (Mrs. Danvers), Uwe Kröger (Maxim de Winter), Michael Shawn Lewis (stage actor) (Frank Crawley). Unpublished demo version (pre-production).