Team Jemma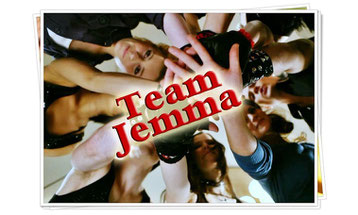 So, you think you're crazy for being totally infatuated with a German show and hopping around on this site? You are NOT alone! Crazy people are open people, it's good to be crazy, sometimes ;-) Hop on, we'll take you along!
Get to know the members of JemmaInternational. Additionally, we appointed two people honorary members, as they were partner for us and supported our work. A mega thank you, Franciska Friede (Sophie)! Always welcome, Dennis Schigiol (Hotte)!
And if you want to immortalize yourself too, you can put your name down on the Jemma Fan Map or leave us a nice greeting in our guestbook.
Verrückt nach einer deutschen Soap? Du bist nicht allein...:-)
Lernt die Mitglieder von JemmaInternational kennen. Außerdem haben wir zwei Menschen zu Honorary Members erklärt, da sie für uns Ansprechpartner waren und unsere Arbeit unterstützt haben. Ein Magadankeschön, Franciska Friede (Sophie)! Always welcome, Dennis Schigiol (Hotte)!
Und wenn ihr euch ebenfalls verewigen wollt, könnte ihr euch hier in die Jemma Fan Map eintragen oder uns einen lieben Gruß im Gästebuch hinterlassen.
Jemma Fan Map
Jemma is conquering the world and we want to see which parts of the world are already thoroughly inffected by the Jemmavirus.
Log into your google account and add a pin to the map for where you are in the world.
Wo überall hat der Jemmavirus zugeschlagen? Loggt Euch über Euren Google account ein und setzt ein "Fähnchen".
Bellow you will find a guide for how to add yourself to the map.