HaHe for all: Full Episode Scripts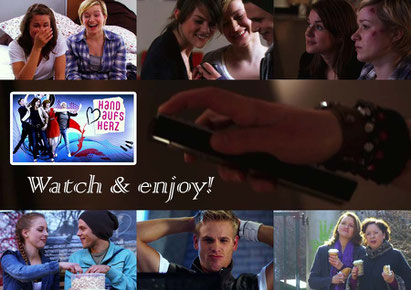 Whabammmm and welcome to the section with the whole episodes – the absolute heart of our website. We're not even sure ourselves about how much time and heart and soul we actually put into this task. Days, weeks, months, ultimately years. Now we can proudly say: Here you can find not only the complete transcripts and English translations of all 234 (!) episodes but also subtitles in the form of SRT-files. 
Why all this work? Well, let us try to explain: We love "Hand aufs Herz". And we love the thought that many more people will one day stumble upon this special show and will be able to enjoy the outstanding love story between Jenny & Emma in particular. On the Sat1 homepage all the episodes can be viewed for free – great! Thanks! The entire show is also available on DVD – wonderful! Unfortunately the only available language is German …
We wanted to solve this problem – without any commercial interests or intentions to violate any rights with our efforts. From fans for fans. Our language support for you, for all future fans of HaHe on this round, colorful globe. We typed, translated like world champions and coded. Now you can buy the DVDs, add the SRTs and delve into the world of our favorite show without a language barrier.
We hope you'll enjoy yourselves!
Other languages
On our subpages you'll find all episodes translated in English and the SRT-files (English). But we have some more languages and translations to download.
Hand aufs Herz French

Hand aufs Herz Italiano

Translations Italiano Part 1 (PDF)
HaHe_Scripts_IT_Ep001-005.zip
Komprimiertes Archiv im ZIP Format
908.6 KB
Translations Italiano Part 2 (PDF)
HaHe_Scripts_IT_Ep161-199.zip
Komprimiertes Archiv im ZIP Format
6.3 MB
Translations Italiano Part 3 (PDF)
HaHe_Scripts_IT_Ep200-234.zip
Komprimiertes Archiv im ZIP Format
5.9 MB
Hand aufs Herz Espanol

Episode 175-177, 179-202, 204, 234
Hand aufs Herz Dutch