CYRANO – The Musical: A love triangle in verse
Ein farbenprächtiges, turbulentes, unterhaltsames Musical über vermeintliche Helden und große Poeten, Komplexe und Versagensängste. Ein Musical, das Cyrano und seine Roxane mitsamt dem Paris jener Zeit wieder auferstehen lässt. Es wird gesungen, getanzt, duelliert, gerauft, mit Worten gefochten, in den Krieg gezogen und natürlich geliebt.
 A colorful, turbulent, entertaining musical – about supposed heroes and great poets, their hang-ups and fears of failure. A musical that brings Cyrano and his Roxane and their contemporary Paris to life. There's singing, dancing, dueling, fighting with fists and words, going to war, and of course falling in love.
Fakten / Facts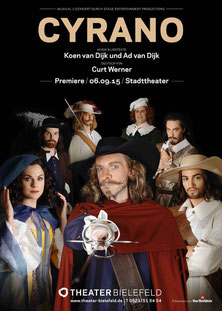 Die holländischen Autoren Ad van Dijk (Musik) und Koen van Dijk (Text) haben ihre Musicalfassung CYRANO auf Basis des klassischen Versdramas von Edmond Rostand erschaffen. Der Musikstil erinnert dabei an erfolgreiche Stück wie Les Misèrables (Claude-Michel Schönberg) und Phantom der Oper (Andres Lloyd Webber).
1992 fand die Uraufführung der holländischen Originalproduktion am Stadsschouwburg in Amsterdam statt, produziert von Joop van den Ende. Ein Jahr später feierte das Stück seine Broadway-Premiere. 137 Vorstellungen lang lief es im New Yorker Neil Simon Theatre und erhielt zudem zahlreiche Tony Award Nominierungen.
Die deutsche Fassung, übersetzt von Curt Werner, wurde 1999 zum ersten Mal bei den Freilichtspielen Schwäbisch Hall gezeigt (17 Vorstellungen, 21.823 Zuschauer). Am Theater Bielefeld erlebt CYRANO nun seine Indoor-Premiere.
The Dutch writers Ad van Dijk (music) and Koen van Dijk (text) created their musical adaptation of CYRANO based on the classic verse drama by Edmond Rostand. Its style is evocative of Les Misérables (Claude-Michel Schönberg) and The Phantom of the Opera (Andrew Lloyed Webber).
Produced by Joop van den Ende, the original Dutch production 'Cyrano de Musical' premiered in 1992 at the Stadsschouwburg (City Theatre) in Amsterdam. The following year, it opened on Broadway. 137 shows were performed at the New York Neil Simon Theater and Cyrano received several Tony Award nominations.
The German version, translated by Curd Werner, premiered in 1999 at the Freilichtspiele (open-air theater) Schwäbisch Hall (17 shows, an audience of 21,823). At the City Theater Bielefeld, Cyrano will now be shown indoors for the first time.

Interview: Nachgefragt bei Veit Schäfermeier (Cyrano)
Während wir der Premiere entgegen fiebern, ist er uns schon eine Nasenlänge voraus – mindestens. Ab September spielt Veit Schäfermeier in der CYRANO-Inszenierung die Titelrolle. Die Bielefelder Bühne kennt er nur zu gut, eine Bühne, auf der nun auch ein Wiedersehen ansteht mit Lucy Scherer, lange nach gemeinsamen Zeiten bei  'Tanz der Vampire' und frisch nach einem gemeinsamen Auftritt bei 'Disney in Concert' auf der Berliner Waldbühne. Doch worauf dürfen wir uns bei CYRANO freuen? Wie sieht der Mann hinter aufgesetzter Nase das Stück und seine Rolle? Wir haben bei Veit Schäfermeier kurz nachgefragt.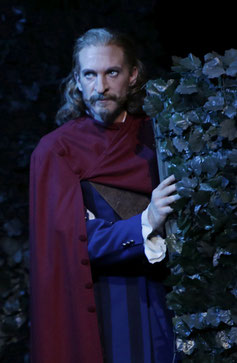 JemmaInternational: In Deutschland wurde das Musical CYRANO (von Koen und Ad van Dijk) erst einmal auf die Bühne gebracht. Wir sind somit ziemlich ahnungslos, was uns in Bielefeld erwartet. Was gefällt Ihnen persönlich an diesem Stück?
Veit Schäfermeier: Als erstes hat mich diese unglaublich schöne Musik fasziniert. Ich kannte vorher nur die CD und war erstmal nicht so begeistert. Das könnte zum Großteil auch an meinem schlechten Holländisch liegen… Aber mit jeder musikalischen Probe wuchs meine Begeisterung.
Was macht das Stück Ihrer Meinung nach noch zeitgemäß?
In diesem Stück geht es zum Großteil um Liebe, und ist die jemals nicht zeitgemäß?
Wie würden Sie die Titelfigur in eigenen Worten beschreiben?
Cyrano ist ein Mensch mit einer ziemlich rauen Schale, aber dafür auch mit einem besonders weichen Kern. Mich reizt an dieser Figur sehr, dass sie auf den ersten Blick ziemlich unangenehm wirkt, das Publikum jedoch hoffentlich spätestens am Ende des 2. Aktes versteht, warum er so ist, wie er ist, und mit ihm mitfühlt.
Sie erfahren Cyranos Makel – die große Nase – nun am eigenen Leib. Können Sie seine Komplexe nachvollziehen? Oder war Cyranos Scham eher unbegründet, denn nobody is perfect?
Für mich ist die "große" Nase nur ein Symbol für einen Makel, den vermutlich jeder von uns hat. Alle anderen Menschen haben längst darüber hinweg gesehen, aber man selbst fühlt sich unglaublich hässlich. Selbstverständlich ist Cyranos Scham unbegründet.
Haudegen oder gefühlvoller Dichter: Welche Facette Cyranos ist Ihnen persönlich näher?
Das Schöne an dieser Rolle ist, dass beide Facetten sehr weit von mir entfernt sind. Wir wollen ja immer das spielen, was wir im wahren Leben nicht sind.
Welche Herausforderungen gibt es für Sie im Stück? Beispielsweise die Fechtszenen: Meistert man diese mit links (oder eben mit rechts), oder bedarf es durchaus einer Menge Training?
Wie Sie schon richtig erkannt haben, ist das Fechten für mich eine ziemlich große Herausforderung. In diesem Stück darf ich dabei auch noch Gedichte aufsagen UND singen. Es gibt sicher Menschen, die das schnell drauf haben, jedoch bin ich nicht so ein Mensch …
Hat es Ihnen ein Lied oder eine Szene besonders angetan?
Ich habe irgendwann aufgehört die Szenen und Lieder zu zählen, die mir am besten gefallen. Von meinen Songs mag ich wohl am liebsten 'Wenn ich schreib'.
Am 6. September 2015 hebt sich offiziell der Vorhang. Worauf freuen Sie sich?
Ich freue mich wahnsinnig darauf, endlich mit meinen tollen Kollegen auf der Bielefelder Bühne zu stehen und das Publikum hoffentlich zu Tränen zu rühren.
Und wir freuen uns natürlich auf spannende Vorstellungen. Toi-toi-toi für CYRANO und herzlichsten Dank an Veit Schäfermeier für diese Zeilen!
Mehr Infos zu Veit Schäfermeier und auch Fotos zu CYRANO findet ihr auf seiner Website.

Interview with Veit Schäfermeier (Cyrano)
While we are still waiting excitedly for opening night, he's already ahead by a nose – at least. From September on, Veit Schäfermeier will be starring as the main character in the CYRANO production. He is already very familiar with the Bielefeld stage; a stage on which there will now also be a reunion with Lucy Scherer, long after their time together in Tanz der Vampire (Dance of the Vampires) and shortly after their joint performance at "Disney in Concert" at the Waldbühne in Berlin. But what can we look forward to in CYRANO? How does the man behind the nose see the play and his role? We asked Veit Schäfermeier a few questions.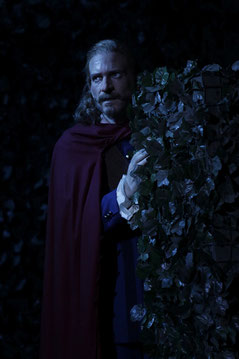 JemmaInternational: The Cyrano musical (by Koen and Ad van Dijk) has only been shown once before in Germany up until now. So we are pretty clueless about what we can expect in Bielefeld. What do you personally like about the play?
Veit Schäfermeier: To begin with, I was fascinated by the incredible beautiful music. I had only known the CD before and wasn't too excited at first. But that might have been mostly my bad Dutch... But with every musical rehearsal my enthusiasm grew.
Why do you think this play is still relevant and fitting today?
This play is mostly about love, and is there ever a time where love isn't relevant?
How would you describe the main character in your own words?
Cyrano is a man who is tough on the outside but also rather soft on the inside. What fascinates me about this character is that at first look he seems rather unpleasant but that the audience will hopefully understand at least at the end of the second act why he is the way he is and feel for him.
You get to experience Cyrano's flaw - the big nose - personally now. Are you able to relate to his insecurities? Or was Cyrano's shame unfounded since nobody is perfect?
For me the "big" nose only symbolizes some flaw that probably every last one of us has. Everyone else has long since stopped noticing it but you yourself feel incredibly ugly. Of course Cyrano's shame is completely unfounded..
Swashbuckler or sensitive poet: Which side of Cyrano do you personally identify with more?
The great thing about this role is that both sides are rather far removed from my own personality. Because we always want to play something that we aren't in real life.
What challenges do you face in this play? For instance, the fencing scenes: is that something you can master with one hand tied behind your back, or does it take a lot of practice?
Well, as you've mentioned, the fencing is a rather big challenge for me. In this play I get to do this while reciting poetry AND singing. I'm sure there are people who can learn this rather quickly, unfortunately I'm not one of them...
Do you have a favorite song or scene?
I eventually stopped counting the scenes and songs that I like best. Of my songs I probably like "When I write" best.
On September 6th 2015 the curtain opens officially. What are you looking forward to?
I'm really looking forward to finally standing on the Bielefeld stage with my great colleagues and hopefully move the audience to tears.
And of course, we are looking forward to thrilling performances. Break a leg to CYRANO and many thanks to Veit Schäfermeier for these lines!
You can find more information about Veit Schäfermeier and also photos of CYRANO on his homepage.
Rollen und Besetzung / Characters and cast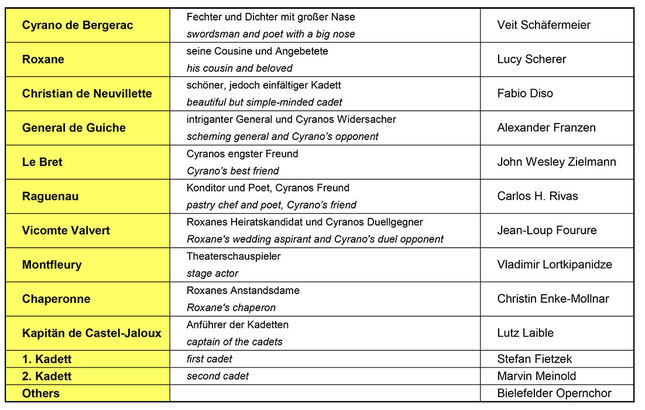 Songs / Playlist
Act I
1. Prologue / Prolog
2. Opera Opera / Opera, Opera
3. Aria / Arie
4. One Fragment of a Moment / Ein Blick in deine Augen
5. Confrontation / Konfrontation
6. The Duel / Das Duell
7. Where's All This Anger Coming From Loving Her / Nur Weil Ich Sie Liebe
8. A Message from Roxane / Nachricht von Roxane
9. Ragueneau's Patisserie / Ragueneaus Patisserie
10. Roxane's Confession / Roxanes Geständnis
11. What a Reward / Oh Welche Ehr'
12. Hate Me / Hasst Mich
13. Courage Makes A Man / Muss Ich Einst Von Dieser Erde

14. Cyrano's Story / Cyranos Geschichte
15. A Letter for Roxane / Ein Brief Für Roxane
16. I Have No Words / Ich Habe Keine Worte
17. Two Musketeers / Zusammen Sind Wir Stärker
18. An Evening Made for Lovers / Ein Abend Für Romanzen
19. Balcony Scene / Balkon-Szene
20. Poetry / Poesie
21. Moonsong / Alles (Mondlied)
22. Stay With Me! / Bleib Bei Mir!
Act II
1. Every Day, Every Night / Jeden Tag, Jede Nacht
2. A White Sash / Die Weiße Schärpe
3. When I Write / Wenn Ich Schreib
4. Two Musketeers (Reprise) / Zusammen Sind Wir Stärker (Reprise)
5. Rhyming Menu / Das Reimende Menü
6. Even Then / Selbst Dann
7. Tell Her Now / Sag es ihr
8. The Evening / Der Abend
9. Even Then (Reprise) / Selbst Dann (Reprise)
10. The Battle / Die Schlacht
11. Everything You Wrote / Alles Was Du Schriebst
12. He Loves To Make Us Laugh / --

13. A Visit from DeGuiche / Besuch Von DeGuiche
14. Opera, Opera (Reprise) / Opera, Opera (Reprise)
15. An Old Wound/The Letter/Moonsong / Eine Alte Wunde/Der Brief/Mondlied
Und nicht verwirren lassen: Es gibt noch ein weiteres Musical namens CYRANO, das erstmal 1973 mit Christopher Plummer in der Titelrolle am Broadway aufgeführt wurde. Die Originaltexte stammen von Anthony Burgess, die Musik komponierte Michael J. Lewis.
And don't let yourself be confused: There is another musical named CYRANO which first premiered on Broadway in 1973 starring Christopher Plummer. The original text was by Anthony Burgess, the music was composed by Michael J. Lewis.