Jemmainternational Blog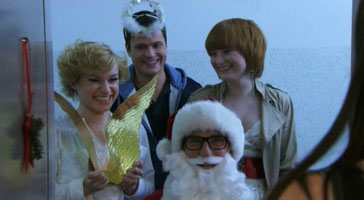 Christmas time!!!
And we came up with a little something for every day up until then for you, introducing the tradition of the "Advents-or Christmascalendar" :)
mehr lesen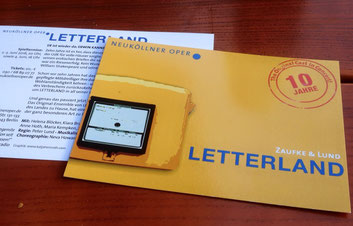 Kennst du das Land, wo niemand weint?
Wo Tag und Nacht die Sonne scheint? Das Glück regiert, mit leichter Hand?
Tja, das ist die Vorortsiedlung Letterland – rein theoretisch, denn das Idyll trügt. Äußerst idyllisch verlief dagegen die Wiederaufführung des gleichnamigen Musicals an der Neuköllner Oper, das für Lucy Scherer und ihre Kollegen zugleich ein ganz besonderes Motto hatte: Klassentreffen!
Do you know the place where no one cries?
Where the sun shines day and night? Where luck reigns with an easy hand?
Well, that's the suburb Letterland - purely theoretically, because this idyll is deceptive. Very idyllic on the other hand was the revival of the musical of the same name at the Neuköllner Oper in Berlin, and for Lucy Scherer and her colleagues it was also something of a special occasion: class reunion!
(English version see below)
mehr lesen
0 Kommentare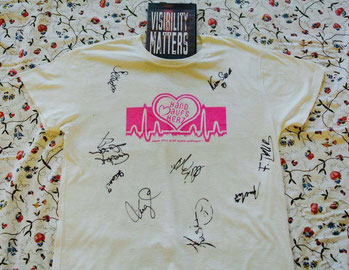 Jemma und HaHe haben Spuren hinterlassen – in unseren Herzen, in Form von Freundschaften und in vielen Schränken. Ja, richtig gelesen! Manch eine hütet zu Hause nämlich nicht nur DVDs und Autogrammkarten, sondern ganz einmalige Schätze. Schätze wie dieses Flashmob-Aktions-T-Shirt, das nun eine neue Besitzerin sucht. Interesse? Dann macht mit bei unserer Aktion und einer Auktion, die im Kleinen Gutes bewirkt.
Jemma and HaHe have left a lasting impression - on our hearts, in the form of friendships and in many a closet. Figuratively and literally! Some people not only hoard DVDs and autograph cards at home but also some truly unique treasures. Treasures like this flash-mob campaign t-shirt that is now looking for a new owner. Interested? Then take part in our auction for a good cause.
mehr lesen
0 Kommentare
All blog entries