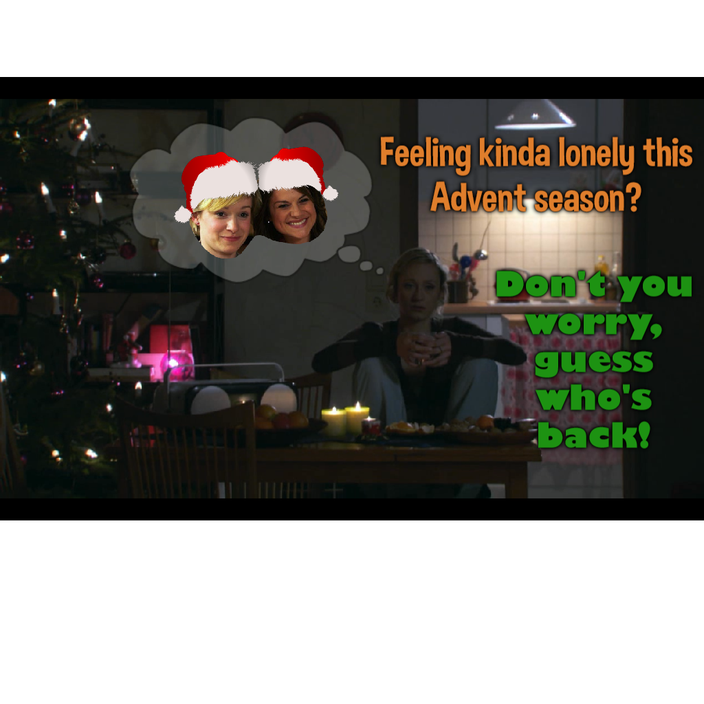 Liebe Jemmalinge,
alle Jahre wieder … grüßen euch die JI-Murmeltiere mit einem neuen Adventskalender.
Nach reiflicher Überlegung haben wir uns dazu entschlossen, euch auch in 2022 mit einer täglichen Dosis Jemma durch den Advent zu begleiten. Allerdings wird dies nur auf äußerst simplistische Art und Weise geschehen - man könnte auch sagen, wir gehen lediglich zurück zu unseren bescheidenen Anfängen. Denn ganz ehrlich, uns liegen Emma & Jenny zwar nach wir vor unheimlich am Herzen (Hand drauf!), aber leider fehlen uns nach 11 Jahren einfach die Zeit und Energie einen kompletten Kalender mit 24 brandneuen Überraschungen aus dem Boden zu stampfen. Trotzdem wissen wir, dass viele von euch jeden Dezember gerne aufs Neue bei uns vorbeischauen um in der Vorweihnachtszeit gemeinsam etwas in Hand aufs Herz-Erinnerungen zu schwelgen.
In diesem Sinne, willkommen zurück, wir freuen uns drauf und zwar folgendermaßen: Wir werden jeden Tag auf Facebook, Twitter und Instagram ein Jemma-Bild hochladen, außerdem haben die Nikoläusin & die Weihnachtsfrau wie immer ein paar erlesene Gaben im Gepäck und wer weiß, vielleicht versteckt sich hinter dem ein oder anderen Türchen noch etwas Unerwartetes. ;-)
Euer Team JI

Dear Jemmalings,
Here we go again: Tis the season to be jolly, Advent calendar fa la la la la.
After careful consideration, we have decided to accompany you through the Advent season once again in 2022 with a daily dose of Jemma. However, this will only be done in the most simplistic way – one could say we are merely going back to our humble beginnings. Because, to be completely honest, though Emma & Jenny are still incredibly close to our hearts (Hand upon it!) after 11 years we just lack the time and energy to stomp a complete calendar with 24 brand-new surprises out of the ground. Nevertheless, we know that many of you like to drop by once more each December in order to take a trip down the Hand aufs Herz-memory lane in the time before Christmas.
On that note, welcome back, we are looking forward to it and here is how: Each day we will be uploading a Jemma picture to Facebook, Twitter and Instagram, in addition St. Nick & Santa will, as always, be bearing some distinguished gifts and who knows, maybe something unexpected is waiting behind one or the other door. ;-)
Yours, team JI