Guest blog by Franciska Friede (July 2011)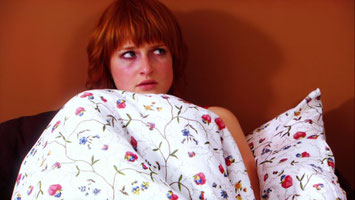 Our very first guest blog, written by none other than Jemma Supporter number one Franciska Friede.
Franciska plays the role of "Sophie" on the German telenovela Hand aufs Herz, that we all have grown to love so much.
When we asked her if she would guest blog for us, a while back, she didn't hesitate for a second, just as she has always been not only helpful, but ever friendly and forthcoming to all of the Jemma and Hand aufs Herz fandoms. We're ever so grateful, Franci, you're a rockstar, and all of us here at JI have become great FF fans and love you very much! Thanks for everything!
The Guest Blog, you'll find by clicking here.
Franci's Blog findet Ihr hier.
LANGUAGES: English,German, Italian, Spanish
(X-mas) Interview with JemmaInternational (December 2016)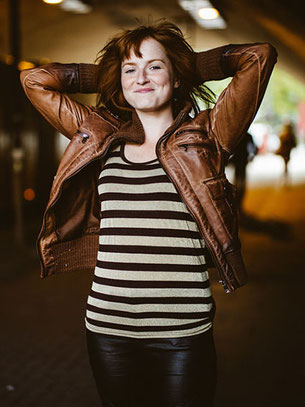 JI: First off, we'd like to thank you for doing this interview for our Advent Calendar! Even though we're called "Jemma International," our followers are always excited to hear from our Honorary Members!
Franci: You're welcome! I'm happy to do it!
JI: What did you do before you won the role of 'Sophie' on Hand aufs Herz?
Franci: I was in my final year of drama school when I received the call telling me that I had gotten the part on HaHe. I had already shot a few short films, but I had never done anything "REAL" - nothing that was really going to be OUT THERE, so it was actually a little scary to me. The first thing we did was shoot the pilot, and after that we had to wait for two things:
#1 – Would the show get picked up
#2 – Would they keep me in the role
It was VERY nerve racking!
JI: Wow! I bet that was nerve racking! I don't think that many of us knew that 'Sophie' was your first major role – I mean, you played the character SO WELL that it's hard to believe that! Ok next questions! Do you have any more short film projections in the works? If so, any hints for us on what they are?
Franci: I do! Right now I'm in the early stag­es of getting my very first short film off the ground! I wrote the script in German and then decided that I needed some help with the Eng­lish, so I contacted Sones (of the JI team!) to ask for some help – and she gladly agreed! (Thank you so much, Sones!) The topic of the film is going to be very controversial, but I don't want to spoil anything so that's all I can say for now! You're all just going to have to wait for the film to be released! I can't be specific on the release date yet, but I do hope it won't take too long to finish everything!
JI: That's so exciting! We will be waiting anx­iously for further news about that! Ok, so we know that you've recently been doing a lot of voiceover work. Is there any specific character that you'd like to lend your voice to?
Franci: Well, my biggest dream would be to dub a Disney character! To be honest, if giv­en the chance, I think I would have a nerv­ous breakdown – but it would be THE BEST nervous breakdown EVER! The cherry on top would be also getting to do the singing for a Disney character, but I won't be greedy!
JI: You would be great as a Disney character! Hey Disney, if you're listening – snap Ms. Friede up! Honestly, they would be lucky to have you! Alright, moving forward! If you could work wherever you wanted, where would that be? Why?
Franci: Well, as a voice actress I would totally love to work in America, or in any Asian coun­try. Voice acting is so much more appreciated in those markets! I mean, in Germany, it's not uncommon to find the names of the voice ac­tors left off of the credits – or to see them just sort of added on at the very end of them - you know, that last page of the credits that no one stays in the theater to see? That can be very dis­appointing. For many of those same reasons I would also love to work abroad as an actress. It is very hard to get a job in Germany if you're not famous. Of course that is a common prob­lem everywhere, but still – you won't find a production like Game of Thrones that is full of so many new faces and is so successful here in Germany. You also receive a different kind of recognition for doing a good job elsewhere.
In many of the markets abroad it's not ONLY about the ratings – if the show is good, there is a chance it will go on and be given a chance to build it's market up. Here in Germany nearly everything is about the ratings, which kind of sucks because no one is brave enough to try new things because of the fear that the ratings could be bad. I don't think that a show like Breaking Bad would have worked in Germa­ny because it would have been cancelled af­ter the first season for bad ratings. Isn't that disappointing?! Right now I'm looking for an Agent in London so that I know that I've re­ally tried everything. SO – if there happens to be an Agent reading this - "HELLO! Here I am! Let's get together and talk!"
JI: Yes! Agents – call her! She comes with a built-in and loyal fan base! If you hire Fran­ci, we will come! Ok, back to the interview! What is your favorite medium to work in – TV, Movies or the Stage?
Franci: I have to admit that I have never been the stage type. Of course I would LOVE to do a musical, but pure acting on stage?! I've nev­er felt good enough for that! I'm always scared to death that I will forget my lines and then ruin the whole play for everyone...so I guess I have to stick with acting in front of the cam­era because I am just too scared for the stage!
JI: Well we think you would ROCK the stage! Ok then, building on that....if you weren't an actress, what do you think you'd be doing?
Franci: Hummmm......that's actually a really hard question! Actually, I can't really imagine anything else for myself....and believe me, I've tried A LOT of jobs – but I've always come back to acting!
JI: So it is your true calling! Well, our time is running out – so let's close this out with a HaHe question! Do you have a favorite mem­ory from your time on Hand aufs Herz that you'd like to share with us?
Franci: I have a lot of precious memories from that time. I met so many awesome peo­ple during my time on HaHe, both in front of and behind the camera. It was a very good learning experience for me too! I learned so much there – not only how the production of a series works, but to always be on point, to show up ready to work even if you are sick, to learn lines your lines fast and what it's like to meet new people first the first time and then wind up kissing them only a few short hours later! It was a fun, extremely informative and great time in my life and I really wish it would have lasted longer.
JI: Well I that that I can speak for every mem­ber of the JemmaNation when I say that we ALL wish it would have lasted longer! Thank you so much for agreeing to sit down with us again and catch us up with what you've been doing, will be doing and would like to do Ms. Friede! As always, it's been a pleasure speak­ing with you!
Franci: Thank you! I was happy to be asked! I hope that everyone has enjoyed my answers – and I hope that everyone has a wonderful holiday season!
JI: Happy Holidays to you and yours from everyone here at JI.Org, Ms Friede! We hope that you have all enjoyed this surprise inter­view behind today's Advent Calendar Door!
Interview by Sones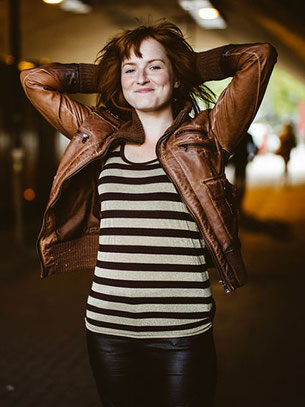 JI: Erst einmal möchten wir uns bedanken, dass du dich zu diesem Interview für unseren Adventska­lender bereiterklärt hast! Denn obwohl wir "Jemma International" heißen, freuen sich unsere Follower immer, etwas von unseren Ehrenmitgliedern zu hö­ren!
Franci: Gern geschehen! Das mache ich doch ger­ne!
JI: Was hast du gemacht, bevor du die Rolle der "So­phie" in Hand aufs Herz bekommen hast?
Franci: Ich war in meinem letzten Jahr auf der Schauspielschule, als der Anruf kam, dass ich die Rolle in HaHe bekommen habe. Ich hatte schon ein paar Kurzfilme gedreht, aber noch nichts "ECH­TES" – nichts, was wirklich DA DRAUSSEN zu sehen gewesen wäre, also war es auch ein bisschen beängstigend für mich. Das erste, was wir gemacht haben, war, den Pilotfilm zu drehen, und danach mussten wir auf zwei Dinge warten:
#1 - Würde die Serie übernommen werden
#2 - Würden sie mich für die Rolle behalten
Es war SEHR nervenaufreibend!
JI: Wow! Ich wette, dass das nervenaufreibend war! Ich glaube nicht, dass viele von uns wussten, dass "Sophie" deine erste größere Rolle war – ich meine, du hast den Charakter so gut gespielt, dass es schwer zu glauben ist! OK, nächste Fragen. Hast du irgend­welche neuen Kurzfilmprojekte in Arbeit? Wenn ja, kannst du uns darüber ein paar Infos geben?
Franci: Habe ich! Im Augenblick bin ich im An­fangsstadium der Arbeit an meinem ersten eigenen Kurzfilm! Ich habe das Drehbuch auf Deutsch ge­schrieben und mich dann entschieden, dass ich et­was Hilfe mit dem Englischen brauchte. Also habe ich Kontakt zu Sones (vom JI Team!) aufgenommen und um Hilfe gebeten - und sie war sofort dabei! (Vielen Dank, Sones!) Das Thema des Films wird sehr kontrovers sein, aber ich will hier nichts vor­wegnehmen, und werde deshalb nichts weiter ver­raten! Ihr werdet alle einfach warten müssen, bis der Film herauskommt! Zum Veröffentlichungsda­tum kann ich auch noch nichts Definitives sagen, aber ich hoffe, dass es nicht mehr zu lange dauern wird, um alles fertigzustellen!
JI: Das ist ja interessant. Wir sind auf weitere Infos darüber gespannt. OK, also wir wissen, dass du in letzter Zeit viel als Synchronsprecherin gearbeitet hast. Gibt es eine bestimmte Figur, der du gerne einmal deine Stimme leihen möchtest?
Franci: Also, mein größter Traum wäre es eine Disney-Figur zu sprechen. Um ehrlich zu sein, soll­te ich die Chance dazu kriegen, bekäme ich wahr­scheinlich einen Nervenzusammenbruch – aber es wäre der beste Nervenzusammenbruch der Welt! Das i-Tüpfelchen wäre es, auch noch den Gesang für eine Disney-Figur zu übernehmen, aber ich will nicht gierig sein!
JI: Du wärst klasse als Disney-Figur! Hey Disney, wenn ihr das hier lest – schnappt euch Frau Frie­de! Mal ehrlich, sie könnten sich glücklich schätzen, wenn sie dich hätten. In Ordnung, weiter im Text. Wenn du arbeiten könntest, wo du wolltest, wo wäre das? Und warum?
Franci: Also, als Synchronsprecherin würde ich wahnsinnig gerne in Amerika, oder in einem der asiatischen Länder, arbeiten. In diesen Märkten wird Synchronsprechen einfach viel mehr ge­schätzt. Ich meine, in Deutschland ist es nicht un­gewöhnlich, dass die Namen der Synchronsprecher nicht im Abspann auftauchen - oder man sieht sie nur ganz hinten am Ende angestückelt – du weißt schon, das letzte Bild des Abspanns, bis zu dem niemand mehr im Kinosaal geblieben ist? Das kann sehr enttäuschend sein. Aus den gleichen Gründen würde ich auch gerne als Schauspielerin im Aus­land arbeiten. Es ist in Deutschland sehr schwer einen Job zu bekommen, wenn du nicht berühmt bist. Natürlich ist das generell überall ein Problem, aber trotzdem - man wird hier in Deutschland kei­ne Produktion wie Game of Thrones finden, die voll mit so vielen neuen Gesichtern ist und so viel Erfolg hat. Man erhält außerdem andernorts eine andere Art von Anerkennung für gutgemachte Arbeit.
In vielen ausländischen Märkten geht es nicht NUR um die Einschaltquoten - wenn die Serie gut ist, besteht die Chance das sie fortgeführt wird und ihr die Möglichkeit geboten wird, den Markt noch zu erobern. Hier in Deutschland dreht sich so gut wie alles nur um die Einschaltquoten, was irgendwie Scheiße ist, denn niemand ist mutig genug neue Dinge auszuprobieren aus Angst, dass die Ein­schaltquoten schlecht werden könnten. Ich glaube nicht, dass eine Sendung wie "Breaking Bad" in Deutschland passiert wäre, weil sie nach der ersten Staffel wegen schlechter Einschaltquoten abgesetzt worden wäre. Ist das nicht enttäuschend!? Im Mo­ment suche ich einen Agenten in London, so dass ich weiß, dass ich wirklich alles versucht habe. Also - wenn zufällig ein Agent dies hier lesen soll­te - "HALLO! Hier bin ich! Wir sollten uns treffen und reden!"
JI: Ja! Agenten – ruft sie an! Sie bringt eine etablier­te und loyale Fangemeinde mit! Wenn ihr Franci übernehmt, kommen wir mit! OK – zurück zum Interview!! In welchem Medium arbeitest du am liebsten – Fernsehen, Film oder Bühne?
Franci: Ich muss gestehen, dass ich nie so der Büh­nentyp war. Natürlich würde ich liebend gerne ein Musical machen, aber reines Schauspielern auf der Bühne?! Ich habe mich nie für gut genug dafür ge­halten. Ich habe immer eine Todesangst, dass ich meinen Text vergesse und damit das Stück für alle ruiniere...deshalb glaube ich, dass ich eher beim Spielen vor der Kamera bleibe, da ich einfach zu ängstlich für die Bühne bin.
JI: Also wir glauben, du würdest die Bühne rocken! Alles klar, darauf aufbauend... was würdest du tun, wenn du keine Schauspielerin wärst?
Franci: Hummmm...das ist echt eine ganz schwie­rige Frage. Ich kann mir eigentlich nichts Anderes für mich vorstellen...und glaubt mir, ich habe mich an VIELEN verschiedenen Jobs versucht – aber ich bin immer zurück zur Schauspielerei zurück­gekehrt!
JI: Also ist es deine Berufung! Nun, langsam wird die Zeit knapp - also lass uns mit einer HaHe-Fragezum Ende kommen! Hast du eine besondere Erin­nerung an deine Zeit bei Hand aufs Herz, die du mit uns teilen möchtest?
Franci: Ich habe viele schöne Erinnerungen aus der Zeit. Ich habe so viele tolle Menschen wäh­rend meiner Zeit bei HaHe getroffen, sowohl vor als auch hinter der Kamera. Es war auch für mich ein sehr gutes Lernerlebnis! Ich habe dort so viel gelernt - nicht nur wie die Produktion einer Serie funktioniert, sondern auch immer auf den Punkt genau abliefern zu können, vorbereitet zur Arbeit zu erscheinen, auch wenn man krank ist, schnell den Text auswendig zu lernen und wie es ist, neue Leute zum ersten Mal zu treffen und sie dann nur ein paar Stunden später schon küssen zu müssen. Es war eine extrem informative und tolle Zeit in meinem Leben, die mir sehr viel Spaß gemacht hat, und ich wünschte sie hätte noch etwas länger ge­dauert.
JI: Also, ich denke, ich spreche für jedes Mitglied der JemmaNation, wenn ich sage, dass wir uns alle wünschen, dass es noch länger gedauert hätte! Vie­len lieben Dank, dass du dich zu dem Interview be­reit erklärt hast und uns hast wissen lassen, was du getan hast, tun wirst und tun möchtest. Es war, wie immer, eine Freude mit dir zu sprechen!
Franci: Danke! Es war eine Freude gefragt zu wer­den! Ich hoffe, dass alle Vergnügen an meinen Ant­worten hatten - und ich hoffe, dass alle wunderbare Feiertage haben werden!
JI: Frohe Feiertage auch für dich und deine Lieben von allen hier auf JI.org!
Interview von Sones
A Short Interview with Franci by Erdbeerlöwen (November 2011)
Interview from: http://erdbeerloewen.de/2011/11/franciska-friede-im-interview/
Please introduce yourself!
Hey, my name is Franciska Friede, and I am 23 years young!  
What is one unique characteristic that you posses?
Phew... I think that every human being is unique with all of our feelings, thoughts, fears and hopes.  So, I think that I am probably unique in that way as well.
What was your most famous role?
That would be "Sophie Klein" from "Hand aufs Herz."
What is your dream role?
I'd love to do just about anything on "True Blood," which is an American series with awesome emotional storylines, really great actors.  What can I say other than that the series has just really captivated me!  Some other U.S. series have done this as well - like American Horror Story and Breaking Bad.  I would also like to act in a Tim Burton film. I love movies that manage to touch me deeply, to revive the child in me, and those that are able to suck me in from the very first moment.  Mr. Burton is able to do this EVERY TIME with his movies. 
As far as the German industry goes, there are also some things that I would love to be a part of. I would love to be able to work with Dominik Graf and Dennis Gansel. They both do a great job and I sometimes think that to be a part of that would be like a dream come true.
Your Favorite Disco and Bar in Hamburg?
I think the Wonderful class. The karaoke show at the Theater Schmidt is also pretty cool. Then there's the Mongo on Straßenbahnring and the CIU on the Alster.
What attractions do you like most in Hamburg? Why?
I find the Alster great, but Hamburg has a lot of other great parks and rivers.. and of course there is also the port. Then there's also a very nice Cupcake shop in the vicinity of Neue Flora called 'Liebes Bisschen' (A Little Bit) - A little Dream.  *Mjam* What exactly are Hamburg's best sights? The whole city is worth seeing!
(The Alster is a Lake… here is some information about it  Alster lake, a large expanse of water in the heart of Hamburg, is perfect for sailing, rowing or canoeing. The parks and green spaces with their cafes and restaurants around Alster lake are pleasant places to relax, but perhaps the best and easiest way to explore the lake is by pleasure boat. "Alster water" (beer with lemonade), is widely regarded as Hamburg's favourite drink.)
( http://liebesbisschen.blogspot.com/ & http://www.spottedbylocals.com/hamburg/liebes-bisschen/   for those that are interested, here are two websites about the Cupcake shop!)
How far would you describe your fashion style?
I really like comfortable clothes, but I also like to dress up when the right occasion comes along. 
Where is your favorite place in Hamburg? Why?
My sofa because when I am there I am surrounded by those I love, my boyfriend and our cats!! It is also very nice to just cuddle, relax and be lazy at times.
Which district has particularly impressed you? Why?
Oh… there are so many places.... I like the Vier - Marshlands. They always make me pretty happy since there are really great forests and fields there that are natural and untouched.  There are also many great places to run, and run, and run… The Boberger dunes are also pretty cool, and one can see a lot of sand without having to drive to the sea.  The Schanzenviertel is also always worth a detour.  If you have a sweet tooth, or just like eating you will be in good hands here. If you want some really cool clothes shopping, then it is the right place... The Portuguese quarter is also great: the seafood/fish restaurants are plentiful ... It is really easy to eat well...