Jemma Soundtrack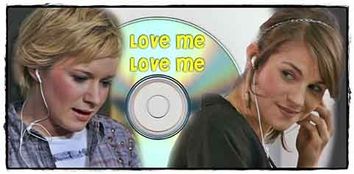 Jemma and music belong together. A friend of ours already made music compilations about Jemma. Which songs could Jenny and Emma sing to each other to express their different feelings or thoughts about their love, life and situation?
Jemma und Musik gehören zusammen. Eine Freundin von uns hat einige Musiklisten über Jemma erstellt. Welche Songs könnten Jenny und Emma füreinander singen, um ihre unterschiedlichen Gefühle auszudrücken, und ihre Gedanken über ihre Liebe, ihr Leben und ihr Situation?
LonCo* Records proudly presents...
Compilation 1:
  1. The Temper Trap - Love Lost
  2. Mirah - Promise To Me
  3. Cat Power - Could We
  4. Anna Ternheim - My Secret
  5. Klee - Gold
  6. Sia - Day To Soon
  7. My Brightest Diamond - Golden Star
  8. Feist - Secret Heart
  9. Roisin Murphy - If We're In Love
10. Sade - The Safest Place
11. The Cure - Just Like Heaven
12. MIA. - Tanz der Moleküle
13. Camille - Ta Douleur
14. Joni Mitchell - All I Want
15. Beach House - Take Care
16. Goldfrapp - Monster Love
Compilation 2:
  1. Dusty Sprinfield - I Just Don't Know What To Do With Myself
  2. PJ Harvey - The Letter
  3. Rachel Yamagata - I Want You
  4. Clueso - Kein Zentimeter
  5. Kasia Borek - Sweet Dreams
  6. Jeff Buckley - Morning Theft
  7. Sarah Blasko - Perfect Now
  8. Siobhán Donaghy - There's A Place
  9. Bill Wihers - Ain't No Sunshine
10. Diana Ross&The Surpemes - You Can't Hurry Love
11. Joy Denalane - One In A Million
12. Julie London - Light My Fire
13. Nouvelle Vague - I Just Can't Get Enough
14. Florence And The Machine - You've Got The Love
15. Morcheeba - Rome Wasn't Built In A Day
16. 2Raumwohnung - Liebe Ohne Ende
And yet another Jemma compilation!
As they have moved on in the storyline thematically and emotionally, so do the songs climb up some more steps ;-) The topics, feelings, thoughts on this double-CD are pretty obvious, so just enjoy! CD1 got a bit funkier and "louder" than CD2 – however, CD2 has its dancey moments, too, but was intended to be more…. romantic and fading out with*rowr* ;-)
CD1:
  1. Diana Ross – I'm Coming Out
  2. Melanie C – I Want Candy (Bow Wow Wow cover)
  3. Sarah McLachlan – Ice Cream
  4. Brooke Fraser – Something In The Water
  5. Ane Brun & Ron Sexsmith – Song #6
  6. The Click Five – Jenny
  7. Leona Naess – Ballerina
  8. Jet – Are You Gonna Be My Girl
  9. The Gap Band – You Dropped a Bomb On Me
10. Dean and Britta – You Turned My Head Around
11. The Monkees – I'm a Believer
12. Paolo Conte – Via Con Me
13. Kate Yanai – Summer Dreaming
14. Freundeskreis – Mit Dir
15. Marvin Gaye & Kim Weston – It Takes Two
16. Barry White – My First, My Last, My Everything
CD2:
  1. Gloria Gaynor – I Am What I Am
  2. Hot Chocolate – Emma
  3. The Ting Tings – That's Not My Name
  4. Texas – Inner Smile
  5. Shades Of Blue – Oh How Happy
  6. The Pipettes – I Love You
  7. Belinda Carlisle – Heaven Is a Place On Earth
  8. Soraya – Suddenly
  9. Mary J. Blige – Give Me You
10. Nick Cave & The Bad Seeds – (Are You) The One I've Been Waiting For
11. Jennifer Terran – Unconditional Love
12. Eva Cassidy – Songbird
13. Naked Raven - Skin
14. Cat Power & Karen Elson – I Love You (Serge Gainsbourg cover)
15. Elisa – Rock Your Soul
16. Gudrun Gut – Tip Tip
Jemma is in da house
The Jemma Body and Soul mix
01. Sister Sledge : We are Family
02. Anita Ward: Ring my bell
03. The brand new Heavies: You are the universe
04. Alicia Keys: Superwoman
05. Jamiroquai: Cosmic Girl
06. Prince: The most beautiful girl in the world
07. Oleta Adams: Get here
08. En Vogue: Don't let go
09. Dionne Warwick: Friends can be lovers
10. Joan Armatrading: Weakness in me
11. Donna Summer : I feel love
12. Lauryn Hill: Can't take may eyes from you
13. Janet Jackson: That's the way love goes
14. Aaliyah: More than a woman
15. Ultra Nate: Free
16. Snoop Dog feat. Pharrell: Beautiful
17. Marvin Gaye: Sexual Healing ( Bonus Track)
So if you want to enjoy and follow the storyline in a different way, write us a mail, and we will do  our best to pass the compilations on to you.  
 If you have any questions or suggestions-don't hesitate and send us a mail or comment in the guestbook!!
*= a combiation of Jennys former (London) and Emmas (Cologne) Hometown