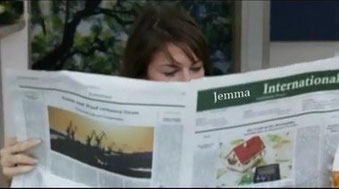 Hello everyone!
As you know the Jemma love is conquering the world. Today we want to release the Press Review section of our site and we do it with new exciting news, which some of you may or may not have heard yet.
New Press:

1) Video Interview with Lucy and Kasia from eurOut.org
EurOut.org is planning a video Interview with Lucy and Kasia. Yes, but don't collapse and fall from your seats, yet. Because before you do that go and send in your questions for Lucy and Kasia to: editor [at] eurout [dot] org

They'll accept questions until June, 15th.
Follow me to read the full article.
2) Diva Magazine released an article about our two favorite girls, saying: Forget Tibette, Jemma's our new gem!

The UK magazine picked up on the Jemma hype and talked with our top notch woman in charge Doreen and our lovely do-it-all (but technology) Nic.
Thank you DIVA, it was lovely talking to you!
3) For the spanish folks: A new recap of Lesbicanarias is up
Part 7 of the spanish recaps by Rogue has been published.
4) Live Chat with Lucy and Kasia on Sat1.de on the 7th of June
On the 7th of June Sat.1 will do a live chat with Lucy and Kasia. Yes, you shouted and they heard you (again). There seems to be the rumor that it will be a live video chat. Sorry girls, it won't. But it will be one hour long instead of thirty minutes (like they usually do) and there will be pictures and all questions and answers on their website the next day.
We will definitely translate the chat for you. We're also thinking about doing a live translation chat. So tell us if you'd be interested in that! (We don't know how well it will work, but we'll see and come up with something.) I suppose we'll do another blog about this if we know more and let you know what will be happening (on the 5th or 6th maybe).
Sat 1 Live Chat (translation page)

Other exciting news on our own account:

Other exciting news is the translations for yesterday's episode are up. And what made us really giddy is, we have a new language to offer to you. Hold on to your seats, Jemmainternational does Greek! The first ones are up from 74-98.
Also here's an overview of what transcripts are already up for the Clips: