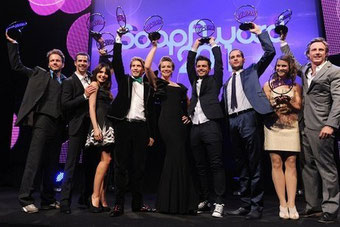 You were disappointed that Lucy couldn't get out more than a THANK YOU at the award show?
Lucy is saying THANK YOU again on her homepage.
Read on and find out what she has to say.
06-06-11 Female Fan Award 2011
The original you can find here on Lucy's website.
Dear lovely Fans,
now that the excitement is over ;) I want to properly say thank you for giving me the SOAP AWARD - FAN PRIZE. Your votes bestowed me this award and with that you gave me a very special honor - my very first prize at all! I want to thank you all and it's coming from my very heart. Thanks for every click and text-I'm very flattered and proud that you unrestingly put your shoulder to the wheel for me! I will continue in giving my best, and I can promise you that there are a lot of exciting scenes with Emma and Jenny ahead! My incredible co-actress Kasia Borek I'd like to thank at this point, too. For her help and support to find my way in the daily soap-craziness, for her presence in the scenes and her team work -which is a real enrichment to me! Also I want to thank the writers - especially Petra Bodenbach - , who created the Jenny and Emma storyline with a lot of care and affection. Also I'm thanking Sat1 and 'Producers at Work' for the trust they put in me by giving me the role of Jenny Hartmann. Having said this: The show goes on with glee, always at 6pm with Hand aufs Herz! Mille Grazie a tutti Link.
We will put this and other things from the Fan Award up on a separate page once we had the time to reorganize a few pages on our website.