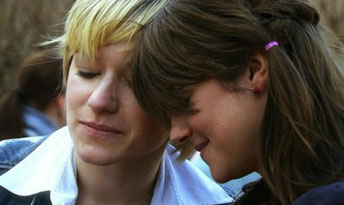 Hi guys,
No pretty pictures, no words and no fancy descriptions can express how I feel today.
It's official. Hand aufs Herz has been canceled.
And with it the world that Jemma lives in ceases to be.
Why oh why do I feel as though something great, something wonderful, something special has been taken from me?
Because it has.
The Pestalozzi school has been a very special place, one where "normal" has become a pun. A place that had managed that feat. Finally. Not to differentiate, not to trip into the trap of cliches, of sensationalism and of featuring "the" lesbian storyline. It has always just been about Jenny and Emma arguing and fighting and falling in love.
Thank you, it has been a  "Wohltat" and a pleasure.
xoxo
ami
Official statement by Joachim Kosack (SAT1):
We are ending our daily show "Hand aufs Herz" after its first season at the beginning of September.Despite having given viewers plenty of time to find this wonderful show,and working relentlessly,with the whole production team on its format, the ratings have remained far underneath the channel's average.Even the great success,that "Hand aufs Herz" had online, couldn't compensate the difficulties in finding a viewing audience for TV.
 

Let the people at SAT1 know how much the show has meant to you, and why (they have quite a lot of crappy shows that keep on survining.miraculously and honestly,I don't think they are aware of the social impact,this has had! So what I'm trying to say:Be Nice!;-)

They also have facebook and twitter (@sat1)

Gay flashmob anyone?
;-)

Don't forget to say Hi! and thanks to the Hand aufs Herz peeps!