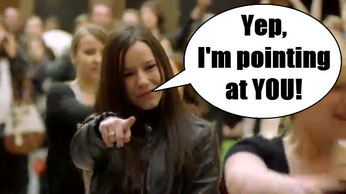 And that's how long you've got:
To get to know more click 'Mehr lesen'.
---
Hello everybody!
May we have your attention please? :)
Did you already see this?
Hammer! Right?
So you want to join in on something like that? Great!
Because you have 5 more days left to send in your contribution to the Virtual Flashmob video of Juno (jemmaclips@hotmail.com). (That's the awesome girl with the Starter Kit vids.) So 5 days you have left. Did you hear me? At the end of the 18th of July is the deadline (German time again.)
What? You're lacking ideas, you say?
Well, if you want to be a part of something big, something grand but still don't have a clue what you could do to participate then let us help you.
We also have ideas which are easy to do without embarrassing yourself, though that's always welcome. (Yeah, some members of TJI did that already, and often enough, too! Do we need to remind you? Exhibit a) Giving Hahe the shirt right off our back, or exhibit b) rapping our soles out of our body.) So now it is your turn!
And here are some suggestions:
World Appeal
We've received an email from Eyelesstress, a reader of this site, and she suggested a really simple idea. Check it out.
Hi ami,

I thought it was really funny that 'Jenny' and 'Emma' (the autograph cards) went to a world cup match and to Pride. I'm still in London so I thought I might take them to Buckingham Palace, Big Ben etc. for the flashmob video. I've tried to take a screenshot of the photos to print out but I can't get a good enough picture. If anyone can get a copy of the pics to me then I'll take 'Jenny' and 'Emma' into London and get some photos of them to send to you!

Maybe [more people could do the same and do pictures of them at] iconic places or events to show the worldwide appeal of Jemma?

All the best.
Eyelesstress
We loved that idea, so here is Kasia+Lucy for you to print. And this how it will work:
Click on Kasia and/or Lucy and they will lead you to the link for the download. Print the girls out, glue them on cardboard and show Jenny your Hometown, Emma iconic places, take them both to London, Paris or to Events of any kind, make a Pic in front of an evening sky or the full moon, have company at dinner (with pizza?) or dance a ballett together. Be creative :)
Also feel free to go for Ben, Bea or Ms. Jäger if you like. This is for Hahe :)
You wanna see how it will looks like? Here are two examples!
Easy? Easy!!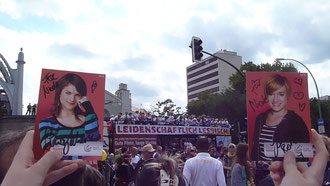 Can you read the sign on the truck? You think it's coincidence? We think it's DESTINY! KARMA!
PASSIONATELY LESBIAN!!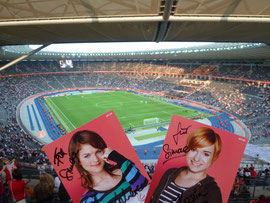 Woooooohhhhhhhhhoooooooooo!
The girls at the Opening Game of the Women Soccer World Cup
---
Dance.Sing.Conquer.
Everybody knows Ellen DeGeneres. Right? Right! She had this crazy idea of seeing her face all over the world. And? It worked out perfectly.
No, wait! You don't have to print out Ellen. YOU can choose between Jenny, Emma or even both.
So click on the Pics and they will lead you to the download link.
Print the girls out and follow the instructions like above. Or when you got a talent for craft make flags or even masks of it!
---
Confessions
You do a vid of yourself. Everyone who choses this method says: "Hand aufs Herz?" (like: shall I really honestly say it?) and then put your hand on your heart wherupon follows the confession: "... through watching HaH I've become hypnotised and I must say I like it. I can only call the spirits and beg them to not let the show get taken of the air for real." or: "....when my dog hears STAG sing he always joins in. I love him, but I bound his yap shut, because the wonderful singing of STAG must be listened to without disturbance. It's something pure." You can also dress as someone else (play theater) or hide behind milky glas, since a confession like this is hard to do and you should protect your identity ;)
---
Thanks to all brainstormers out there!! You are quite the creative bunch of people :)
Well, in the end the vid will look something like this teaser: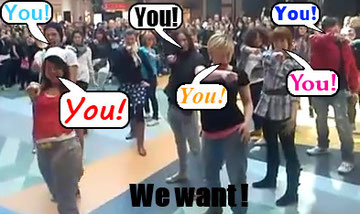 So will you participate? Or did you already? Having some problems?
Tell us in the comments :)
Your JI-Team
---