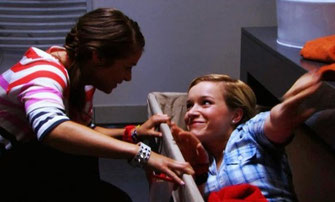 Now it's her turn. Emma put on her magic boots and saved Jenny from spreading tears and drinking Guiness in Ireland.
Whereas Jenny invoked the spirits, shared blankets and sailed all the seven seas with Emma and her coming out.
Emma hat die Hochwasserstiefelchen mit schicken Sneakern kombiniert und ist um Ihr Leben, um Ihre Jenny gerannt. Dabei war kein Mustang zu schwarz und kein Flughafen zu weit. Und Jenny hat Geister beschworen, Wolldecken geteilt und ist das Opfer einer Riesenwelle geworden.
Best Girlfriend of the year? Jenny? Emma?
WE love them both and as you know WE LOVE postcards. 
So click on mehr lesen  and you get to know more about the plan.