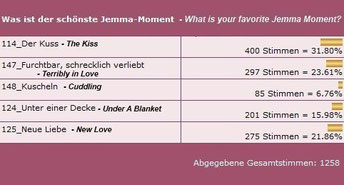 To make you happy on this sad day, we are bringing the Polls back!!!
What's the most interesting thing beside Jemma? Right, what the fans think, of course!
(A collection of all Polls you will find here in the future: Polls)
This week/month (we don't know yet ;) ) you can vote about which way you'd like to get from A to B.
Find out more about the candidates!
---
First let's just take a brief detour on memory lane here and remember the first poll!
Poll 1 - Favorite Jemma Moment
We really enjoyed the poll about what your favorite Jemma moment was. Let's take a look at the participants again.
At the start of that poll it was such a close up of every scene having about ~20%!
But then to the end The Cuddling just collapsed and it's still a riddle how that could have happened. They were so cute in that scene!
Let's just have a look at our poor loser here again: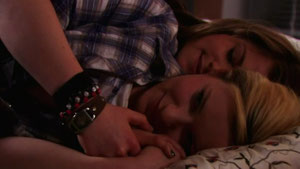 Well, but in the end the more or less clear winner was The Kiss and that scene definitely deserves the first place since it's the moment in which everything really began and the moment Kasia made you all fall deeply in love with her smile.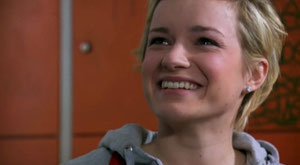 Here are the results once again, click to expand the pic.
Poll 2 - What's the coolest means of transportation?
In our second poll we want to know from you what kind of transportation would you choose to get from A to B?
Let us present the contestants!
- Ben's Mustang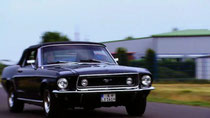 The black Ford Mustang has a few years and races under its belt, but its sportive and iconic style still has the power to make many women's knees go weak and the men's heart beat faster. It can tell you a story or two about Caro's make out technics, take you savely to Berlin and back, and if needed it will boost up all its power to outrun planes in order to save your girlfriend.

Passengers: 5
- Bea's Peugeot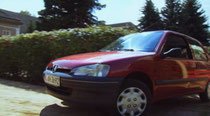 Small, shabby and red, that's Bea's vehicle choice. This little automobile might not be the newest or fanciest car, but it has a cuteness and 'women's car' factor. It's not fast either, but it will do it's job and get you anywhere you like. It's like your best friend and part of your identity. If family vacations or the occasional break in at your local open air bath, this little guy will do it all with you.
Passengers: 5
- Michael's Bike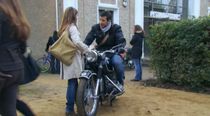 A motorbike, alone the word spells coolness! This way of transportation is getting big plus points for having your passenger's arms slung around your midsection. It will get you close and cozy with your girlfriend...or also the boyfriend of your ex-girlfriend who is also the student of both of you - if you're into that kind of thing.
Racing through the city or long beautiful trips thorugh Italy, this bike is made for either.
Passengers: 2 (+1 if you get that sidecar)
- Emma's Blue Runners (Boots in Disguise)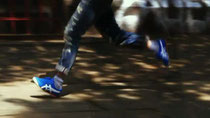 These little tykes will take you in hyper speed straight through Cologne and make you look mighty fine while doing so. Reaching your destination in time is guaranteed with this pair of wonder shoes.
But look out, once you reached your destination the clock might strike 12 and the magic spell which has lent your shoes wings and beauty before will wither, turning them into the uggly duckling they really are.
Passengers: Unfortunately only one, except you carry someone on your back.
- The Cessna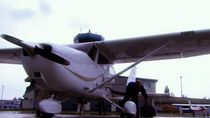 You could buy a first class flight, but owning a Cessna is just classic and cool! Imagine quick trips from London to Cologne whenever you want in circa one and a half hour. Yes, you might not have the comfort of big space for your legs and feet, but really, do you have that in the backseat of your car?
This bird will take you everywhere - short or long distance flight, it doesn't matter. No route is a problem for The Cessna . . . as long as there are no thunderstorms lurking around the corner.
Passengers: 3+Pilot
- The STAG Bus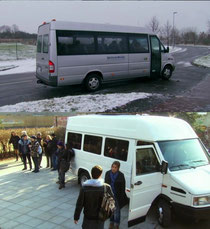 Actually there is no THE Stag Bus, because they rent another one every time.
The silver one was the first STAG Bus. It has a mean look to itself and that might be because it is a Bus rented from the Harani Bank. It is characaterized by prestige and class. But look out, also a chique bus like this one has to be fueled now and then in order for you not to run late. But if it is, it will take you savely to your destination.
The second STAG Bus might have lost a bit of class, but don't underestimate it by its cheap look! Even if bombarded by flying cars it will protect most of it's passengers exquisitely - 7 of 8 passengers will attest this statement. In contrast to some other vehicles, it is protected against the very common phenomenon of exploding after a heavy impact occured and this is more than a plus which you should take into careful consideration. Also, if the chance given, it surely will bring you savely to your destination, too.
Passengers: A whole Glee Club fits in here!
- The Bergmann VW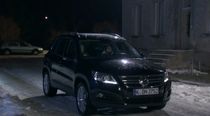 This lovely vehicle is an honorary member of the Bergmann/Harani car park. The Volkswagen is simple black and manages to look sportive, female and sexy at the same time with its round curves and classic design. (It might also have something to do with its habitual driver.)
This is the perfect vehicle for you to pick up girls (from bars, or your gf from work) and drive her home (yours/hers, your choice). Or, if you have no girlfriend at hand, it also is perfect for literally running into the girl of your dreams, you might just not know it yet.
       Passengers: 5
So what will it be - your choice of transportation?
Let us know by voting in the poll and telling us why in the comments!