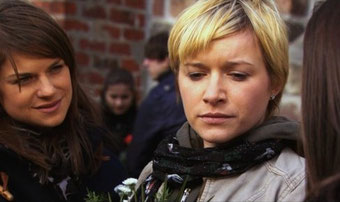 It hurts.
Today airs the last episode of Hand aufs Herz and Jemma. Beyond all hope and faith and fighting spirit. We have yadded and yodeled on enough these past few weeks. So there are no words from us today.
With this blog, today, we mean to give you the space to say your Goodbyes and Thank Yous in a sort of book of condolences.
So write down your feelings and thoughts, and let the world know how much Hahe will be missed. Any language, whatever you're comfortable with.
Jenny and Emma (and gang), you will be missed. Sorely.
xoxo
ami
P.s.:
Here's the translation to the Hand aufs Herz post on their wall today.
Dear Fans, today at 6pm, airs the grand finale of Hand aufs Herz as a double episode on sixx and will be online on our page of course. You have suffered and felt with our beloved characters for 234 episodes and have carried your joy out into the world. We are mighty proud to be having such fans as you. And even if HAHE will be over on TV today, our characters and stories will live on with you. May it be in the form of our videopages, the DVDs, with your fanfictions or your entries here on facebook or in the forum. Therefore we will not be saying goodybe now, but thanks from the depths of our hearts for your support.
Lots of fun at the great finale wishes you,
your HAHE-Team