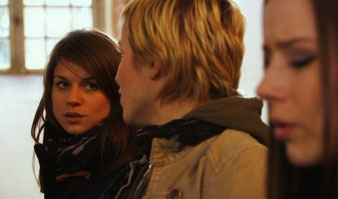 Kasia is an olive, I mean Olivia, and has an interview and pretty pictures and a new corner,
Lucy is I , and I don't mean me, but haunted,nonetheless,
New and old eps are finally upped and up, without Jenny, but maybe traces of her, and there is a forum on your horizons!
Lotsa news!
Read on!
---
Hi Guys!
First of all, as you have been informed previously, Kasia has a new job, as Olivia Kosmar, on "Anna und die Liebe" (#Audl).
Heather Hogan published a little something about it here  (hee, hee, dragon scale jumpsiuts FTW!) and Rosalieundco here.
Kasia also did an interview with the #audl people, where she grew a bit nostalgic about Hand aufs Herz..
You'll find the translation to the interview in our newly created "Kosmar's Corner" where, in the future, you'll find all info we cam get our greedy little hands on, surrounding that character. We have an extra spoiler subpage, with English translations for the spoilers, and an extra gallery for the spoiler pics. You'll also find the "Fake spoiler pics", following a common urge,it seems, to subtitle the spoiler pics with imaginihgs of our own,jemmafied brains. Feel free to do your own, anytime:-)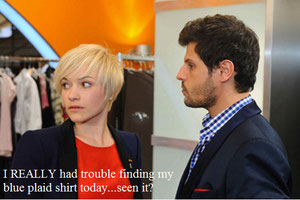 So, now, in hugesy news, Lucy got the part of "I" in the musical "Rebecca", premiering in Stuttgart at the beginning of December.
Check out her Blog on the matter.You'll find the translation in the comments, as usual.
You can also find info on the matter on "All about Jemma"  here and a picture gallery here.
There will also be an "I" corner or sth. on JI soon. Very soon, as soon as we got the time. As soon as we have recovered from browisng clips and songs from the musical.
Speaking of time...we have begun our travel back in time (get out of my head, Cher!!!) this week, by posting the translations to the first "Hand aufs Herz" eps, here.

Beach Volleyball, Pool Parties, Ben owning a Library card..this show is full of surprises and dubious female relationships!
We have changed a little bit about the translation procedure, as now, each ep has its very own translator and editor, in colorful combination.That way, you can get to know a little bit about the different personal styles, which hopefully will keep it a bit more interesting for you:-)
German transcripts are also available, and will continue to be so! Yay! 
Hop onto the ride, Marty McFly!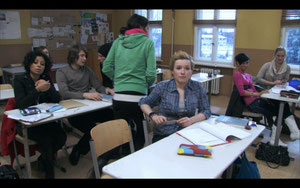 Now, finally, you have been right, and we do agree on the need for a forum. Lied is working on one that can be implanted into the site (like the device thingies into the Borg collective) and we're going to have that ready for you sometime in the near future:-)
In other news: Franciska Friede has a new Autograph Card, check out her newest blog (she always writes in English).
Ok, I'm sure I've forgotten something. Eventful little week.
We'll keep you posted!
xoxo
ami
P.S.: If your Sunday is as rainy as ours, the full Hitchcock Movie "Rebecca" is on YT.
P.P.S: This is the scene that was featured in "The Celluloid Closet".(Come on, we both know you were going to look for it;-)