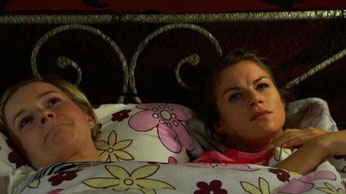 *Stands on Balcony and waves in Glinda manner*
A contest, the jemma girls' futures, old ep translation schedules and the webseries,we all dreamed of.
Where to begin?
---
First things first, I'll let you in on a little secret:
Half of the German Jemma fandom has been humming, singing, whistling or clapping out various songs from the "Rebecca" Soundtrack this past week.
It's awfully catchy, and really good, and well, you tend to get a different song stuck in your head every day.
It's "Rebecca fever".
To let you partake in the hype of things,despite lacking knwoledge of German, our very own "Be Mine" has come up with this super brilliant background info corner on  the musical.
Incidentally, there have been demo recordings of some songs in English, which you'll find there as well.
Check out all things *whispers* "Rebecca" on Ego's corner,here.
Furthermore, there are new spoilers afoot, concerning Olivia Kosmar, Kasia's role on "Anna und die Liebe".Btw,  before the show airs, you can expect a recap by yours truly of the show so far.
Speaking of...time.
You can't fill it in a bottle, stretch it,multiply it,whatever.
Therefore,to be able to keep up with the new projects of our girls, (and our own lives!) we will now post the translations to the old Hand aufs Herz eps on Mondays, Wednesdays and Fridays, instead of on every weekday.
This gives us an opportunity for more fun and more reliability and you something to look forward to;-)
Whenever things have settled down more, (and I have succesfully moved into an apartment with a functioning shower) we might be able to pick up the pace again:-)
Now last, but very much not least:
Hand aufs Herz will be renewed as a webseries.
Now, put that bottle/cup in your hand down and stop staring at the screen.
No, stop checking the calendar, here in Germany it's not April's fools either.
Remember those heartwrenching letters you sent?
The one million things you did.
Here's the result.
Miracles do happen.
They might be happening a little too late.
Or a little too early.
No clue.
But maybe, miracles do really happen, and they happen right on time?
I honestly don't know, and neither does anyone else, but fortunately enough, we're not a bunch of fortune tellers (geez, no one is hoping for HER to return, right?)
But a translation service to provide you with news.
Now, not being in lack of sources, I will link you to this
It's an interview with bartels, whom you might recognize from the adress line of some of those letters and postcards.
he's leaving Sat1.
In the interview, he emphasizes the need for a channel to have its own profile, and that of Sat1 being selfmade German shows.
He also talks about how much he loves sixx, since it's growing so quickly, and talks about some other stuff, like the internet, and Hand aufs Herz being continued as a webseries (YAY!).
The FAZ, in which this article is published is something akin to the New York Times, so spell reliable in capital letters, but if that ain't enough for you, Quotenemter and DWDL also reported on the news, and moreover,so did the Hand aufs Herz Team on their facebook site 
"Dear "Hand aufs Herz" fans, here's the info straight from the source, for you, since there's been quite a lot of coverage on the news in the media:We are planning a continuation of the show online, but we don't have any further info at the moment,it's just too early for that yet.As soon as we know more, you'll get more info about it here,of course! Thank you from the depths of our hearts for your faithfulness, your Hand aufs Herz Team"
Now what do you think?
Early stages of conceptualization? 
The end of Jemma? A new beginning?
The timing might just be wrong, but it might also be just right.
Now, before I forget!
Sat 1 is asking you for your favorite "Hand aufs Herz" Episode, to put it back up online in its entirety!
By voting, you enter to win a second DVD box set, or Luzi Beschenko's necklace, the one Timo gave her for her birthday!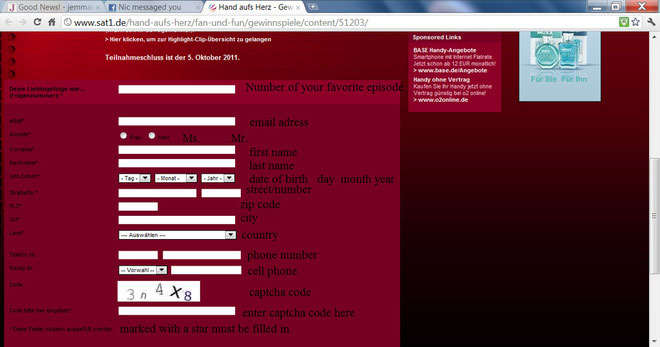 To make it a little more possible for you to partake, I've done a screenshot of the form, and put the english translation of the required information right next to the spaces, ok, click below, for an enlargement of the form with translations.This pic will take you to the form.Please enter by October 5th.
By the way, I'm torn in between 124, 125 and 225. Whole eps! Yay!
By the way, Lied is going to put the forum up in the next few days, so you can thoroughly Lesbian process the news in peace:-)
And one last thing:
by @sat1:
"@ACarlton @Amidola @hhoagie You'll get more information soon. ;-)"
Thanks for @Acarlton for pimping us out ;-) and thanks for @sat1 for getting us more info soon!
And thank you guys for reading this epically long thing!
xoxo
ami