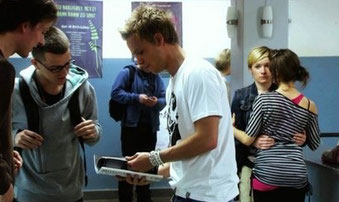 Now, today I have two great pleasures, which translates to two guestblogs.
One is by Ronnie's Frederic Heidorn, the possibly nicest bad guy in the universe, or at least Strausberg.
Below that, you'll find the one by Partner in crime, Co-hero and JI's very own Simi.
But read on and enjoy!
---
Guestblog Frederic - Intro
You know, there is this site, some of us may know, called afterellen. What they have been having for a while there, is a column called lesbros. It features famous guys who are friends to Lesbians or support them, or whatever, the straight guy buddies to the Lesbian family. Now, whenever I've been stumbling across that column, I couldn't help but feel, that  someone has been sorely amiss there: Frederic Heidorn.
On that long by gone fated fan day, Frederic called me, as he did many others, over to his signature table (after uh, inconspiciously outing oneself as a Jemma fan in front of Kasia and Lucy), and enthusiastically told us how, he, too, is a big fan of "Jemma", and that the trouble he'll bring will be as Ronnie, not as himself. I still have his autograph on my fridge, and a good time explaining it to my friends and family. Even in his "Yay! I have a thousand members!" Video on his Facebook page, Frederic greeted the Jemma fans, and furthermore he is the epitome of sweetness and indulgence, not only with his fans, but with the Jemmalings as well. If there'd be a Jemma float on next pride, Frederic would totally be game for being at the wheel.
Now, he is, and I can testify to that, also the sweetest guy ever. Whether you're a rabid "I'm in love with youuuu,Frederiiic!!!" 14 year old, or a bunch of ahem, slightly older Hand aufs Herz fans saying Hi. He is sweet and genuine and interested in his fans and everything surrounding the show. That also means jumping on a train to Berlin just to support the flashmob there and to sign autographs and take pics forever and ever. That also means taking the time and sitting down to write a guest blog:-)
It is such a pleasure to be able to feature him here on this site, and I'd recommend hopping over to his facebook page and liking him immediately. You can also find fanmail adresses to your hearts' delight on his webpage.

Without his efforts in portraying Ronnie in all his extremities, an important counter point to our love birds would have been amiss. 
Furthermore, Ronnie has been the embodiment of hate and homophobia, that many of us face or have faced.
Thank you Frederic, for playing the guy we love to hate!
The biggest of hugs
xoxo
ami
Further down you can find Frederic's guest blog also in its original, German version. And after that in its Spanish and  in its Italian translation. Enjoy! And thanks to the translatresses!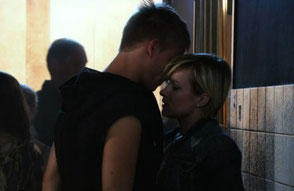 Hello dear Jemma-Fans,
I hope that you're not wondering, why I of all people am writing here...I was asked to address some words to the Jemma-community some time ago, so that's exactly what I am doing now. I think it's really great that you are such a huge fan community here. So many people, in such a short amount of time, especially from all the different corners of the world, too. Incredible. Everyone surrounding the Jemma Team can be really proud of that achievement...
I have to say, that I had a great time at the set of "Hand aufs Herz". It was so much fun to be playing Ronnie. For an actor, it's always a particular challenge to get the chance to play something that you haven't played before in that manner, especially if the character you embody is the total opposite of who you are yourself. There were things that I could live and experience, that I would never have experienced as Frederic, that I certainly wouldn't have wanted to experience as Frederic, but that's exactly why I love and live the job of an actor.
Despite that, I have to admit that as Ronnie, there have been times that I got uncomfortably close to my own boundaries and overstepped my own limits. Especially in the scenes with Lucy and Kasia...a lot of times, I found it very extreme how Ronnie treated the two girls, and what he said to them, the crass verbal abuse, etc…A lot of the time I was wondering, if it wouldn't have been possible to do that a little more relaxed, not as aggressively and evil!? But after a few talks with the people in charge, it was pretty clear that that is exactly what makes the character of Ronnie tick. That is probably exactly the reason why so many people, especially here in the Jemma community, weren't too fond of Ronnie.
I, for my part, am seeing that as a compliment, since it means that I did my job well, if Ronnie isn't the most popular guy in town. Despite that, I do sincerely hope that you'll always keep the job and private life separate matters, since I am a really sweet guy in real life, who simply loves both of the girls to pieces!
On that note, I wish you all the best!
Bye bye,
Your Frederic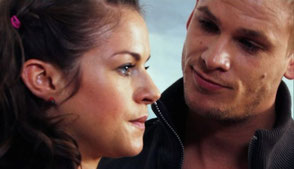 Hallo liebe Jemma-Fans,
nicht, dass ihr euch wundert, dass gerade ich mich hier mal zu Wort melde... Ich wurde vor einiger Zeit gefragt, ob ich nicht auch mal ein paar Worte an die Jemma-Community richten könne. Und genau das tue ich hiermit nun. Ich finde es echt toll, was ihr hier für eine große Fan-Gemeinde seid. So viele Leute in so kurzer Zeit, vor allem auch von den verschiedensten Teilen der Welt – Wahnsinn. Da können alle rund herum ums Jemma-Team stolz drauf sein...
Ich muss sagen, dass ich eine tolle Zeit am Set von Hand aufs Herz hatte. Es hat super viel Spaß gemacht, den Ronnie zu spielen. Für einen Schauspieler ist es halt immer eine besondere Herausforderung, etwas spielen zu dürfen, was man so vorher noch nicht gespielt hat. Besonders, wenn der Charakter, den man verkörpert, einfach mal komplett das Gegenteil von einem selbst ist. Ich konnte Dinge leben und erleben, die ich als Frederic niemals erlebt hätte, die ich mit Sicherheit als Frederic auch nicht hätte erleben wollen. Aber genau das ist es, weswegen ich den Beruf der Schauspielerei so liebe und lebe.
Jedoch muss ich schon zugeben, dass ich mit der Rolle Ronnie hier und da an meine Grenzen gestoßen bin und teilweise auch darüber hinaus. Besonders bei den Szenen mit Lucy und Kasia... Ich fand es oft sehr extrem, wie Ronnie die beiden Mädels behandelt hat und was er ihnen so an den Kopf geworfen hat, diese heftigen Beleidigungen etc.. Ich hatte mir in dem Zusammenhang oft Gedanken gemacht, ob es nicht eventuell ein bisschen entspannter möglich wäre, nicht ganz so aggressiv und böse!? Jedoch war nach einigen Gesprächen mit den Verantwortlichen schnell klar, dass genau das es ist, was den Charakter Ronnie ausmacht. Genau das ist wahrscheinlich auch der Grund, warum so viele Leute, besonders auch hier bei der Jemma-Community, den Ronnie nicht grad gerne hatten.

Ich für meinen Teil sehe das als Kompliment. Das bedeutet dann ja, dass ich meinen Job gut gemacht habe, wenn Ronnie hier und da nicht so beliebteste ist. Nichts desto trotz hoffe ich, dass ihr alle immer schön Beruf und Privat trennt, denn in Wirklichkeit bin ich nämlich ein ganz Lieber, der die beiden Mädels auch einfach nur ganz doll lieb hat.
In dem Sinne, wünsche ich euch alles alles Gute.
Bye bye,
euer Frederic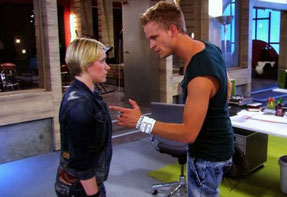 Hola queridas Jemma-Fans,
Espero que no se estén preguntando porque yo, de todas las personas, estoy escribiendo aquí... me pidieron que dirigiera algunas palabras a la comunidad Jemma hace un tiempo y eso es exactamente lo que estoy haciendo ahora. Creo que es realmente genial la gran comunidad de fans que ustedes son. Tantas personas, en tan corto tiempo, especialmente de todos los rincones del mundo, increíble. Todos los que rodean el Equipo Jemma no pueden estar más que orgullosos de ese logro…
Tengo que decir que pase un tiempo genial en el set de "Hand aufs Herz". Fue tan divertido hacer el papel de Ronnie. Para un actor, siempre es un desafío especial interpretar un papel que nunca ha interpretado antes de esa manera, especialmente si el personaje es totalmente opuesto a lo que uno es. Hubo cosas que pude vivir y experimentar, las cuales nunca habría experimentado como Frederic, que ciertamente no habría querido experimentar como Frederic, pero eso es exactamente por lo que estoy amando y viviendo el trabajo como actor. A pesar de eso, tengo que admitir que como Ronnie, ha habido momentos en los que incómodamente me acerqué a mis propios límites y los pasé. Especialmente las escenas con Lucy y Kasia… muchas veces, encontré muy extremo como Ronnie trataba a las dos chicas y lo que les decía, el abuso verbal, etc. Yo me estaba preguntando, gran parte del tiempo, si no habría sido posible hacer eso un poco más relajado, ¿no tan agresivo y malvado? Pero después de algunas platicas con los responsables, era muy claro que es eso exactamente lo que hace el personaje de Ronnie denso. Exactamente esa es la razón porque tanta gente, especialmente aquí en la comunidad Jemma, no gustaban mucho de Ronnie.
Yo, por mi parte, estoy viendo eso como un cumplido, ya que significa que hice mi trabajo bien si Ronnie no es el chico más popular en el pueblo, aquí y allá.
A pesar de eso, en verdad espero, que ustedes siempre mantengan el trabajo y la vida privada como cosas separadas, ya que soy un chico verdaderamente dulce en la vida real, ¡que simplemente ama a ambas chicas demasiado!
¡Les deseo todo lo mejor!
Adiós,
Su Frederic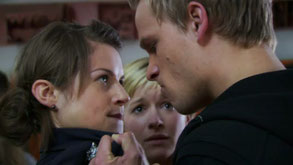 Ciao, cari fan di Jemma,
spero che non vi stiate chiedendo perché proprio io, tra tante persone, stia scrivendo qui... Un po' di tempo fa mi era stato chiesto di dedicare qualche parola alla Jemmacommunity, ed è quello che sto facendo adesso. Penso che siate un meraviglioso gruppo di fan. Tutta questa gente in così poco tempo, e soprattutto, da ogni parte del mondo, è una cosa incredibile. Tutto il Jemma Team non può che essere orgoglioso di questo successo...
Devo dire che mi sono trovato davvero bene sul seto di "Hand aufs Herz".E' stato molto divertente recitare il ruolo di Ronnie.
Per un attore è sempre una grande sfida recitare un ruolo mai interpretato prima, specialmente se il personaggio che interpreti è completamente opposto a come sei veramente.
Ci sono state cose che ho vissuto e sperimentato e che non avrei mai potuto fare come Frederic, e che certamente non avrei voluto sperimentare come Frederic, ma questo è esattamente il motivo per cui mi amo fare l'attore.
A parte questo, devo ammettere che, recitando il ruolo di Ronnie, ci sono stati momenti in cui mi sono avvicinato con disagio ai miei limiti, fino a calpestarli.
Specialmente nelle scene con Lucy e Kasia... molte volte ho trovato davvero estremo il modo in cui Ronnie trattava le due ragazze, quello che gli diceva, gli abusi verbali, ecc...
Molte volte mi chiedevo se non sarebbe stato possibile farlo in modo un po' più rilassato e non così aggressivo e malvagio.
Ma dopo qualche chiacchierata con i produttori mi è diventato abbastanza chiaro che fosse quello a dare spessore al personaggio di Ronnie.
E' esattamente questo il motivo per cui a molte persone, specialmente nel gruppo di fan di Jemma, non è esattamente piaciuto Ronnie.
Io, per quanto mi riguarda, lo vedo come un complimento, perché il fatto che Ronnie non sia esattamente il personaggio preferito da tutti significa che ho fatto bene il mio lavoro.
A parte ciò, spero sinceramente che sappiate tenere separati il lavoro e la vita privata, visto che nella realtà io sono un ragazzo molto dolce, che ama entrambe le ragazze all'inverosimile!
Vi auguro tutto il meglio!
Ciao ciao,
vostro Frederic
---
Guestblog by Simi-Intro
This particular guestblog is by JI's very own "Simi".
Simi and I met for twenty minutes the evening before the fan day, before guiding you guys through the event in "The inofficial Fanday fanvids" the very next day. We have been Partners in crime, Buddies and Co-heroes ever since. Simi is a "workhorse" on this site (her words, not mine). She is honest, and sincere and upright  and, not to be quoting a Doctor's show here, but she is JI's ship in the storm. And while the storm rages, she probably puts on some bling and raps and dances on deck in her life vest, too.
Thanks for getting us into and out of all sorts of trouble:-)
It's been one crazy ride! And I can't wait for our next adventure together!
Now, this blog has been sitting around waiting for its chance to shine for a while, it has been written right after the last show, long before news of a possible webseries were ever heralded. I do hope, you'll enjoy its spirit anyway.
xoxo
ami

What a difference a day makes - Guestblog by Simi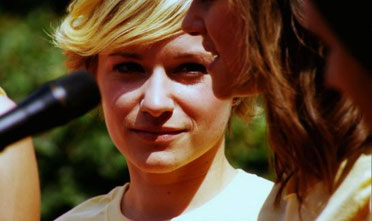 I always thought I was a down-to-earth person with both of my feet firmly standing on the ground, until...yeah, until one day Lucy Scherer, My Glinda, appeared on my TV screen while I was zapping through the humdrum Daytime TV. The following weeks and months taught me better. What a difference a day makes.
My date at 6 o'clock with Sat1 and the Forum became an inherent part of my daily routine. I met like-minded people, formed friendships and followed the development of the Jemma storyline with a throbbing heart and waving rainbow flags. The Fanday came and went, friendships strengthened, I let my too shortly lived and belated teenagehood run free and my soul I sold to Mephisto, who manifested himself in the human form of Amidola (Ami? I regret nothing and would do it all over again!). And through all this I became a part of Jemma International. What a difference a day makes.
The following weeks became nerve-racking, wonderful, unforgettable. Tears were shed, roaring laughter was shared, plot lines conceived and discussed. We suffered, we fought and we loved – Together. My hopes for this series, for this pairing grew with every day and I already saw their deserved Happy End on the Eiffel tower in Paris. But then June 27thcame and everything changed. What a difference a day makes.
The shock was profound, and the unbelievable news about the cancellation touched me to the core. Incomprehension and anger were my first reactions which stayed with me till the end. But giving up? Bury my head in the sand and raise the white flag? Never. My, and all of our, fighting spirit was called up and until the last airdate there still was a lot of time left to save this phenomenon, this wonderful couple. Time went by and the campaigns fell on deaf ears and closed office doors of the management. September the 2ndcame and went and with it the last episode of Hand aufs Herz. What a difference a day makes.
And today? Today is the day after. The words "It's over" float around and echo in my head, but my mind can't fathom, my heart can't comprehend nor understand them. And slowly, hard-bitten like slow poison, the clarity that there won't be any more episodes overcomes and overwhelms me. No new episodes with Emma's adorable smile which will lighten up my living room. No new episodes with Jenny's dimple in which one would love to pitch ones home. No new stories which would have been worth to be told and heard. They will stay forever schtum, untold. What a difference a day makes.
I'm sitting in front of my computer, stare on my screen and hope that my new mantra, my new motto will help me through these days, weeks and months.
"Get out of bed every morning and breathe in and out all day. And after a while I won't have to remind myself to do it. And then after a while I won't remember how perfect things were."
And a down to earth person who stands with both feet firmly on the ground? That I am not anymore. That's what Jemma taught me.
xoxo
Simi
---