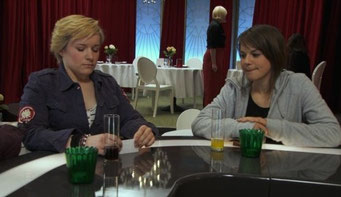 The webseries in the making has been unmade, a way to give the show one last shot at glory arises and even more questions for you to answer :-)
Aaand, you are going to find the links to the new and improved Hephylax DVD Covers on the bottom!!
---
So, now first things first, and yes, I have been putting off writing this blog.
The Hand aufs Herz Webseries has been officially canceled.I figured I'd give it a few days, before writing this, to see if they'd have unmade up their minds again.
Sometimes I think Bea Vogel is running that joint...
Here's the official statement in the English translation:
Dear Hand aufs Herz fans,

your passion spurred us to seriously reconsider and check options for  a renewal. Unfortunately we haven't found the right framework/setting yet, to keep producing your favourite series in the customary quality.

It's great, that you have been uncompromised and even suggested a donation campaign. Your dedication is very precious to us and we will always fight for fans like that. There won't be renewal of the telenovela "Hand aufs Herz"for the time being, though. For 2012 SAT.1 and the entire ProSiebenSat.1-family will plan further highlights which might interrest you. As soon as we'll have news about "Hand aufs Herz" we will inform you. In the meantime you can find the entire previous episodes and clips  on www.sat1.de or on Maxdome.
thanks to Hoppe for the translation.
Rosalie and Co's Mel also reported on the news here

I know that a lot of you have been of differring opinion about this, Jemma, yes, Jemma no,Lucy yes, or no, Kasia maybe..do we want..?
All I can say is, that with the show still in the orbit somewhere, hope for a Jemma revival was at least in the wings at whatever distant point in the future, but with these news, I'm simply gutted.
I'm also gutted by all the negativity abounding,especially on the FB page of the show ,that has always tried to be humble and gracious and to do right by us.
---
But on to other news, in a way to give them a final Hooray, you can vote for "Hand aufs Herz" in the WAYA (Wild and Young Awards).
Depending on where and when they are, we might hop by and try to grab a few vids and pics:-)
Here's the link:
And here are the instructions:
There are two ways to vote: 
1st: daily,which is the upper option
2nd:Once:Which you need to register for and which counts 60%
I'd like to ask all of you to at least vote in the once only section, so here's the translation of the form you get taken to, when you click on option II: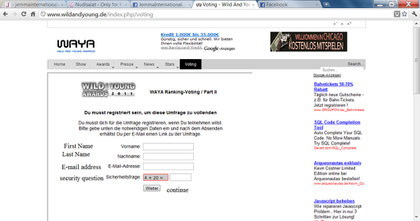 What happens is, that they send you an email with a code, that allows you to vote in this.
I'll continue with the general look of the thing: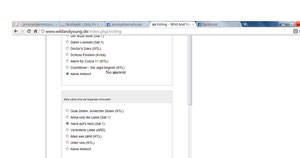 They thankfully, offer the "No answer" option at  the very end, whoch I took for most questions they asked.Since I didn't own a functioning TV til two days ago, I'm as clueless as you are to those movies and singers and what nots.
You just click the "keine Antwort" Option until you get to the favorite TV show, and "Hand aufs Herz" is listed, click that, and breeze your way out of there.
I also voted for a few artists I saw on the show, but that's pretty much it.
Does that work out for you?
---
Now, speaking of english questionnaires, remember the girl who does her thesis on the Jemma fandom?
She is has broadened her questionnaire to include some webseries questions and will let those get to Sat1:
Even if you've filled it out already,please do so again:-)
Here's the link to the English questionnaire
And Here's Rosalie's Blog about it
You see, there's lots for you to do, this time around.Next Blog update will include lots of news on our girls.
Lucy will get Stuttgart to burn in the dark and a few of us to freeze our feet off on Saturday, and Kasia keeps charming us on AudL.
See,there's a silver lining in almost everything;-)
---
And speaking of more fun stuff:
Hephylax has improved the covers for the 3rd DVD box again.
Due to general indecision(really,who could decide between Jenny,Jenny and Jenny?) there are three versions available, this time around: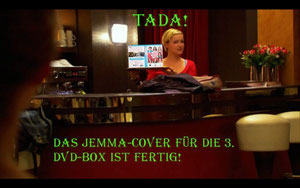 ---