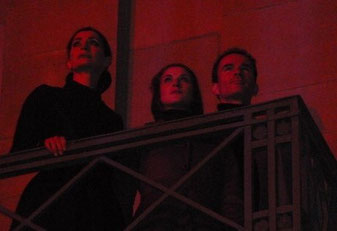 After not having updated much on one Ms.Scherer, today you'll get the ultimate Lucy in Stuttgart newsblog.
With good occasion, too! Enjoy!
---
Now as we all hopefully know by now, both of the heroines who have portayed the amazing fictional couple our site is dedicated to, are in work and have landed spectacular jobs.
While Kasia Borek is caught in the webs of the Lanford fashion label as Olivia Kosmar,a leading role,  in the soap opera "Anna und die Liebe", Lucy Scherer has returned to her muscial theater roots and scored the part as "ICH" ("I") in the spectacular musical "Rebecca".
Rebecca will see its German premiere on the 8th of December of this year.
If you wish to order Tickets, you can do so on the official Stage entertainment page.

Now, especially those of you who'd like to go and see  the show and Ms.Scherer in action and come from far away, it is interesting to know, that the above mentioned will publish her schedule of appearances as soon as it's made public.
Now, there was another official cast presentation on the 27th of October.The vids to that have been taken down,as far as we know of, but "Musicalfotojournalismus" has put up 128 pictures regarding the event on their facebookpage album here.All news and background story,and what not, you will be able to find in Ego's corner. As you shall find everything that we can get our hands on over time, regarding Lucy's new role in Rebecca there.If you want to share your pics of last night's event, send us an email, and we'll put them up there:-)
---
But let's get to the matter of the heart,that we assembled for here,today:
Germany has official store closing times.Once in a while, for special occasions and with a lot of paperwork, these are lifted.
Last night, to celebrate such, and the festival of lights, an event in which buildings are artfully illuminated, the city of Stutgart staged a brief performance of "Rebecca" in its town castle.
Now, there are definite perks to living in Europe.
One of these is the abundance of ridiculously beautiful, hundred of years old, bombed down, built up again buildings, just like the castle of Stuttgart.
The castle was spectacularly illumminated, while the crowds gathered before its balconies, from which, the stars of the musical would step and play songs and scenes from the musical.
How do you spell awesome?
Spectacularly awesome?
Awesome,awesome?
An incredible musical with a dream cast in a spectacular setting..with lightwork that honored the event's occasion and a firework afterwards?
You get the picture..
You don't?
Well, our South German and Bavarian Jemmainternational delegation set out to freeze their feet off and keep from swooning for you:
HD versions are soon to follow..whenever they uploaded successfully.
Now, the actors were so kind as to address a few words, backstage to the grateful fans, and I have been told to mention, that only Ms. Scherer came out twice, while the others were supposedly gone already.
Our friend lyramuc forgot to turn her camera on, during her brief greeting, and had to sit down for a moment, desolate.
Fortunately.she was sitting there still, when Ms.Scherer came out a second time, and asked her to address a few  words to the international fans.
Here you go:
Thank you so,so much Ms. Scherer, we will keep Jenny safe in our hearts and promise to follow and support your endeavours however and as humbly as we can.For now, we are awed by Rebecca and wish you nothing but the very best!
And sorry for leaving her in the dark like that, but the beamer in the back was just too strong a counterlight.
---
For more really good pictures of the event,from a different perspective, check out the official "Rebecca in Stuttgart" facebook page
I would like to say thanks, to my crazy,crazy friends, who took us along to Stuttgart via enthusiasm and pictures and videos and, of course, to Ms. Scherer, who is ever patient and gracious with her fans, and not forgetful of the Jemmalings.
Thank you for your time and heart, chapeau,
P.S.: I am also to tell you, that the official international  greeting for Bavarians is "Griasde".Try it sometime ;-)
P.P.S.Due to some beastly virus not of the computer kind, the next Ami's recap of Ms.Borek's endeavours, namely her role on AudL, will be delayed for a few days.But I can tell you this much:It will include the use of a leather jacket and a camera.
The biggest of hugs to everybody out there!
xoxo
ami