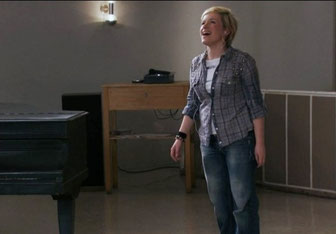 You know, how you see things, how you perceive them, and pass judgement.Not necessarily right out or consciously, but tell me, if you have seen some of the postcard designs, or some of the translations on here, or been keeping each other company on the boards, didn't you more often than not assume, that this would be but a rainbow colored crowd? 
We have asked Carrie, our "grey sheep" in the midst of our flaming pink team for this guest blog, you know, to put things in perspective;-)
Grey is a great color,by the way, and it glitters,too!
You rock, Ms.Greysheep, thanks for your love and hard work! 
 Vorurteile? "Ich  doch nicht " wird sich jetzt mancher denken. Aber mal Hand aufs Herz, wer von Euch der über Jemma in den verschiedenen Foren diskutiert hat, die Coming Out Congrats Karten für Emma gesehen hat und die ganze Seite hier verfolgt hat, hat nicht geglaubt, dass er es mit lauter regenbogenfarbenensöckchentragenden Schäfchen zu tun hat? 
Wir haben Carrie, UNSER graues Schaf, gefragt, ob sie einen Guestblog schreiben kann, über Ihre Erfahrungen in der ganzen Jemmazeit. 
Und sie hat ja gesagt!  Lasst Euch mitnehmen auf eine Rundreise im pinken Abenteuerland.
You rock, Ms.Greysheep, thanks for your love and hard work! 
Die deutsche Version des Blogs findet Ihr, wenn Ihr runterscrollt.
---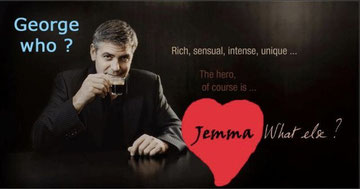 What about a guest blog for our homepage? 
As a "grey sheep among all those pink"?
Think about it!
My first thought as I was asked this was ÄHHHMM – me?
Because I'm not a writer at all and what's more, have I anything important to say…? 
After thinking about it – I'm still unsure… and also a bit nervous! 
But okay, let's try it! And by special request a bit more detailed and more personal than I first dared to write it.
First of all: As a "grey sheep" (neither black nor white would fit) I would like to tell you once again that I like all those pink sheep around me and feel very comfortable here between them  
Some weeks ago I read the following in a magazine (for the woman in the 40's – I was given it as a present – ehm, okay, dead-on!): 
"For the brain every breakout of the routine seems to be like an exciting date with George Clooney. It rewards unknown experiences, approaches and cognitions with an increased release of neurotransmitters as dopamine and new links of synapses – that widens our horizon."
And I tell you: they are right! 
Although I didn't brush my teeth with the left hand nor did any reverse running as they recommended. 
And I also didn't have any date with George Clooney or his Nespresso!
So why are they right?
Well, as my first little creation here already said: 
Who's George? Jemma! What else?  
But how did it come to this?
So the first question: How did I come to HaHe?
By accident I saw a clip of Kasia singing "If I were a boy"! And as you know: a moment can change your life – and this one did! To me on the other side of the screen the same thing happened as to Jenny behind the glass panels of the auditorium – I was enchanted! By Kasia's voice, by her smile! 
So that was the beginning of something great. After googling and searching for more on her homepage, the HaHe-homepage, on some spoiler-sites… I was still enchanted!
And there even seemed to be a story behind that scene! More than that, this story seemed to be quite amazing!
Something else did find its way into my heart: the music. The STAG, all those talented voices (with still my favorite - see above!), all those lovingly chosen songs…"emotional, touching, romantic"!  
As another consequence of my nearly daily dates with Emma and Jenny at 6 p.m. the whole HaHe-Team has found a place in my heart.
So that's how I came to visit and stay on this amazing planet Hand aufs Herz – a jewel among the daily soaps in German TV!
But what's the fascination of Jemma for a "grey sheep"?
Yes, I get fascinated by this love story. 
It isn't "normal" for a "grey sheep"? (Sorry, not my words!!!) 
I think you get fascinated by a story that touches you in some way. By characters and the actors behind them that appeal to you. Be it kind of admiration or attraction. Or because you empathize with the character of the story or with the depicted situation or just some parts of it. 
I get fascinated by this love story – and always will be!
Because it's a story that is allowed to advance in little steps, that is allowed to take its time - and at that point I would like to thank the script-writers and producers for this "Discovery of Slowness". 
I get fascinated because it's a story with two fascinating actresses who are able to show all the emotions, all the conflicting feelings just by a glance or a little gesture. They make us feel with them, dream with them, laugh and cry with them. 
For it is the chemistry between the protagonists that makes a great love couple – and Kasia and Lucy, they definitely got it! As I think I already mentioned that I'm a big fan of Kasia, Lucy gets the place next to that!
And together they are the Perfect Two! (Still one of my favorite scenes - no need of words, everything is shown in a glance or a gesture, surrounded by a song!)
And I think Kasia is right in saying it's not just a woman loving a woman-story. It's a story about a love so touching you can't resist even if you try to (you remember the giant wave?) About a love bringing out the best in you, making you stronger, making you more self-confident, making you getting over this weak, unsure Emma inside, making you courageous…
And that on the other site allows you to show weakness…
Isn't that the love everyone is dreaming of?! 
Regardless of whether pink or grey or black or white!
Somehow I wanted to share this fascination. So I joined this kind of pink HaHe-board with its Emma & Jenny-thread to get carried away by this giant wave called JEMMA! For the first time in my life I write posts and comments in blogs, send postcards and oregano letters, vote in fan-awards and dress Barbies… To finally feel kind of familiar as "grey sheep" among those pink here!
So the truth is - coming back to that women's magazine :)):
Yes, I had many exciting "dates" in the last few months! 
On TV with Jemma and the whole HaHe-team, in the HaHe-board and with TeamJemmaInternational! 
And all these enthusiastic, talented, creative, musical, amazing, crazy, emotional, nice, funny, incredible (to continue…) people I somehow "met" there widened my horizon and inspired me.
So something about new horizons?
May I mention that I learned many things? 
Lets summarize some of them under the heading "An oldie in the virtual world"?
I am now using programs I didn't know before, reading fb-sites and blogs, twitter accounts, posting in an internet board, trying to create videos…
I've got to know this huge creativity in videos, stories, songs, pictures…
I am searching for remains of my school English in the depths of my brain to read all these international comments, blogs, recaps, magazines in pink recommended to me (I admit I didn't even know the names before).
And my synapses and I like these new stimuli, this breakout out of the routine! :))
But by following the Jemma-Story and reading these comments and magazines I become aware of some other things. Living not in Cologne or Berlin, but in a smaller town, an official outing is still difficult for many people. As I have two children, I asked if there is any lesbian couple at their school that dares to show their love in the public. There isn't. And not only in that matter it's still hard to be different than the others, to be not the mainstream. 
I realized how important it is for many people to have and be shown that beautiful story – to give them courage, show them tolerance and learn about love…in any color! 
And I am quite sad that it didn't get the possibility to reach even more people! 
So I hope I can hand on some things to my little sheep. To teach them to be tolerant! And to be courageous! And about "The Miracle of Love"*)!
And so the reason I dare to write this so-called guest-blog is to say 
Thank you for these "exciting dates" – and I hope we'll stay in touch!
Stay Jemma!
Carrie
*) you remember?  http://www.myvideo.de/watch/5572545/Eurythmics_Miracle_Of_Love  
Deutsche Version
Wie wäre es mit einem Blog für unsere Homepage? 
Als "graues Schaf zwischen all den pinken"?
Denk drüber nach!
Mein erster Gedanke, als ich das gefragt wurde, war ÄHHHMM – ich?
Denn ich bin überhaupt kein "Schreiberling" und vor allem: Habe ich irgendwas Wichtiges zu sagen…? 
Nachdem ich drüber nachgedacht habe – bin ich immer noch unsicher…und auch ein bisschen nervös!
Aber okay, dann versuch ich es mal! Und auf spezielle Nachfrage ein bisschen ausführlicher und persönlicher, als ich es zunächst gewagt habe.
Zuerst einmal: Als "graues Schaf" (weder Schwarz noch weiß würde passen) möchte ich euch noch mal sagen, dass ich die ganzen pinken Schäfchen um mich herum mag und mich hier unter ihnen sehr wohl fühle.  
Vor einigen Wochen habe ich Folgendes in einer Zeitschrift gelesen (für die Frau in den Vierzigern – habe ich als Geschenk bekommen – ehm, okay, trifft zu!): 
"Für das Gehirn ist jedes Ausbrechen aus der Routine wie ein aufregendes Date mit George Clooney. Es belohnt unbekannte Erfahrungen, Ansätze und Erkenntnisse mit einer vermehrten Ausschüttung von Neurotransmittern wie Dopamin und neuen Verknüpfungen von Synapsen – das erweitert unseren Horizont."
Und ich sage euch: sie haben recht! 
Obwohl ich meine Zähne nicht mit der linken Hand geputzt habe und auch nicht Rückwärts gelaufen bin, so wie es empfohlen wurde. 
Und ich hatte auch kein Date mit George Clooney oder seinem Nespresso! 
Doch warum haben sie Recht?
Nun, wie schon mein erstes kleines Werk hier ausgesagt hat: 
Who's George? Jemma! What else?  
Aber wie kam es dazu?
Jetzt also die erste Frage: Wie kam ich zu HaHe?
Durch Zufall sah ich einen Clip von Kasia, als sie "If I were a boy" gesungen hat! Und wie ihr wisst: Ein Moment kann dein Leben ändern – und so war es! Mir auf der anderen Seite des Bildschirms ist dasselbe passiert wie Jenny hinter den Glasscheiben der Aula – ich war verzaubert! (OK, auf deutsch hört es sich irgendwie kitschig an ) Von Kasias Stimme…und ihrem Lächeln! 
Das war also der Anfang von etwas tollem. Nach etwas Googeln und nachdem ich auf ihrer Homepage, der HaHe-Homepage, auf einigen Vorschauseiten nach mehr gesucht hatte… war ich immer noch begeistert!
Und es schien hinter dieser Szene sogar eine Geschichte zu geben! Mehr als das, diese Geschichte schien ziemlich erstaunlich zu sein!
Und noch etwas hatte den Weg in mein Herz gefunden: die Musik. Die STAG, all diese talentierten Stimmen (meine Favoritin - siehe oben!), die ganzen sorgfältig ausgesuchten Songs…"gefühlvoll, touching, romantisch"!  
Als weitere Folge meiner fast täglichen Dates mit Emma und Jenny um 18 Uhr hat das ganze HaHe-Team einen Platz in meinem Herzen gefunden.
So kam es also dazu, dass ich auf diesen erstaunlichen Planeten Hand aufs Herz geraten und geblieben bin – ein Juwel unter den daily soaps im deutschen Fernsehen!
Aber was ist die Faszination an Jemma für ein "grey sheep"?
Ja diese Liebesgeschichte hat mich fasziniert. 
Das ist nicht "normal" für ein "grey sheep"? (Sorry, nicht meine Worte!!!) 
Ich denke, dass eine Geschichte faszinierend ist, die dich in irgendeiner Weise berührt. Durch Charaktere und die Schauspieler hinter ihnen, die auf dich wirken. Sei es eine Art Bewunderung oder Anziehung. Oder weil du mit dem Charakter in der Geschichte oder der dargestellten Situation oder einem Teil davon mitfühlst. Ich war fasziniert von dieser Liebesgeschichte – und werde es immer sein!
Weil es eine Geschichte ist, die sich in kleinen Schritten entwickeln darf, die sich Zeit nehmen darf – und an diesem Punkt möchte ich den Script-Schreibern und Produzenten für diese "Entdeckung der Langsamkeit" danken.
Sie hat mich berührt, da es eine Geschichte mit zwei faszinierenden Schauspielerinnen ist, die es verstehen, all die Emotionen, all die widerstreitenden Gefühle in einem Blick oder einer kleinen Geste auszudrücken. Sie lassen uns mit ihnen fühlen, mit ihnen träumen, mit ihnen lachen und weinen. 
Denn es ist die Chemie zwischen den Protagonisten, die ein großes Liebespaar ausmacht – und Kasia und Lucy, sie haben sie wirklich! Ich glaube, ich habe schon mal erwähnt, dass ich ein großer Fan von Kasia bin?…Lucy kriegt einen Platz gleich dahinter!
Und zusammen sind sie die Perfect Two! (immer noch eine meiner Lieblingsszenen – keine Worte notwendig, alles wird in einem Blick oder einer Geste ausgedrückt, von einem passenden Song untermalt!)
Und ich denke Kasia hat Recht, wenn sie sagt, dass es nicht nur eine Frau-liebt-Frau-Geschichte ist. Es ist eine Geschichte über eine Liebe, die dich so berührt, dass du nicht widerstehen kannst, selbst wenn du es versuchst (ihr erinnert euch an die Riesenwelle?).
Über eine Liebe, die das Beste in dir hervorbringt, dich stärker, selbstbewusster macht, die dich über diese schwache, unsichere Emma in dir hinwegsetzen lässt, dich mutiger macht…
Und die dir andererseits erlaubt, Schwäche zu zeigen… 
Ist das nicht die Liebe, von der jeder träumt?!
Egal ob pink oder grau oder schwarz oder weiß!
Irgendwie wollte ich diese Faszination teilen. Und so kam ich in dieses irgendwie pinke HaHe-Forum mit seinem Emma & Jenny-thread, um von dieser Riesenwelle namens JEMMA mitgerissen zu werden! Zum ersten Mal in meinem Leben habe ich posts und Kommentare in blogs geschrieben, Postkarten und Oregano-Briefe verschickt, in Fan-Awards gestimmt und Barbies angezogen…Um mich schließlich als "grey sheep" irgendwie heimisch unter diesen pinken hier zu fühlen!
Also die Wahrheit ist – um wieder auf diese Frauen-Zeitschrift zurückzukommen :)):
Ja, ich hatte viele aufregende "Dates" in den letzten Monaten!
Im Fernsehen mit Jemma und dem ganzen HaHe-Team, im HaHe-Forum und mit TeamJemmaInternational! 
Und all diese enthusiastischen, talentierten, kreativen, musikalischen, erstaunlichen, verrückten, emotionalen, netten, lustigen unglaublichen (to continue…) Leute, die ich irgendwie "getroffen" habe, haben meinen Horizont erweitert und mich inspiriert..
Noch was zu neuen Horizonten?
Muß ich erwähnen, dass ich viel gelernt habe? 
Lasst mich einiges davon unter der Überschrift "An oldie in the virtual world" zusammenfassen? 
Ich verwende jetzt Programme, die ich vorher nicht gekannt habe, lese fb-Seiten und blogs, twitter, poste in Foren, versuche Videos zu erstellen… 
Ich habe diese gewaltige Kreativität hier in Videos, Geschichten, Songs, Bildern kennen gelernt…
Ich habe nach Überbleibseln meines Schulenglischs in den Tiefen meines Gehirns gesucht, um all diese Kommentare, blogs, recaps, magazines in pink zu lesen, die man mir empfohlen hat (ich gebe zu, dass ich vorher nicht mal die Namen gekannt habe).
Und meine Synapsen und ich mögen diese neuen Stimuli, dieses Ausbrechen aus der Routine! :))
Aber durch das Verfolgen der Jemma-Geschichte und das Lesen dieser Kommentare und Magazine ist mir noch was bewusst geworden. Wenn man nicht in Köln oder Berlin, sondern wie ich in einer kleineren Stadt lebt, ist ein Outing für viele immer noch schwierig. Da ich zwei Kinder habe, habe ich mich gefragt, ob an ihrer Schule irgendein lesbisches Paar ist, das sich traut, seine Liebe in der Öffentlichkeit zu zeigen. Nein. Und nicht nur in dieser Hinsicht ist es heute immer noch sehr schwer, anders zu sein als andere, nicht dem Mainstream zu entsprechen.
Ich habe festgestellt, wie wichtig es für viele ist, diese tolle Geschichte zu zeigen – um sie zu ermutigen, ihnen Toleranz zu zeigen und etwas über Liebe zu lernen – in jeder Couleur!
Und ich bin ziemlich traurig, dass diese Geschichte nicht die Möglichkeit hat, noch mehr Leute zu erreichen!
Ich hoffe, ich kann meinen kleinen Schäfchen einiges mitgeben. Ihnen Toleranz beibringen! Und Mut mitgeben! Und etwas über "The Miracle of Love"*)!
Und deshalb ist der Grund, warum ich mich getraut habe, diesen so genannten guest-blog zu schreiben, Danke schön für diese "aufregenden Dates" zu sagen – und ich hoffe, wir bleiben in Kontakt!
Stay Jemma!
Carrie
*) ihr erinnert euch?  http://www.myvideo.de/watch/5572545/Eurythmics_Miracle_Of_Love