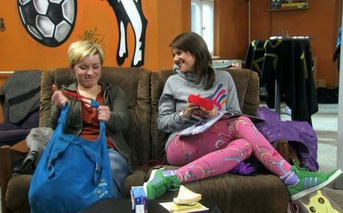 The Hahe DVD Box 5 is up for preorder... blankets, couches and pink Leggings on your very own Tv.
But can you watch it, and how? Come in and find out.
---
The Hand aufs Herz DVD Boxes have been seeing great success in their sales, which is,not in small part, due to the two Ladies that stole our hearts away since last year.
But what about you elsewheres?
Can you order them?Are they shipped?Can you view them?
Yes and yes and a "yes" with an ahem.
1. You can order the hahe boxes easily enough through the German branch of Amazon. www. amazon.de  here.
2.They are shipped to basically anywhere (which amounts to about 14 euros outside of Europe, 6 inside, more on: http://www.amazon.de/gp/help/customer/display.html/ref=hp_left_sib?ie=UTF8&nodeId=200170100#Rest ).
3.They are regional code 2, which is European.
And there we have a problem.But not an insoluble one:
If you're outside of Europe and do not have a Code free DVD Player, you can't just pop the DVDs in and watch them.
You can however, watch them over your computer.
There is a catch,however, the computer will only allow you to switch back and forth between regional codes  five times, it will then remain stuck at the last one.
So, if you have an old laptop, or never watch DVDs over your Computer, that might be an easy, viable option.(You can hook that up to the TV,too)
Especially for running the SRTs/subtitles with the eps.But more on that,later.
If you would like to furbish a safety copy, solely for your use,of course, of that precious, precious German DVD with the High shipping cost,that should not scratch from the many viewings, it is,to my knowledge, totally legal to make a safety copy as long as it is for your personal use.
Depending on the program you use, the copy you make, might feature a different regional code, so you need to make sure, that does not happen.Ok?
Another legal option would be to simply buy a regional code DVD player, they are not very special.
You wanna know why?
These things are made for a global market.They are not stuck on a particular Regional Code.
But programmed in.
Do you know how these codes are programmed?
With infrared.These things work on infrared, so what basically happens factory site,is this.
Players are produced, and before they're are shipped off to their destinations, they are programmed for the regional codes, with a remote control.
The dilligent workers at the factories, punch in a code that is specific for a certain brand and model, this code overrides the regular menu and takes them to a factory menu, and there the workers put in the settings.
Now, if you buy a code free player, that code has simply been put to zero. 
The Code for the US is 1, for Europe as we have previously learned 2, and Aus and parts of Asia are 4 (and 2) if I'm not mistaken.
Now, if you go and buy that code free player, there should be one available for all brands, and not too expensive,cause that programming thing is so easy, any blonde could do it!
If you're attached to a specific brand and model, just google where to get your favorite regional code free player.
Now, that German DVD,regrettably (and no one regrets this more than we do..) is STILL without any subtitles and in German.
But fret not.As you might have noticed, JI has grown to encompass a team of "Foxy SRT Girls" whose aim is to heighten your viewing pleasure.
This means, that while the respective language teams are translating and transcribing, the "Foxy SRT Girls" are coding the translations and German original into subtitles for you. 
That way you'll not only get a transcript, that you can print or read along, but you get subtitles that'll stream with the video.
You know even if all of this sounds pretty complicated, it is pretty easy, and there are plenty of people to help.
Just send us an email over the contact form, if you have no idea what the heck this blog post was about, but you would like to shell out some money to see Jenny and Emma on your big ass TV,preferably with subtitles.
All the trouble is so worth it...Leggings and plaid shirts on the big screen, and so many of them,too!
:-)
Have a good day.
ami
PS.: Box one has already been reduced in price.
PPS: Rumor has it(ok, we've actually found a nonaltered picture) that Box Five will have Emma on the cover:-) It is not the one below, by the way.