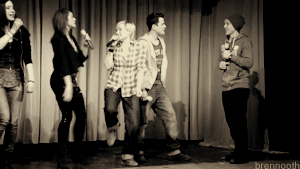 Today we are continuing our project of GuestBlogs in which we mean to listen to voices out of the fandom by letting them tell us their stories and experiences. Now it is Carol's turn to tell us a little bit about what Jemma means to her.
Heute wollen wir mal mit den Gästeblogs weitermachen. Blogs aus der großen weiten Fanwelt, in denen uns von verschiedenen Geschichten und Erfahrungen erzählt wird. Heute wird uns Carol erzählen, was Jemma für sie bedeutet.
You already heard Kim's story of finding a brand new life through Jemma, you heard the grey sheep among all those pink story of Carrie and a few of our own feelings and experiences we had with Jemma. Now it is Carol's turn to tell us a little bit about what Jemma means to her and what their influence eventually means to the whole world.
Ihr habt bereits Kim's Geschichte hören können, die ein komplett neues Leben durch Jemma begonnen hat, Ihr habt von Carrie erzählt bekommen, wie es ist ,ein "Graues Schaf" zwischen all den pinken zu sein und wir selbst haben auch einige Gefühle und Erlebnisse, die wir mit Jemma verbinden, mit Euch geteilt. 
Heute wird uns Carol erzählen, was Jemma für sie und was so eine Geschichte für die ganze Welt bedeuten kann.
Wenn ihr weiter nach untenscrollt, findet Ihr die deutsche Fassung. 
---

Jemma-ing, what it means to Me and You
by Carol Berry in Toronto, Canada
The word Jemma-ing describes an immersive pastime that started over a year ago when I discovered the fictional romance between the television characters, Jennifer Hartmann and Emma Müller. Fortunately for me, I was not alone, while online I have met Jemma fans from all around the world.
How many hours did you spend Jemma-ing last month? Multiply that number by twelve months, and then multiply your total by thousands of fans – that is a lot of Jemma-ing! Over the past year, these fans have been posting and chatting online, creating new friendships and even, for a few, starting new romances.
The combined talents of Kasia Borek and Lucy Scherer has also inspired many to create super videos, write creative fiction and lovely songs and draw amazing works of art. The biggest commitment to Jemma has been from our fabulous German translators – without them there would be no international Jemma fans, period.
When I found Jemma on the One More Lesbian website, we were already at the first locker kiss. Then I discovered the previous Jemma clips already translated and subtitled on YouTube. I was hooked by the STAG performances and our multi-talented duo, Lucy Scherer and Kasia Borek, as they fearless portrayed their HaH characters falling in love.
Ms. Scherer and Ms. Borek so sincerely brought to life a storyline that was written with such care and never sensationalized or trivialized the importance of the lesbian coming out experience. Unlike other lesbian storylines on television, the HaH writers avoided disappointing lapses – Jemma is the benchmark against which I judge all lesbian storylines.
I am much older than most Jemma fans, about to turn 54. When I began questioning my sexuality in the 1970's, there was a lot of talk about peace, love and understanding, but I could not discover anything that was gay, or happy about being a homosexual during those years. Despite studying fine arts, I was not a social rebel. I survived the confusing experience of accepting myself as a lesbian but I lived with the constant fear of losing the love of friends and family and kept my big secret completely to myself.
In the 1970's, gay characters were always the tragic figures in movies. Unlike today, with important onscreen stories like Jemma, I had no role models when I was growing up to tell me that I was ok. Over the next decade tolerance and acceptance towards gay people increased, resulting in a growing number of positive portrayals of lesbians in movies. In the early 1990's I watched the lesbian romance movie, Desert Hearts and I could finally visualize a happy life as a lesbian. Unfortunately my coming out also involved lawyers and forever affected the lives of my ex-husband and children. I was not alone, at that time it was estimated that 40% of lesbians had been married to men. Fast forward to 2011 and I am sure that questioning teens were again helped to accept their own feelings when they watched the Jemma romance unfold onscreen.
I will always remember the summer of 2011: panicking when the Rosalie & Co. forum crashed; laughing when the Sat1 online Jemma chat crashed; reading 30 pages a day on LChat; anxiously awaiting new in:to her chapters; writing in a book that journeyed around the world, snail mailed from fan to fan; dreaming in German when I actually only understand about 5 words; and photographing Lucy and Kasia's autograph cards for the Save HaH Virtual Flash Mob. My happiness when Sat1 removed the geo-blocking of their Jemma video clips was equaled by my despair when Sat1 cancelled the only television show I really wanted to watch in 2011.
A big Jemma highlight for me last summer was meeting Ms. Radio Dyke, Clair Lawlor, when she visited Toronto. We had been sharing Jemma insights on Jemmafanfic's in:to her blog. We spent a couple of fun hours talking about all things Jemma. I could not get the grin off my face; I was finally talking in person to someone who understood me!
In October I had brunch with Jemmafanfic, the oh-so-talented author of the Jemma blog in:to her. It was great to meet the lady responsible for doubling my Jemma-ing pleasure last summer when she so regularly posted an incredible number of chapters of her fabulous fan fiction. I especially appreciated the commenting space on her blog where a few of us enthused, dissected and analyzed why our combined worlds were being turned upside down by Jemma.
These in-person meetings were directly opposite to how my Jemma-ing was being received at home. "Mummy, are you Jemma-ing again? Come for dinner!" "What time is it? Get off that computer and come to bed!" I even had to accept having the Hand aufs Herz soundtrack CD banned during family car trips.
Now it is a year later and I am still in contact with Jemma fans from around the world – some of whom I am very, very, pleased to call good friends. There still continues to be a constant supply of new, fun Jemma fan fiction and as of this writing, I own five Hand aufs Herz DVD Box Sets with the sixth pre-ordered. I still try to show my indebtedness to our fabulous German translators. Again, thank you.
The whole experience of Jemma is more important than that one little word. I am not rich or famous but I am able to be completely out as a lesbian here in Toronto, Canada, and I count myself amongst the most fortunate people on earth. Unfortunately for many others, even in 2012, tolerance towards gay people still varies greatly around the world. It is for this reason that we need to keep the spirit of Jemma alive, to help isolated and questioning women understand themselves and let them visualize a happy future; the same happy future that we all imagine was Jenny's and Emma's.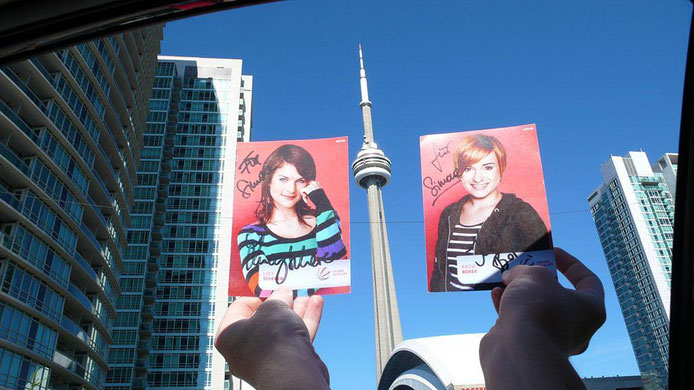 ---
Thank you Carol for this inspiring blog and contribuiting to this little project.
We, here at Ji.org, loved your blog and found it easy to empathize, funny and simply true. Jemma is just one part of a movement, not only in one country, but in the whole world, and with you, we hope, that it never stops, and that the teens of today and tomorrow will have lots and lots of other stories, characters and models to reach out to in their time.
Thank you.
At last we hope that you all enjoyed this blog and that you enjoy the GuestBlog segment as a whole, because we are planning to keep it up and will try to provide you with other voices and their stories out of the fandom in the future. Because, if Ilene Chaiken got one thing right, then it is that it is all about stories. Stories inspire us, let us emphatize, make us think and can open doors to a whole new world. Stories exist since menkind exists and have the ability to consist a teaching element. They can state and teach you and society, 'to be gay is okay', without even the need to raise their finger and hammer it in your head, but through the most subtle way. A story is the simplest way to get into our hearts and brain. That's why they are so important, and by sharing them with each other we can find a way to connect. To connect with each other, ourselves and the world.
Please leave lots of comments for Carol and make her feel Jemmaphenomenaly loved! :)
Your Team JI
---

Die Geschichte eines Jemma-Fans
von Carol Berry, Toronto - Canada
Das Wort 'jemma-n' beschreibt eine sehr umfassende Freizeitbeschäftigung, welche vor über einem Jahr angefangen hat, als ich die Liebesgeschichte zwischen den Fernsehcharakteren, Jennifer Hartmann und Emma Müller entdeckte. Glücklicherweise war ich nicht alleine, sondern habe online Jemma Fans auf der ganzen Welt getroffen.
Wie viele Stunden hast Du im letzten Monat damit verbracht zu jemma-n? Multipliziere diese Nummer mit zwölf Monaten, und dann vervielfache das Ergebnis mit tausenden von Fans – Das ergibt eine ganz schöne Menge an Jemma! Über das letzte Jahr haben diese Fans online geschrieben und gechattet, neue Freundschaften geschlossen und einige  sogar neue Liebschaften miteinander aufgebaut und gefunden.
Durch das  Talent von Kasia Borek und Lucy Scherer inspiriert, haben viele Fans tolle Videos gemacht, kreative Fanfictions und schöne Lieder geschrieben, und wunderbare Bilder gezeichnet. Wobei das größte Engagement  unsere fabelhaften deutschen Übersetzter für Jemma an den Tag gelegt haben - ohne sie gäbe es keine internationalen Fans. Punkt!
Als ich damals Jemma auf der Internetseite von 'One More Lesbian' gefunden habe, waren wir bereits bei dem ersten Spindkuss und kurz darauf entdeckte ich die vorherigen Jemma Clips, bereits übersetzt und mit Untertiteln, auf Youtube, und ich muss sagen, dass ich direkt unter den Bann der STAG Auftritte und unserem multitalentiertem Duo – Lucy Scherer und Kasia Borek - gefallen bin, als sie ohne Angst und Zurückhaltung ihre beiden Hahe-Charaktere, und wie die zwei sich ineinander verlieben, darstellten.
Frau Scherer und Frau Borek haben es gemeistert einer Geschichte, die mit soviel Sorgfalt geschrieben wurde und niemals sensationsheischend oder trivial mit der Erfahrung eines lesbischen Coming Outs umging, aufrichtig Leben einzuhauchen.
Im Gegensatz zu anderen lesbischen Storylines haben die HaHe Schreiber enttäuschende Abläufe vermieden und deshalb ist Jemma der Maßstab, an dem ich alle lesbischen Storylines messe.
Ich bin sehr viel älter als die meißten Jemma Fans - ich werde 54.  Als ich begann meine Sexualität in Frage zu stellen, war das in den 70er Jahren, wo ne Menge über Frieden, Liebe und Verständnis geredet wurde. Aber ich habe nichts entdecken können, was gay war, oder darüber glücklich zu sein als homosexueller Mensch in dieser Zeit.
Außer dass ich Kunst studierte, war ich kein sozialer Rebell. Ich habe die verwirrende Erfahrung überlebt, die ich durchmachte, als ich lernte mich als lesbisch zu akzeptieren. Aber ich habe dabei mit der ständigen Angst gelebt, die Liebe meiner Freunde und Familie zu verlieren und habe mein großes Geheimnis daher mit niemandem geteilt.
In den 70er Jahren waren in Kinofilmen die Gay Charaktere immer die tragischen Figuren.  Anders als heutzutage, wo es wichtige Geschichten wie Jemma auf dem Bildschirm gibt, hatte ich keine Vorbilder, als ich groß wurde, die mir geholfen hätten zu verstehen dass mit mir alles ok ist.
In den 80ern stieg die Toleranz und Akzeptanz den homesexuellen Meschen gegenüber, was sich auch in einer steigenden Zahl von positiv interpretierten lesbischen Charakteren im Kino zeigte.
In den frühen 90er Jahren habe ich dann die lesbische Romanze 'Desert Hearts' geschaut und konnte mir endlich auch vorstellen, als Lesbe glücklich leben zu können.
Unglücklicherweise ist mein Coming Out auch mit Rechtsanwälten verbunden gewesen und hat für immer das Leben meines Exmannes und meiner Kinder verändert. Ich war nicht die Einzige. Nach Schätzungen waren damals 40% aller Lesben verheiratet.
Ein großer Sprung ins Jahr 2011- und ich bin mir sicher, dass sich-selbst-hinterfragenden Teenagern erneut geholfen wurde, ihre eigenen Gefühle zu akzeptieren, als sie zuschauen konnten, wie die Jemmaromanze sich auf dem Bildschirm entfaltete und entwickelte.
Den Sommer 2011 werde ich nie vergessen: wie ich panisch wurde, als das Rosalie & Co Forum zusammenbrach; wie ich lachen musste, als das selbe mit dem SAT1 Jemma Chat passierte; wie ich täglich im Lchat 30 Seiten las; ungeduldig neue Kapitel von in:to her erwartete; in ein Buch geschrieben habe, dass im Schneckentempo um die Welt von Fan zu Fan reiste; wie ich auf deutsch träumte, obwohl ich gerade mal 5 Wörter verstand, und wie ich Lucy's und Kasia's Autogrammkarten fotografierte für den virtuellen Flashmob. 
Meine Freude darüber, als Sat1 das Geoblocking von den Jemma Clips nahm, war genauso groß, wie meine Verzweiflung, als Sat1 die einzige TV Sendung absetzte, die ich 2011 sehen wollte.
Ein riesiges Jemma Highlight war für mich letzten Sommer, als ich Ms Radio Dyke Claire Lawler getroffen habe, als sie Toronto besuchte. Wir hatten uns schon vorher über Jemma auf dem in:to her Blog von Jemmafanfic ausgetauscht.
Wir haben einige lustige Stunden damit verbracht über Jemma zu reden. Ich habe das Grinsen nicht von meinem Gesicht bekommen; endlich konnte ich vis-a-vis mit jemandem sprechen, der mich verstand!
Im Oktober hatte ich dann Brunch mit Jemmafanfic, der so so talentierten Autorin des Jemma Blogs in:to her. Es war so toll, die Person zu treffen, die verantwortlich dafür war, dass meine Jemmafreude sich letzten Sommer verdoppelte, in dem sie regelmäßig so unglaublich viele Kapitel ihrer tollen Fanfiction postete. Ganz besonders mochte ich da die Kommentarfunktion, wo ein paar von uns begeistert bis ins Kleinste auseinandernahmen, warum unser aller Welten durch Jemma so auf den Kopf gestellt wurden.
Diese Vis-a-Vis Begegnungen standen im kompletten Gegensatz dazu, wie mein jemma-n zu Hause angenommen wurde. "Mama, jemma-st Du schon wieder? Komm zum Abendbrot." " Wieviel Uhr ist es? Mach den Computer aus und komm ins Bett!"  Ich musste sogar akzeptieren, dass mein HaHe Soundtrack bei Familientouren aus dem Auto verbannt wurde.
Jetzt ist ein Jahr vergangen und ich habe immer noch Kontakt zu Jemmafans überall auf der Welt - einige davon kann ich mich glücklich schätzen, gute Freunde zu nennen.
Es werden immer noch neue, lustige Jemma Fanfictions geschrieben, und während ich das hier schreibe, bin ich Besitzerin von 5 HaHe DVD Boxen und die 6te ist schon vorbestellt. Ich versuche immer noch meinen Dank zu zeigen, für das, was ich meinen fabelhaften deutschen Übersetzern schulde. Nochmal danke schön.
Die ganze Jemma Erfahrung ist viel wichtiger als was dieses eine kleine Wort Jemma aussagt. Ich bin nicht reich oder berühmt, aber ich kann komplett geoutet hier in Toronto als Lesbe leben, und ich zähle mich zu den glücklichsten Menschen auf Erden. Für andere Menschen ist dies unglücklicherweise nicht so, da die Toleranz Homesexualität gegenüber auf der Welt schon sehr variiert, auch wenn mitlerweile das Jahr 2012 geschrieben wird. Aus diesem Grund müssen wir den Jemma Spirit am Leben erhalten um isolierten und sich sich selbst fragenden Frauen zu helfen, sich zu vertstehen und sich eine glückliche Zukunft vorstellen zu können, die gleiche glückliche Zukunft, die Jenny und Emma in unser aller Vorstellung haben.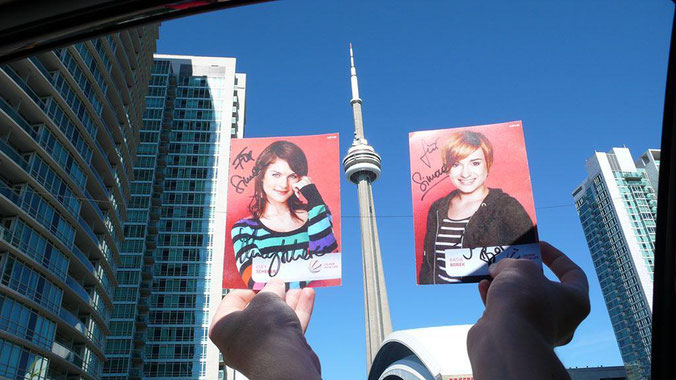 ---
Danke Carol für Deinen sehr inspirierenden Blog und dafür, dass du zu diesem kleinen Projekt hier mit beigetragen hast.
Wir hier bei JI haben deinen Blog sehr gemocht, in den man sich leicht reinfühlen kann, der lustig ist und einfach gesagt: einfach wahr ist. Jemma ist nur ein Teil einer Bewegung, nicht nur in einem Land, sondern auf der ganzen Welt, und wir hoffen wie Du, dass diese Bewegung niemals endet, und dass die Teenager von heute und morgen viele, viele andere Geschichten, Charaktere und Vorbilder haben werden, nach denen sie greifen und sich orientieren können.
Danke schön.
Wir hoffen, dass Euch allen dieser Blog gefallen hat bzw, dass Euch diese Gast Blog Sparte an sich gefällt, denn wir möchten nämlich gerne damit weiter machen und Euch noch andere Stimmen und Geschichten aus der großen Fanwelt näher bringen.
Weil, wenn Ilene Chaiken irgendetwas richtig gemacht oder eher erkannt hat, dann ist es, das sich alles um Geschichten dreht. Geschichten inspirieren uns, lassen uns mitfühlen und nachdenken, und können uns Türen zu einer ganz neuen Welt öffnen.
Geschichten gibt es von Anbeginn der Menschheit und haben die Fähigkeit ein lehrendes Element zu enthalten. Sie können Dir und der Gesellschaft beibringen, das gay okay ist, und das ohne erhobenen Zeigefinger und Holzhammer, sondern auf einem ganz subtilen Weg. Eine Geschichte ist der einfachste Weg, Zugang zu unseren Herzen und Köpfen zu bekommen, und daher sind sie so wichtig. Denn indem wir Geschichten mit anderen teilen, entstehen Verbindungen - Verbindungen miteinander, uns selbst und der Welt.
Bitte hinterlasst viele Kommentare für Carol und lasst sie sich Jemmaphänomenal geliebt fühlen :)
Eurer Team JI
---