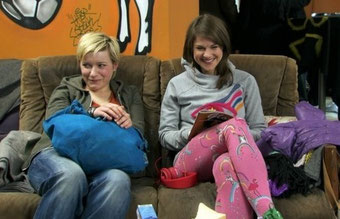 Hey folks! We'll be continuing our 'Voices out of the fandom and their Stories' column today.
Saskia is from Germany and one of the loyal long-time Jemma and Hand aufs Herz fans and she'll be telling you about her experience with Jemma and even more so what they truly meant to her.
Hi Leute, heute geht's weiter mit der allseits beliebten "Stimmen und Geschichten aus dem Jemma Fandom" Rubrik.  Saskia kommt aus Deutschland und ist eine von den treuen "Hand aufs Herz" und Jemma Langzeit Fans. Sie erzählt Euch etwas über ihr ganz persönliches Jemmaerlebnis und was die beiden ihr bedeuten.
---

What does JEMMA mean to me?
That's the question, the gals of  JI asked me at the Bowlday 2011. Today I would like to answer as clearly and elaborately as possible.. May I succeed!

I watched Hand aufs Herz from the very first episode on, I was enthusiastic about the story and the idea of the concept.

The story about Bea and Ben was a different kind of story and made me curious.
After the first episodes alreaday, I was aware of the potential of the show and it blew me away.
The first time I saw Emma Müller on my screen, there was only one thought in my head,"Who is she?And what is she doing here?"
I didn't mean it that negative! I was interested in her and I wanted to know more about her - much more!
For telling you more about myself, I have to go back to the past.
When the series "Hand aufs Herz" started on October 4, 2010, I was close to my personal Coming-out. 
I had passed my graduation in June 2010 and wanted to start something new. 
But my future went another way than the one I had originally planned.
Hand aufs Herz brought me  back daily into my loved schooldays, for half an hour. And I was grateful for that.

At some point in the story there was this new student: Jennifer Hartmann and she filled the story with new energy.
After a few episodes with her and Emma, I knew,that there are more between them than met the eye.
At that time, I was freshly outed and stood by who and what I am, more or less.
That wasn't easy at the beginning.
I knew  that  I was gay, at the age of 12, but I never wanted to admit to not being "normal".
After I had finished school and no close circle of classmates  and many people who crushed me,around me anymore, I finally had the courage to be happy.
The Jemma-Story and the Fans helped me.
I had already  realized, that my friends and my family accepted my homosexuality, but now I learned, that there are many people who are like me who are interested in the same things and I was amazed that a lesbian story in television was so popoular.
That motivated me. The story between Emma and Jenny helped me to understand what it means, to be a lesbian, and I felt a  strong connection with the character of Emma.
Her fear to come out reminded me of my own and made the whole series for me tangible and into an important part of my everyday life.
I got a lot of positive energy from it all. Without Hand aufs Herz and Jemma, I wouldn't be who I am today.
What does JEMMA mean to me?
Jemma means to me, self-discovery.
Jemma means to me, acceptance and tolerance.
and
Jemma means to me, power.
And now you! What does JEMMA mean to you?
Saskia
Thank you Saskia for sharing your story with us!
It was really nice to be reminded that Jemma, and stories like theirs, are something we can fall back on to draw strength, self-assurance and joy from, if we need it (or not), after all they show us how it should be.
We're glad that you had Jemma as a support system in your Coming Out period and wish you all the best in your further life as a self-assured woman.
Your Team JI :)
---


Das wurde ich einst, auf dem Bowlday, von den Mädels von JI gefragt.
Heute werde ich versuchen ausführlich und klar zu antworten. Möge es mir gelingen!

Ich habe Hand aufs Herz seit der ersten Episode verfolgt und war begeistert von der Story und der Idee des Konzepts.
Die Geschichte von Bea und Ben war mal etwas anderes und machte mich neugierig. Schon nach den ersten Folgen fiel mir auf, was für ein Potenzial in dieser Serie steckt und ich war hin und weg.

Als ich das erste Mal Emma Müller auf der Bildfläche sah, schoss mir ein Gedanke durch den Kopf: Wer ist sie und was will sie hier?
Das war ganz und gar nicht negativ gemeint, sie interessierte mich und ich wollte mehr über sie erfahren, viel mehr.

Um die Geschichte weiter fortzuführen, muss ich nun etwas weiter ausholen.

Als die Serie "Hand aufs Herz" am 4.Oktober 2010 anfing, stand ich kurz vor meinem persönlichen Outing.

Ich hatte im Juni 2010, mein Abitur bestanden und war auf dem Weg etwas Neues anzufangen. Doch meine Zukunft verlief anders, als ich es geplant hatte.

Hand aufs Herz brachte mich täglich für eine halbe Stunde zurück in meinen geliebten Schulalltag und dafür war ich dankbar.
Irgendwann tauchte in dem Geschehen die neue Schülerin: Jennifer Hartmann auf und brachte neuen Schwung in die ganze Geschichte.
Schon nach wenigen Folgen mit ihr und Emma wusste ich, dass da doch mehr hinter steckt.

Ich war zu diesem Zeitpunkt gerade selbst frisch geoutet und stand, mehr oder weniger, zu dem, was ich war.
Das war zu Beginn definitiv nicht so einfach.
Gemerkt, dass ich lesbisch bin, habe ich mit 12, doch wollte ich mir nie selbst eingestehen, nicht "normal" zu sein.
Nachdem ich die Schule abgeschlossen hatte und mich kein enger Klassenverband und viele Leute um mich herum erdrückten, fasste ich also den Mut glücklich zu werden.
Die Jemma-Story und die Fangemeinschaft halfen mir sehr dabei.
Hatte ich doch schon bei meinen Freunden und meiner Familie gemerkt, dass sie meine Homosexualität akzeptierten, erfuhr ich nun, dass es viele Leute gibt, die so sind wie ich, die sich für die gleiche Sache interessieren und ich war verblüfft, dass eine Lesbenstory im Fernsehen so hohen Anklang fand.
Das motivierte mich. Die Geschichte zwischen Emma und Jenny half mir besser zu verstehen was es bedeutet lesbisch zu sein und ich fühlte mich stark mit dem Charakter der Emma verbunden. Ihre Angst vor dem Outing erinnerte mich an meine Zeit damals und machte die ganze Serie für mich greifbar und zu einem Teil meines Alltages.
Ich zog viel positive Kraft aus all dem. Ohne Hand aufs Herz und vor allem Jemma, wäre ich heute nicht die, die ich bin.
Was bedeutet JEMMA für mich?
Jemma bedeutet für mich, Selbstfindung.
Jemma bedeutet für mich, Akzeptanz und Toleranz.
und
Jemma bedeutet für mich, Kraft.
Und nun Du: Was bedeutet JEMMA für Dich?
Saskia
Danke, Saskia, dafür, dass Du Deine Geschichte mit uns teilst!
Es tat  gut daran erinnert zu werden, dass Jemma und ähnliche Geschichten etwas sind, wo wir drauf zurückgreifen können wenn wir  mal Freude, Kraft und Selbstbewusstsein brauchen. Irgendwie   zeigen sie uns wie es sein sollte.
Wir sind froh, dass Du Jemma als Unterstützungpowerduo während Deines Coming Outs an Deiner Seite hattest und wünschen DIr nur das Beste in Deiner Zukunft als selbstbewusste Frau.
Dein Team JI :-)