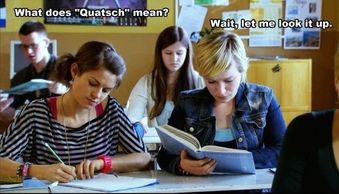 Hey everyone, we hope 2013 has gotten off to a good start for you!
Here's a quick update on how we'll continue.
---
We know we're behind on the episodes that are being streamed at sat1 at the moment and you went through a bit of a drought of new scripts after we were done with Box 4. But fret not, we are here to continue and bring this to a proper end!
You might not know it yet, but our team is in love with numbered lists, so this is the way we will do this now, too ;)
*** Announcements about the coninuing of the translation ***
1. Box 5 starts today and as usual you'll find them beneath "Full Episodes" (For 121 follow : Scripts - Stream)
2. There will be updates to Box 5 at least once a week for as long as we can. ( At least a month and probably Mondays+Day X ;) )
3. In the updates only the transcripts (Eng+Ger) are included. SRTs for Box 5 will follow as soon as possible.
4. Before the SRTs for Box 5 are provided, we will finish Box 2 for them.
5. From time to time there are SRT-English updates in the later episodes. (Recently: 206-210)
Good to know:

a) On sat1 you can find every episode that they already streamed here and you do not need to worry about being too late to watch them or for us to not have the script ready yet, because sat1 is keeping them online.

b) Follow us on Twitter to get to know about every update of the SRTs, on Facebook we'll only remind you about the recent Box 5 scripts.

c) Beneath the SRT-Guide you can find .rar packages of the SRTs for each DVD.
d) You wonder who's behind all that subtitle-goodness? Follow me to find out more about our Team and the recently added SRT-girls (Dani, Globe and Sones).
That should've been all for now.
If there are still questions, suggestions, complaints or revolutios that we should know about, let us know ;)

Keep jemming!
Your TJI