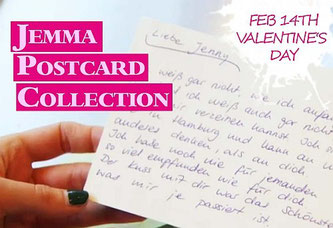 "Who's still writing letters in the 21st century!?"
That's right - WE are! Postcards to be exact.
Just in time for Lovers' Day (don't forget: Valentine's Day, 14th February!)
we give you the JEMMA POSTCARD COLLECTION!


"Wer schreibt denn im 21. Jahrhundert noch Briefe?!?"
Richtig – WIR! Genauer gesagt Postkarten.
Passend zum Tag der Liebenden (nicht vergessen: Valentinstag, 14.2.!)
gibt es deshalb von uns für euch die JEMMA POSTCARD COLLECTION!