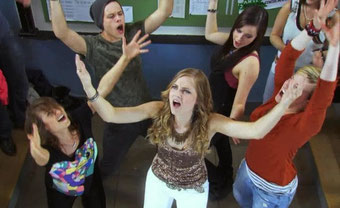 *musik anschmeiß* / *turns the music up*
Europe - Final Countdown
It's the final Poll!
Dididi-DI, dididiDI-DI!
---

Finale - ooh-ohh!
Nun, diese Runde war wirklich knapp. Also WIRKLICH knapp! Das, was wir von Runde eins an befürchtet haben, was uns in unseren schlimmsten - schlimmer als 'Sex mit dir'! - Alpträumen begegnet ist, ist eingetreten: Ein Unentschieden!
Für die unter euch, die es nicht mitgekriegt haben, wir mussten eine schnelle Extra-Wahlrunde für die Einzelzitate Gruppe B einleuten, weil zwei Zitate Kopf an Kopf lagen. (Die Ergebnisse vor und nach der Extrawahl, die ca. eine Stunde ging, könnt ihr unten auf den Bildern der Ergebnisse sehen) Aber nicht nur die Einzelzitate haben sich ein Kopf an Kopf rennen geboten, so dass wir sehr sehr gespannt sind auf wer das Rennen nun hier nach Hause bringen wird und was uns in der nächsten Runde erwartet!
Ihr könnt ein Mal pro Tag für euren Favoriten stimmen und nun ist es 1vs1!
Auf die Plätze.
Fertig?
LOS!
Final!

Okay, so this one was really close. Like REALLY CLOSE! We even had the thing happen that we feared most from round 1 on, which appeared in our worst nightmares - the kind of nightmares that are even worse than the 'Sex with you'-nightmares: A DRAW!
For those of you who haven't heard of it, we had to do a quick extra voting round for Single-Quotes Group B, because two of the quotes were head to head. (We've displayed the results before and after the extra round, which lasted around an hour, in the result pictures below.) But not only the Single-Quotes were butting heads, so we are very very much in suspense about who will bring this thing home and what will happen in our final round!
You can vote once a day for your favorite and it's 1vs1 now!
Ready?

Steady?

GO!
Single-Quotes Results:
Combo-Quotes Results:
Single-Quote Final
Combo-Quote Final
---