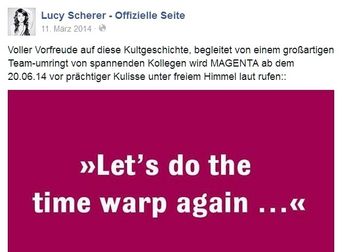 You're lucky, he's lucky, I'm lucky, we're all lucky!
Gut gesagt, Magenta! Wer will mit uns Outfits nähen oder den Time Warp üben? Wer hat noch keine Karten? Alle Informationen findet ihr in unserer neuen Rubrik über die Rocky Horror Show in Magdeburg, wo Lucy in die Rolle des sexy Hausmädchens schlüpfen wird.
Very well said, Magenta! Who wants to sew outfits with us or practice the time Warp? Who still has no tickets? Find all of the information in our new section about the Rocky Horror Show in Magdeburg where Lucy will play the role of sexy maid.
And here we go: Magenta (RHS)