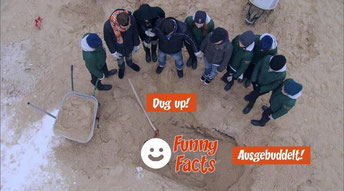 Ihr wisst alles über "Hand aufs Herz"? Wirklich alles? Vielleicht habt ihr recht, denn wir alle haben die Folgen so viele Male geguckt. Vielleicht liegt ihr auch falsch und habt einige kleine Details verpasst. Welche Details? Natürlich die lustigen Fakten.
You know everything about "Hand aufs Herz"? Truly everything? Maybe you are right because we all watched the episodes many many times. Maybe you are wrong because you missed some of the little details. Which details? The Fun Facts, of course.

Unglaublich, aber wahr: Heute performte die STAG on stage – vor mittlerweile 4 Jahren auf dem Fantag in Berlin. Ein großartiges Event! Werden wir nun wieder wehmütig? Sprengt es uns das Herz? Schließlich ist das Aus von HaHe wie ein Dorn, der tief sitzt und fies piekt. Aber hey, ob ihr es glaubt oder nicht: Unser HaHe-Notstand beschert uns auch lustige Momente!
Wir haben die Folgen und einzelne Szenen so oft genossen. Zuckersüße Zitate haben sich in unser Hirn gebrannt, vermutlich auf ewig. Noch immer beamen wir uns gerne in den Kosmos von HaHe. Wir sind nimmersatt. Wir saugen alles auf – jeden Blick und jede Kleinigkeit. Viele Details hätten wir garantiert übersehen, würde uns der Bällchensender seit Jahren neuen Stoff liefern. Und wer weiß: Vielleicht hätten die uns irgendwann billiges Oregano angedreht. Hurgx. Zurück zum guten Zeug. Es knallt. Es knallt nach wie vor. Wir gucken, stoppen, spulen, erinnern uns, hachen eine Runde – wir genießen einfach alles!
Emmas Schuhe zum Beispiel. Zu schön. Diese Hochwasserstiefel verwandeln sich für eine wahre Heldin mit Kämpferherz in Magic Sneakers. Wir lieben diese Details!

Luzi hätte es übrigens niemals rechtzeitig zum Benefizkonzert schaffen können. Never ever. Zeitverschiebung. Offenbar ganz fatal zwischen Berlin und Köln. Während sich die STAG schon selbst anfeuerte, hinkte Luzi parallel im Fernsehstudio X Stunden hinterher. Tragisch! Oder lebt Jenny in einer anderen Zeitzone, irgendwo lost zwischen Hong Kong und New York? Auch tragisch!


Nur weil wir Mehrfachgucker sind, haben wir Jennys Mutter im Lehrerzimmer entdeckt. Auch, dass es tatsächlich jemanden namens Hartmann im Kollegium gibt. Unterrichtet Französisch. Grundkurs 3, vertretungsweise montags in der 5. Stunde und am Mittwoch in der 1. – in einem Gebäude, auf dem die falsche Hausnummer steht. Egal. Dafür kostet ein Kakao am Automat nur 35 Cent. Sagten wir schon: Wir lieben Details?


234 Folgen, geiler Stoff, den wir uns reingezogen haben. Wir haben unser gesammeltes Fan-Wissen gebündelt, diskutiert, recherchiert, haben das Internet und Wikipedia abgegrast, (neu)gieriger als es Schafe auf Irlands grünen Weiden jemals könnten. Kurz: Für unsere neue Reihe "Funny Facts" waren wir mal wieder verrückt. Herrlich verrückt. Jedes wiederentdeckte oder noch nicht gekannte Detail hat unser Herz vor Freude pochen lassen. Ab jetzt teilen wir diese Sammlung mit euch – in der Hoffnung, dass sie euch ab und an den Tag versüßt und schöne Erinnerungen weckt.
Einige Fun Facts (aus unserem Adventskalender 2014) findet ihr bereits auf unserer Website - hier.
Dort werden wir auch die neuen Facts platzieren, die wir zukünftig auf unserer Facebookseite posten werden. Ein ganz großes Dankeschön für diese Aktion geht an Juuudy und Chocofresh! Viel Vergnügen wünschen wir – mit unseren heiteren HaHe-Häppchen, viel unnützem Wissen und neuen Blickwinkeln, eben ein Mix aus zuckersüßer Nostalgie und neugestarteter Party.
Stay Jemma!
---

The fun is over? Nonsense - not for us!
Unbelievable but true: On this day 4 years ago, the STAG performed on stage at the Fan Day in Berlin. A great event! Are we getting melancholic again now? Are our hearts breaking? After all, the cancellation of HaHe is like a thorn that's still stuck deeply and pricking something awful. But hey, believe it or not: Our HaHe shortage does bring us some funny moments!
We have enjoyed the episodes and individual scenes many times over. Wonderful quotes have burned themselves into our minds, probably forever. We still like to beam ourselves into the HaHe universe. We are insatiable. We suck everything up - every look and every small thing. We probably would have overlooked many a detail if Sat1 had continued to supply us with new addicting material for years. And who knows: They might have tried to sell us cheap oregano eventually. Blech! But back to the good stuff. It gives us a high. It still gives us a high. We watch, stop, rewind, remember, squee for a bit - we just relish everything!
Emma's shoes, for instance. So great. Those flood pants boots change into magic sneakers for a true heroine with the heart of a fighter. We love these details!

Luzi, by the way, would have never been able to make it back in time for the benefit concert. Never ever. Time difference. Obviously a pretty big one between Berlin and Cologne. While the STAG was already giving themselves a pep talk, Luzi simultaneously lagged X hours behind in the TV studio. Tragic! Or is it only Jenny who lives in a different timezone? Lost between Hong Kong and New York? Tragic, too!

Only because we are repeat viewers did we spot Jenny's mother in the teachers' lounge. Or that there really is a person named Hartmann on the teaching staff. Teaches French. Basic course 3, as a substitute Monday, 5th period and Wednesday, 1st period - in a building with the wrong house number. But never mind. At least the hot chocolate in the vending machine only costs 35 cents. Did we mention that we love details?

For 234 episodes we consumed some awesome stuff. We compiled our entire collected fan knowledge, we discussed it, researched it, browsed the internet and Wikipedia, more greedy than any sheep on Ireland's green pastures could ever be. In short: For our new section "Fun Facts" we went crazy once again. Wonderfully crazy. Every rediscovered or previously unnoticed detail made our hearts pound with joy. Now we'll share this collection with you – in the hopes that it will brighten your day once in a while and bring back good memories.
You can already find some fun facts (from our advent calendar 2014) on our website - here.
This is where we will also put the new facts that we will be posting on our Facebook page in the future. Special Thanx for this new section goes to Juuudy and Chocofresh! We hope you'll have lots of fun with our funny HaHe snippets, lots of useless knowledge and new points of view – a mix of sweet nostalgia and newly launched party.
Stay Jemma!