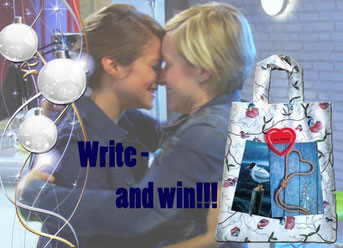 Hohoho, dein Geschreibsel macht uns froh!
Egal, ob Kurzgeschichte, Drehbuch oder Gedicht,
wir sind auf alle Werke sehr erpicht.
Und kommt dann noch eine Blümchenbettwäsche drin vor,
hast du nen krassen Hammer-Sinn für Humor.
Hohoho, your scribblings make us glow!
Whether short story, poem or screenplay,
please send all your works our way.
And if you include a certain floral bedding in your art,
we will think you're hammer smart.

Deine Geschichte:
- Wurde bis jetzt noch nirgendwo veröffentlicht.
- Ist auf Deutsch oder Englisch.
- Kann bis zu 3000 Wörter beinhalten.
- Dreht sich um das Thema "Jemma & Weihnachten" (z.B. das perfekte Geschenk, Adventszeit-Unfug, ein Weihnachtsmarktbesuch, Wichtel-Trubel, "typisch" deutscher Heilig Abend mit Familie und Freunden)
Teilnahme:
- Schick uns deine Geschichte per E-Mail an mailantji@web.de

- Vergiss deinen Namen oder Pseudonym nicht.
Preise:
- 3x Jemma-Fanpaket
- Die schönsten Geschichten werden im JemmaInternational Adventskalender 2015 veröffentlicht.
Einsendeschluss: 25. November 2015 (verlängert bis 30. November 2015)


Your story:
- Has not been published before.
- Should be in German or English.
- Can be up to 3,000 words in length.
- Is on the subject of "Jemma & Christmas" (e.g. the perfect present, advent time shenanigans, trip to a Christmas market, Secret Santa trouble, "typical" German Christmas Eve with family and friends)
How to enter:
- Send your stories via e-mail to mailantji@web.de

- Make sure to include your name or alias.
Prizes:
- 3x Jemma fan package
- Best stories will be featured in the JemmaInternational advent calendar 2015.
Closing date: 25 November 2015 (extended to 30 November 2015)