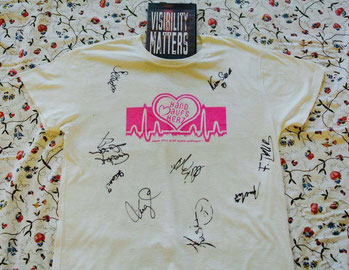 Jemma und HaHe haben Spuren hinterlassen – in unseren Herzen, in Form von Freundschaften und in vielen Schränken. Ja, richtig gelesen! Manch eine hütet zu Hause nämlich nicht nur DVDs und Autogrammkarten, sondern ganz einmalige Schätze. Schätze wie dieses Flashmob-Aktions-T-Shirt, das nun eine neue Besitzerin sucht. Interesse? Dann macht mit bei unserer Aktion und einer Auktion, die im Kleinen Gutes bewirkt.
Jemma and HaHe have left a lasting impression - on our hearts, in the form of friendships and in many a closet. Figuratively and literally! Some people not only hoard DVDs and autograph cards at home but also some truly unique treasures. Treasures like this flash-mob campaign t-shirt that is now looking for a new owner. Interested? Then take part in our auction for a good cause.

Tolles Teil, oder? Das besondere Erinnerungsstück wurde uns überraschend vermacht. Deshalb geht zunächst ein dickes Dankschön an die Spenderin und ihre tolle Geste. Wir sind geflasht! Auf dem T-Shirt befinden sich nämlich Original-Unterschriften von zahlreichen HaHe-Darstellern.
Amelie Plaas-Link (Lara)
Christopher Kohn (Ben)
Franciska Friede (Sophie)
Franziska Traub (Frau Jäger)
Frederic Heidorn (Ronnie)
Kasia Borek (Emma)
Kim-Sarah Brandts (Helena)
Lucy Scherer (Jenny)
Selina Müller (Luzi)
Und was machen wir nun mit diesem Highlight aus Stoff? Wir geben es weiter an eine von euch. Und da solch ein Andenken an gute, alte Zeiten quasi unbezahlbar ist, haben wir uns Folgendes überlegt: Shirt gegen Spende!
Wir veranstalten eine Blinde Auktion. Das bedeutet: Du sendest uns eine PM per Facebook oder eine Mail an mailantji@web.de  in dieser Nachricht nennst du uns den Betrag, den du für das T-Shirt bereit bist zu spenden.
Die Aktion läuft bis zum 30.04.2016. Die Person, die am Ende das höchste Gebot abgegeben hat, wird von uns kontaktiert und über den Gewinn informiert. Dann ist nur noch eins zu tun: Spenden! Sobald du uns den Spendennachweis geschickt und uns deine Adresse mitgeteilt hast, senden wir dir das T-Shirt.
Vielleicht wäre das T-Shirt ja das perfekte Geburtstagsgeschenk für einen HaHe-Fan in deiner Clique? Schließe dich mit Freunden kurz, ehe du uns dein Gebot schickst. Wenn ihr zusammenlegt, fällt euer Spendenbetrag bestimmt höher aus und eure Gewinnchancen steigen.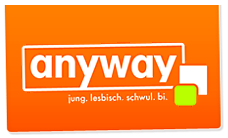 Denn nicht nur die neue Besitzerin des T-Shirts soll sich freuen, sondern auch die tolle Organisation, die wir mit dieser Aktion wahnsinnig gerne unterstützen wollen: das Jugendzentrum Anyway in Köln. Es bietet jedes Jahr über 3000 Jugendlichen und Jungerwachsenen im Alter von 14 bis 25 Jahren eine wichtige Anlaufstelle. Lesbisch, schwul, bi – egal, hier können junge Menschen einfach sie selbst sein. Hier sind sie richtig – so, wie sie sind. Sie können sich mit Gleichgesinnten austauschen, erleben Gemeinschaft, finden Hilfe und können Kraft tranken. Zum Beispiel für ihr eigenes Coming-out, das leider viel zu oft kein Spaziergang ist. Und im gemütlichen Café des Anyway gibt es neben einem Billardtisch auch einen Probenraum für Musiker. Das hätte Emma, Jenny und der STAG sicher gefallen, oder?!
Also los, Leute! Lasst uns heute mal nicht nur in Nostalgie schwelgen und uns irgendeinen Jemma-HaHe-Jahrestag in Erinnerung rufen. Lasst uns aktiv im Kleinen Gutes tun. Schreibt uns und nennt uns euren Spendenbetrag für das T-Shirt. Shirt gegen Spende! Eine gute A(u)ktion für eine gute Sache!
Stay Jemma!
Euer Team Jemmainternational

---

Wicked piece, isn't it? We were unexpectedly presented with this special memento. And so, first of all, a big Thank You goes out to the donor and her great gesture. We're in awe! Because on this t-shirt are the original autographs of numerous HaHe actors.
Amelie Plaas-Link (Lara)
Christopher Kohn (Ben)
Franciska Friede (Sophie)
Franziska Traub (Frau Jäger)
Frederic Heidorn (Ronnie)
Kasia Borek (Emma)
Kim-Sarah Brandts (Helena)
Lucy Scherer (Jenny)
Selina Müller (Luzi)
So what will we do with this highlight now? We'll pass it on - to one of you. And since such a memento of the good old days is practically priceless, we came up with the following: Shirt for Donation!
We are holding a blind auction. Which means: you send us a PM on Facebook or an email to  mailantji@web.de In this message you tell us the amount you are willing to donate to get the t-shirt.
The auction runs until 30.04. 2016 The person who in the end has placed the highest bid will be contacted by us and be informed of their win. And then there will be only one thing left to do: Donate! As soon as you have sent us your donation receipt and told us your address we will send you the t-shirt.
Perhaps the t-shirt would be the perfect birthday present for a HaHe fan in your crowd? Coordinate with your friends before sending us your bid. If you pool your money your donation sum will surely be higher and your chances for winning will be greater.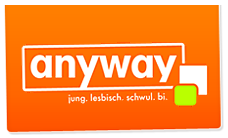 Because not only the new owner of the t-shirt shall be happy but also the wonderful organization that we want to support with this campaign: the youth center Anyway in Cologne. It offers an important sanctuary for over 3000 teenagers and young adults from 14 to 25 years of age every year. Lesbian, gay, bi - it doesn't matter, here young people can just be themselves. Here they are okay - just the way they are. They can talk about their experiences with like-minded folks, experience a community, find help and recharge their batteries. For instance for their own coming out, which unfortunately is much too often no walk in the park. And the cozy café of the Anyway not only sports a pool table but also a rehearsal room for musicians. That's something Emma, Jenny and the STAG surely would have liked, don't you think?
So, come on, people! Today, let's not just revel in nostalgia and remember some Jemma-HaHe-anniversary. Let's actively do something good in our own small way. Write us and tell us your donation pledge for the t-shirt. Shirt for Donation! An auction for a good cause!
Stay Jemma!
Your Team Jemmainternational