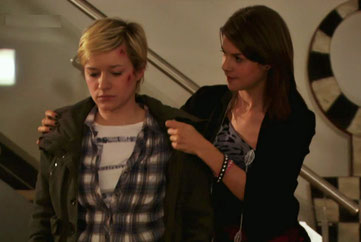 Hey guys, noch jemand da? Wir könnten Pizza bestellen. Oder Sandwiches machen. Und unter geteilten Wolldecken erzählen wir euch, was bei JemmaInternational auf dem Programm steht. Und auch stand.
Hey guys, anyone still here? We could order pizza. Or make sandwiches. And then we'll share some woolen blankets and tell you what JemmaInternational has planned. And what has already been accomplished.

Für 2018 hatten wir ein Großprojekt auf dem Plan. Unsere Website … Parallel zur Riesenwelle war sie einst entstanden und wuchs seitdem wild vor sich hin. An ihr halten wir fest. Nach so vielen Jahren erinnert sie uns an einmalige Zeiten, die wir niemals missen möchten. Weltweit wurden Freundschaften geschmiedet, die bis heute Bestand haben. Und auch privat haben sich Herzen gefunden über "Hand aufs Herz". Das ist groß, das ist wundervoll und unbezahlbar. Darum soll unsere URL auch weiterhin eine Anlaufstelle bleiben – für alle, die Jemma irgendwann für sich entdecken. Und für alle, die noch immer den Spirit schätzen, der uns zusammen schweißt.
Also haben wir die Ärmel hochgekrempelt. Unsere Website strahlt in neuem Look. Alter Ballast wurde entfernt und neuer Stoff ergänzt. Wir können nur sagen: Seid neugierig, nostalgisch, klickt euch durch und habt Spaß bei uns!
Uns – ihr – wir, wer war das noch gleich? Stellt euch unser Netzwerk als bunte Truppe vor, die … öhm … zum Beispiel im Chulos abhängt. Mal wird getanzt, mal wird gechillt wie auf einer After-Work-Party. Manchmal ist es auch sehr still in der Runde, denn unsere Lieben, Familie und Freunde, und unsere Gesundheit werden immer Priorität haben vor unserem Engagement für JemmaInternational. Und für einige von uns war dieses Jahr privat echt heftig. Aus diesem Grund haben wir lange gegrübelt, ob wir 2018 noch ein Projekt angehen. Unseren heißgeliebten Adventskalender …
Die Antwort lautet: Ja. Irgendwie sehnen wir uns danach, auch dieses Jahr positiv abzuschließen. Wird es wirklich ein Kalender? Mit 24 Türchen? Ganz ehrlich? Keine Ahnung. Im Dezember, Kinder, wird's was geben. Und wir freuen uns darauf, noch einmal mit euch in vergangene Zeiten einzutauchen. Ohne Druck. Ohne Stress. Einfach, weil es schön ist, besonders im Advent.
Stay Jemma!
---

We had planned one major project for 2018. Our website … It got started the same time the "giant wave" first swept across the world and had been proliferating wildly ever since then. We are going to hold on to it. After so many years, it reminds us of a truly unique time that we would never have wanted to have missed. All around the world friendships developed that are still going strong today. And privately hearts have also found each other through "Hand aufs Herz". That's big, that's wonderful and priceless. And that's why we want our URL to keep being a port of call - for everyone who is going to discover Jemma in the future. And for all those who still appreciate the spirit that brought us all together.
So we rolled up our sleeves. Our website presents itself with a new look. We got rid of old ballast and added new stuff. All that's left for us to say is: Be curious, nostalgic, click your way through it and have fun in our hallowed halls!
Our - you - we, who are we people, anyway? Imagine our network as a diverse group that … er… hangs out at the Chulos, for example. Sometimes there's dancing, sometimes we're chilling like at an after-work party. Sometimes things are very quiet because our loved ones, family and friends, and our health, will always take priority over our engagement for JemmaInternational. And for some of us this year has been pretty rough. For this reason we thought long and hard about whether to tackle another project in 2018. Our much loved Advent Calendar …
The answer is: Yes. We really want to end the year on a positive note. Will there be a real calendar? With 24 doors? Honestly? No idea. But come December, kids, there will be something. And we're looking forward to walking down memory lane with you, once more. With no pressure. With no stress. Just because it's fun and wonderful, especially during Advent season.
Stay Jemma!