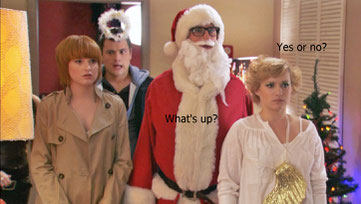 Die STAG ist verunsichert. Seit Jahren rockt die Truppe in der Adventszeit bei uns Haus und Hof. Ob sie auch 2019 ihre 24 Türchen bekommt, können wir inzwischen beantworten.
 STAG is bewildered. For years the troop has rocked the house and yard during Advent season. We are able to tell you now, whether they will get their 24 doors in 2019 as well.

Ihr lieben Jemmalinge,
findet ihr es nicht auch seltsam manchmal? Im Dezember reden alle von der "besinnlichen Zeit des Jahres". Dabei rennen wir gestresst nach Feierabend durch Kaufhäuser. Unsere To-Do-Liste ist so voll wie selten im Jahr: Geschenke besorgen, Backen, Dekorieren, Baum kaufen, dazu Termine auf Weihnachtsfeiern und Weihnachtsmärkten. Wir verbrennen uns traditionell die Zunge am ersten Schluck aus der heißen Glühweintasse. Fluchen wir dabei? Nein. Irgendwie lächeln wir beseelt. Der Advent, hach, der steckt voller Rituale. Diese Traditionen wollen wir nicht missen. Dabei nehmen wir sie womöglich unbewusst für selbstverständlich. Alle Jahre wieder … Trifft das auch für unseren Adventskalender zu?
Im Jahre 2019 war es extrem ruhig von unserer Seite. Das hatte Gründe. Unsere Mission war stets wie folgt: Wir waren geflasht von Jemma. Wir haben um unsere TV-Serie gekämpft – Save HaHe! Schließlich wollten wir internationalem Publikum Zugriff auf 234 Folgen einer deutschen Soap ermöglichen. Das konnten wir mit vielen Nachtschichten und Herzblut längst verwirklichen. Hammer!!! Noch immer Hammer!!! Darum blieben wir im Party-Modus. Noch lange Zeit haben wir Reihen voll Herzblut gebastelt, sei es Learning German oder Fun Facts. Außerdem halten wir unverändert an unserer Website fest, damit jeder Jemma-Fan im Web ein Zuhause findet – jederzeit und weltweit. Selbst nach Jahren ohne HaHe rufen wir gerne das Motto: Stay Jemma!
Dieses Motto verbindet noch immer. Dennoch hat sich etwas verändert. Aus dem einst spontanen Projekt ist der Druck raus. Und ehrlich: Es fühlt sich für uns so verdammt gut an!!! Müssen wir über jedes Konzert mit Lucy berichten? Ist jedes neue Agenturfoto von Kasia eine Breaking-News-Meldung? Puh … In Jahre 2019 existiert keinerlei Definition mehr für "Breaking News" für ein TV-Paar aus 2010-2011. Wirklich nicht. Und somit ist es nicht selbstverständlich, dass irgendwer noch Jemma-Comics bastelt anstatt mit der eigenen Herzdame knutschend auf der Couch zu chillen, mit Neffen und Nichten Kekse zu backen oder live lachend mit Freunden bei Feuerzangenbowle abzuhängen. Es ist nicht selbstverständlich. Nicht nach x Jahren. Nicht im ohnehin hektischen Dezember.
Genug. Genug also. Genug geredet. Lassen wir die Katze endlich aus dem Sack. Äh … Katze? Verzeihung! Wir meinen natürlich – den Kalender. Nach langem Ringen wird es ihn auch 2019 geben. Einen Adventskalender von JemmaInternational mit 24 Türchen.
Echt jetzt? Ja. Jemma bleibt für uns ein Sonderfall. Etwas sehr Besonderes. Und wir schätzen eure langjährige Treue. Aus Klickzahlen lässt sich eure Begeisterung mittlerweile nur leider schwer ablesen. Was an Likes auf Facebook, Website oder Instagram zurückkommt, ist … heftig. Heftig wenig, um es als Euphorie zu werten, die uns unverändert motiviert. Gleichzeitig erreichen uns private Nachrichten, die krass beflügeln. Es gibt euch! Menschen, die ein unschönes Jahr in den Knochen haben, und denen Jemma-Spirit wieder ein Lächeln beschert im Alltag.
That's it! Für euch basteln wir erneut wie blöde, damit wir 24 Tage von 365 positiv pimpen. Lasst uns gemeinsam den zauberhaften Nachhall unserer einmaligen Vergangenheit erneut genießen! Habt Spaß, genießt – und gebt zurück. Ein Like? Eine private Nachricht? Es wäre uns ein Fest! Denn Schönes ist nicht selbstverständlich, sondern ein Highlight – speziell im Advent, trotz aller Traditionen. Es bleibt eine besondere Zeit des Jahres.
Stay Jemma!
---

All you dear Jemmalings,
Don't you think it's pretty strange? Everyone is talking about December being a time of peace and reflection. But everyone is stressed out running around shopping malls after work. Our to-do list is often longer than at any other time of year: buying presents, baking, decorating, buying a tree, plus a schedule full of Christmas parties and visiting Christmas markets. We traditionally burn our tongue on the first sip from the Glühwein (hot spiced wine) cup. Do we swear? No. Somehow we just smile serenely. The Advent season - oh, it's full of rituals. And these traditions we don't want to miss. But maybe we subconsciously take them for granted. Year after year … Is this also true for our Advent Calendar?
The year 2019 was very quiet from our end. There were reasons. Our mission has always been: We were blown away by Jemma. We fought for our TV show – Save HaHe! And finally, we wanted to enable an international audience to have access to 234 episodes of a German soap opera. This we were able to accomplish some time ago with many an all-nighter and lots of dedication. Awesome!!! Still awesome!!! And so we stayed in a party mood. For a long time we continued on enthusiastically creating things like Learning German or Fun Facts. And we still hold fast to our website, so every Jemma fan can find a home on the web – any time and from anywhere in the world. Even after years without HaHe we love to shout out the motto: Stay Jemma!
This motto still connects people. Nevertheless something has changed. There is no longer any pressure left in this once spontaneous project. And honestly: For us it's a pretty good feeling!!! Do we have to report on every new Lucy concert? Is every new agency photo of Kasia a breaking news bulletin? In the year 2019 there is no longer any definition for "breaking news" for a TV couple from 2010-2011. There really isn't. And so it's not a given that someone will still create Jemma comics instead of making out with her lady love on the couch or baking cookies with her nieces and nephews or hanging out with her friends over a bowl of Feuerzangenbowle (fire-tongs punch). It's not a given. Not after oh so many years. Not in the very hectic December.
So, enough. Enough. Enough talk. Let's let the cat out of the bag. Er … cat? I'm sorry! We meant of course – the calendar. After much struggle there will be one in 2019. An Advent Calendar from JemmaInternational with 24 doors.
No kidding? Yes. Jemma remains a special case for us. Something very special. And we appreciate your long standing loyalty. Are you still into Jemma? We don't know because only very few leave a like on Facebook, Instagram or our website anymore. And that's not exactly very motivating for us. But at the same time we get private messages that greatly inspire us. You are out there! People who have had a bad year but the Jemma spirit managed to put a smile back on their face.
That's it! For you we once again crafted like maniacs to brighten up 24 out of 365 days. Let's enjoy the magical resonance of our unique past together once more! Have fun, enjoy – and give back. A like? A private message? We would be ecstatic! Because nice things aren't a given but a highlight – especially during the Advent season, despite all traditions. It simply is a special time of year.
STAY JEMMA