Manderley in the Swabian capitol
We would love to be able to still give you information for your trip to Stuttgart in this section: this is how you get to the theater, here you can find hotels, there you can buy your REBECCA tickets and, psssssst, that's the way to the stage door where with a little luck you will maybe meet Lucy.
But unfortunately, by now all of us can only dream of Manderley: On January 6th 2013 the last curtain fell for REBECCA in Stuttgart. About 400 shows were played in the Stage Palladium Theater which is one of the most renowned musical theaters in Germany. Situated directly in the SI-Centrum (Stuttgart International Centrum), this modern venue seats 1800 people.
Wie gerne würden wir euch an dieser Stelle noch immer Informationen für euren Trip nach Stuttgart liefern: So gelangt ihr zum Theater, hier findet ihr Hotels, dort kauft ihr eure REBECCA-Tickets und pssst, das ist der Weg zur Stage Door, wo ihr mit etwas Glück auch Lucy begegnet.
Inzwischen können wir alle von Manderley leider nur noch träumen: Am 6. Januar 2013 fiel in Stuttgart der letzte Vorhang für REBECCA. Rund 400 Vorstellungen fanden im Stage Palladium Theater statt, das zu den bekanntesten und renommiertesten Musical-Theatern Deutschlands zählt. Direkt im SI-Centrum (Stuttgart International Centrum) gelegen, bietet die moderne Spielstätte 1.800 Zuschauern Platz.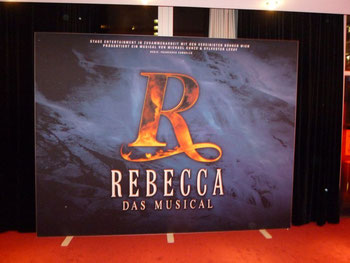 Address:
Stage Palladium Theater
Plieninger Straße 109
70567 Stuttgart
GERMANY
There were 8 REBECCA shows a week:
Tuesday, 18:30h
Wednesday, 18:30h
Thursday, 19:30h
Friday, 19:30h
Saturday, 14:30h + 19:30h
Sunday, 14:00h + 19:00h
The ticket prices lay between 39,90 EUR and 120,90 EUR.
Memories and merchandise
What would a musical visit be without buying lots of merchandise? Absolutely - NOTHING!! And so we hope that you enjoyed your trip to Stuttgart and didn't miss out on buying the program and picture book.
Unfortunately, there was no official English version, so we have a little gift for you. In the Picture Book, there is a section describing the scenes and the music titles. Underneath the pic you'll find a document to download. You're now going to have your own English version of it, so you will always be able to dream of being back in foggy Cornwall and back in a great production.
Picture Book - Inlay Translation
Rebecca_Picturebook_Inlay-english.pdf
Adobe Acrobat Dokument
309.5 KB