Lucy plays Ottilie "Im weißen Rössl"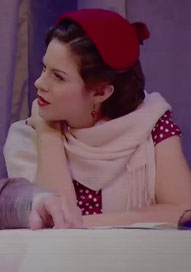 "Die ganze Welt ist himmelblau, wenn ich in deine Augen schau ..."
Nach ihrem Ausflug ins transsilvanische Magdeburg und dem nachfolgenden Abstecher ins seit jeher populäre Amacing Grace beweist Lucy Scherer auf ein Neues wie wandelbar sie ist, wenn sie ab dem 07.12.2014 für 18 Vorstellungen in der Operette "Im weißen Rössl" (nein, dies ist nicht das österreichische Gegenstück "Zum tänzelnden Pony" aus Mittelerde) auf der Bühne des Salzburger Landestheaters in der Rolle als Ottilie Giesecke ihr Bestes geben wird.
After her Trip to Transylvanian Magdeburg and the following detour to the always popular Amazing Grace, Lucy Scherer demonstrates anew how versatile she is by playing Ottilie Giesecke in the operetta "Im weißen Rössl" (The White Horse Inn - and no, this isn't the Austrian equivalent to "The Prancing Pony Inn" of Middle Earth) for 18 shows at the Salzburger Landestheater, starting from December 7th 2014.
Story

Show

Ihr könnt nicht kommen? Kein Problem - in der Rubrik "Show" werden wir Film-und Musikausschnitten präsentieren und versuchen euch die Operette virtuell näherzubringen.
You won't be able to come see it? No problem. In the section "Show" we'll present movie and musical excerpts and try to virtually present the operetta to you.
Salzkammergut

Im Unterpunkt Salzkammergut wird euch - wie kann es auch anders sein - alles ans Herz gelegt, was man von diesem österreichischen Landesteil wissen sollte: Lage, Sitten, Gaumenschmaus.
The category Salzkammergut contains - you guessed it – everything you need to know about this Austrian region: location, local customs, culinary delights.
So, »Guten Morgen, tritt ein und vergiss deine Sorgen!«
("Good morning, come in and forget your sorrows!")
Lucy's Facebook Statements